Interviews
Angels -
Interviews
Written by Khalid "Bless" Bey | Editor in Chief | As Seen in NY Times Bestseller: Rat Bastards
Houston, Texas. Sneaking a peek at the refined yet explicit images of the beautiful women found in the pages of iconic men's magazine Playboy may not seem like the place dreams are born for little girls, this is usually reserved for hot-blooded young boys. However for Houston, Texas model; Devrie Townsend, that's how it all started. "I've always been a free spirit," she says of her younger days. "It has gotten me into trouble growing up but it's made me who I am today." Today she is a popular model, hoping to work with the famed Playboy Magazine and equally sinister Maxim, and to one day start her own successful swimsuit line. "All the people who doubt me," confesses the pretty blonde, "motivate me to be the best at everything I do." You go girl.
Read more...
Angels -
Interviews
Written by Khalid "Bless" Bey | Editor in Chief
Angels Playpen. Models these days all have companies they either secretly or openly wish to work with; however, for Australian model Katherine Lameree, she prefers to go where she is wanted. "So far I've worked independently and would love to come across a company in Australia or even an international company who would represent me and be proud to. I don't like being another number." Here in Angels Playpen, Katherine is most welcome, proud we are to have her join our legacy of beauty and culture. "Two photos got me into modeling," she tells me of the birth of her modeling career. "One of Jessica Burciaga when I was in grade nine through Myspace and an ad for Maybelline."
Read more...
Angels -
Interviews
Written by Khalid "Bless" Bey | Editor in Chief
At some juncture, we inevitably become aware. This awareness is not always permanent. It rarely is. Most of us live our lives in some form of denial; very few of us accept wholly who we are so we ignore certain parts. Self-awareness is a powerful and compelling state that causes minds to choose acceptance or denial. At some point, Katie Maybee became aware of the power of her sex appeal. "[Growing up] I was a tomboy if I'm honest," she says, words organized in such a British manner. "I became more girly when I met my first boyfriend at fourteen and realized the attention I got. From then on I took pride in my appearance." After this awareness change becomes a certainty. "My attitude to life has changed dramatically. I've learnt to take compliments and accept knockbacks. I never dwell on anything and try to make the best out of a bad situation."
Read more...
Angels -
Interviews
Written by Khalid "Bless" Bey | Editor in Chief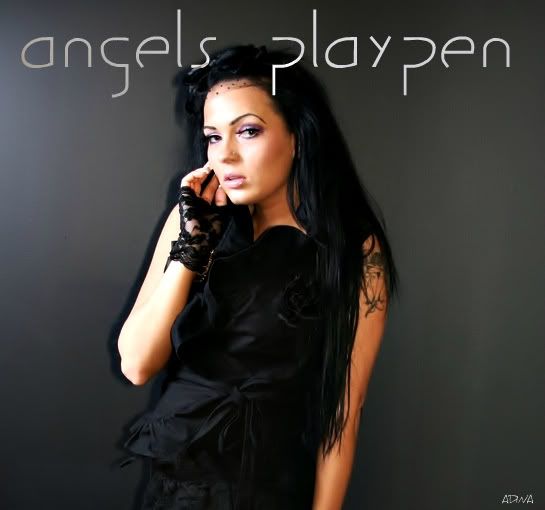 Toronto, Ontario; the largest city in Canada is where we find our latest angel. "Toronto is one of the most amazing cities in the world," says Toronto's Adina, "and I rep it to the fullest." Born in Romania; she loves the city she lives in. "The culture that is made up of so many different cultures is just amazing. The people raised in different ways just all come together and somehow co-inhabit this city. It's pretty cool." Yes it is cool… one of the reasons I enjoy being American. Currently I am sitting in the lobby of the Ft. Washington Holiday Inn in Historic Ft. Washington Pa. The drone of the housekeeper's vacuum adds a strangely futuristic air to the moment. But I am comfortably submersed in the present.
Read more...
Angels -
Interviews
Written by Khalid "Bless" Bey | Editor in Chief
The storm explains the previous day's humidity. The smell of a skunk's defense mechanism hangs in the air despite the wind and rain; the fact that I'm able to sit outside in a rainstorm and not get wet fleetingly intrigues me. I power up my laptop, I have an angel on my mind. I begin to type. Her mother is African and Native American, Black Foot to be exact and her father is white. Her looks are nothing short of foreign though she's an American girl. Name Nikole Milan, she currently lives in Milwaukee WI but is originally from Minneapolis MN. Today she is in Angels Playpen.
Read more...
Angels -
Interviews
Written by Khalid "Bless" Bey | Editor in Chief
I watched as the groundhog foraged for food. Self-preservation. That's what it's all about. Alert and progressive, his momentum was halted by a noise. This momentary distraction could be the cause of his losing his meal. Focus. This is a necessity. The moment you lose focus you could lose everything. Some think I'm too focused on Angels Playpen and HTM but I refuse to give up my pursuit of all things heavenly and the treasures that are surely all around me. My pursuit of all things heavenly is what brought me here today. Focus sharp; I zero in on Danielle Sullivan.
Read more...
Angels -
Interviews
Written by Khalid "Bless" Bey | Editor in Chief
I won't lie… I need an angel to watch over me. I live according to my heart and my mind fights to regulate its passionate pursuits. This gets me into trouble a lot. I love and trust the wrong people, behave in ways society views as noncompliant and sometimes radical, take risks most won't and live everyday like it's my last. But what angel would dare take the almost certain to be difficult job of guardian angel over a misunderstood, trouble-prone man-child? A childhood friend comes to mind. In life he taught me about honor and respect. In death he taught me the value of life. "Although my grandma is still alive," says Brazilian treasure Jennifer Mason, "she is my angel and her mother, my great grandmother is also my angel."
Read more...
Angels -
Interviews
Written by Khalid "Bless Theangels" Bey | Editor in Chief | As Seen in NY Times Bestseller: Rat Bastards
Was I just a little intimidated? Admittedly yes. I mean… she was beautiful. She'd already worked with Maxim and Playboy, could I convince her to indulge Angels Playpen? I wanted her to be an angel so bad. Then old and familiar feelings of confidence began to emerge. What the hell was I being timid for? My words are but a painter's color selection and she an exquisite work of art; we belonged together. I wanted to paint a picture of her for you, with her help of course. My index finger once shivered as it dangled over the enter key; not anymore. I pressed down quickly and uncommonly firm, overcompensating for my earlier moment of weakness. My request made its way to her box. Now I wait.
Read more...
Angels -
Interviews
Written by Khalid "Bless" Bey | Editor in Chief
Heaven on Earth. Words so close, so near our hearts here at Angels Playpen. Life can sometimes be hell, warranting an escape. In the face of hell, nothing else will do. It must be heaven. Unadulterated, unequivocal heaven.  For this reason I urge all to discover their personal 'Heaven on Earth'. For Philadelphia model, JEM, heaven on earth is some sort of utopia. "A place where we didn't have to work for money but work for and live off each other" she explains cautiously. "We could each take part and it would be lovely." Sounds communal.
Read more...
Angels -
Interviews
Written by Khalid "Bless" Bey | Editor in Chief
The sprinklers were a pleasant surprise. Out on my terrace, I'd just opened my laptop, when the air around me on this miserably hot day dropped a few noticeable degrees. The mist from the watering system felt most welcome to my skin. Working perfectly with the spray, the sun's rays produced holographic rainbows that appeared and disappeared like miniature apparitions. I was surrounded by phantom rainbows. Feeling celestial, I decided to open up my spirits to our next feature angel; Mercedez.
Read more...
Angels -
Interviews
Written by Khalid "Bless" Bey | Editor in Chief
On this train… life couldn't be more real. Destinations unknown, all types of people with their own circumstances and predicaments momentarily head in the same direction. As I watch the countryside wiz by, I realize now how much I like to travel. A smile attaches itself to my face literally the moment I am in motion. Sometimes I wish I could live in perpetual motion. Since I have time I will devote it to telling you guys about Virginia Beach native Coli Hellraiser. Interesting name for such a sweet looking girl.  Earlier this week I'd received words of encouragement from my friends at Café Maida, a nice little Italian coffee shop in Ambler, Pa. These words pertained to motivation. I was reminded that a person that is self motivated is powerful. Just being able to pick yourself up every day to carry the hustle is power. "Each day motivates me to try harder to strive higher to reach my goals and make me dreams a reality," say Coli. I think she would have enjoyed the advice I received just as much as I. Greatly appreciated.
Read more...
<< Start < Prev

11

12 13 Next > End >>


Page 11 of 13