Angels -
Interviews
Written by Khalid "Bless" Bey | Editor in Chief | As Seen in NY Times Bestseller: Rat Bastards
"My biggest love is traveling," the beautiful Pamela Jean Noble tells me, touching on one of my most enamored subjects. For I too love to travel. Whether it's just a walk or drive, an exotic vacation or even if it's only mental. Remaining in one place too long acts upon my mind and body like a disease. Diminishing my spirit; whether mental and physical, any semblance of restriction is compensated for, if not overly so. I love the idea of a fluid existence, nothing of note can fasten me with any permanence, though if loved I always return. I do have my favorite haunts. "Anywhere I have never been is my new favorite," she says. Cute, I think to myself as I type out these consonants and vowels. I wish I'd thought to express myself the same.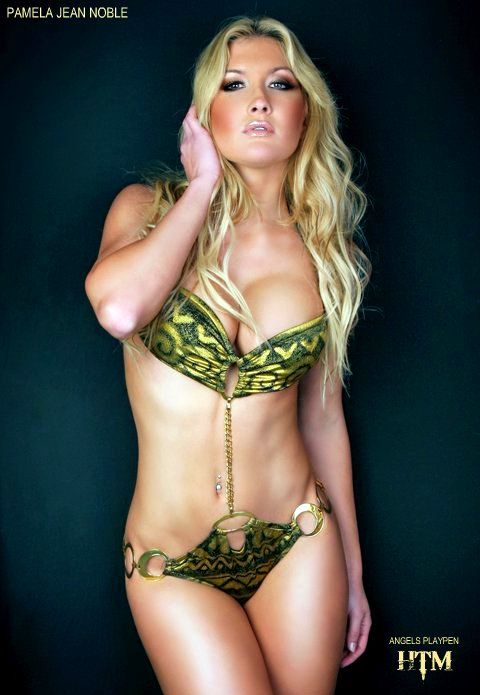 Heaven on earth would be two years out on the open sea, sailing from continent to continent with a loved one, exploring all the many wonders there are. "I've been fortunate enough to travel internationally," says the beauty from San Bernardino, California. "I want to see everything our beautiful world offers!" Worthy ambitions for an angel, there is a place above all she wishes to be immersed in.  "Anyone who really knows me knows I've been dying to go to Egypt for years now! Something about that place just fascinates me," she says with palpable excitement.  "Their culture, the land, the people… ahhh… seems amazing!"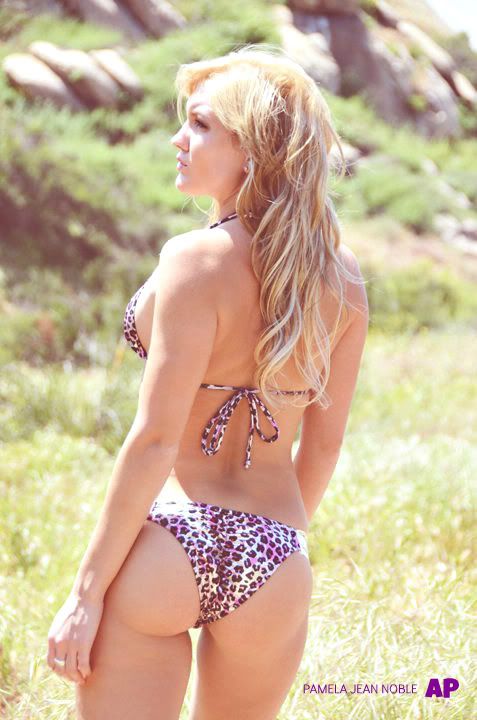 Traveling a lot makes home that much more of a destination itself. "I live right near the mountains so the best thing about it… is its quiet!! It's so nice to get up in the mornings and hear the birds chirping, feel the wind on afternoon walks, and see the stars at night. Things you learn to appreciate when you're used to being on the go all the time." Originally from Fontana, she moved to San Bernardino when she was twenty. And she's right about being on the go all the time, she recently went zip-lining in Puerto Vallarta. "I really want to do shark cage diving next," she says plotting her next adventure.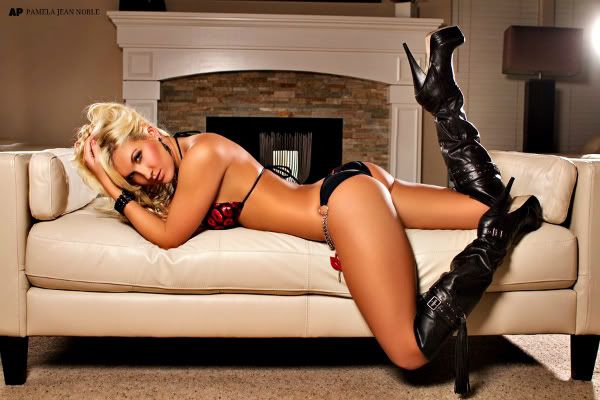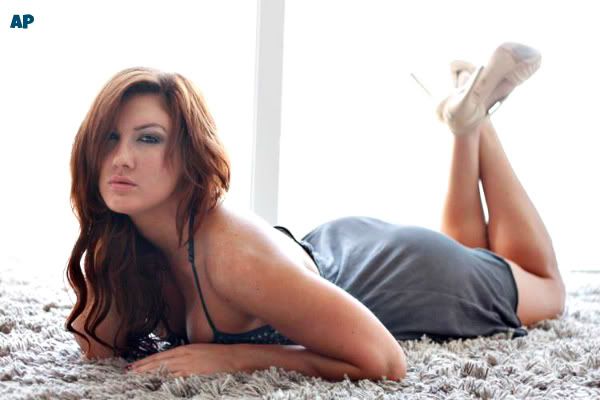 A rare genetic mutation, proving beauty is not all about perfection, adermatoglyphia afflicts our angel. Oh it's nothing too serious, except when attempting to cross international time zones. "I have very hard to read fingerprints since my mom has no fingerprints," she says rather emphatically.  This is easily the most unique hidden treasure I've ever encountered though these interviews. It is said that around sixteen family lines possess this 'mutation.' So yes, she is a rare angel in many ways. "I have my mom's side [in] which my nana was 100% Indian and my grandpa was Swedish," Pamela says of her lineage. "My dad's side is Russian and English so I'm a mutt and proud of it!"
To become the beauty and angel we see today, Pamela's journey included a childhood where she admits she was far from the picture of femininity. "I was a huge tom boy. I hated my hair being done. I'd just pull it out. I was always getting hurt playing, always in shorts and sneakers," she says with a laugh. "My mom probably thought she had a boy until I was about thirteen." Inevitably there came a point in her life where she had to change and draw on her feminine ways. "I definitely had to get in touch with my girly side which has been a process to figure out." This was the only significant change for Pamela once she started modeling. "I live a pretty normal life. I just now know when it's time to get out of the workout clothes and put on a dress and heels!" Though she knows to wear a sexy dress and heels on a Friday night out, she nevertheless feels sexier Sunday in an oversized tee. "Makeup only does so much," she laments.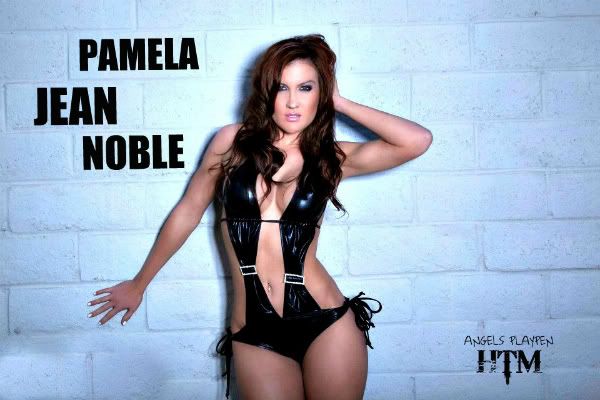 I, for one, I am glad she got in touch with her girly side and sought out the world of modeling. She has already learned a valuable lesson. "There will always be shady people, but the genuine ones make up for them!" Pamela has experience a ton in such a short time, both good and bad. "Thank goodness I have learned to accept and grow from each and every one of them," she says, "I feel like I'm an old soul since I had to become responsible at a young age. Being able to see different sides to every story and assess each situation as it comes has definitely played to my advantage in modeling and life in general." I would hesitate to call her an old soul… something more like a 'wise' soul. Some of the companies she would love to work with include Reef, Sports Illustrated and O'Neil. "I'd obviously love high-[end] brands but I'm neither six foot tall nor a hundred pounds so I'm smart enough to know where my niches are."
Miss Jean Noble received her initiation after working on a music video. The makeup kept her in her portfolio and was consistently asked about Pamela. Only thing is, Pamela didn't model at the time. The makeup artist then suggests she try glamour modeling and the rest is entertainment history. She'd become her main influence, but Pamela was already attracted to the images of the other models and still love to now. "It inspires me to try new things and strive for the top and the best."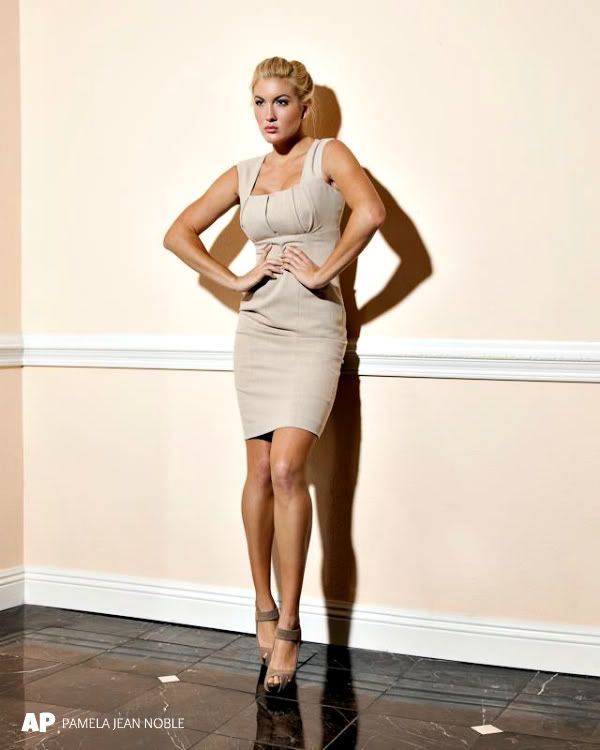 Pamela's answers to my questions are thoughtful yet immediate; there is an openness that draws you in. "My girlfriend told me the other day," she says clearly pondering a past occurrence. "'You're beautiful because you're beautiful on the inside as well as the outside. That's what makes you shine.'" What her girlfriend told her that day is true; no collection of words could state a finer truth. "Everyone is beautiful," she says surprising me. "There is no such thing as ugly. Some people may be unique and different but still beautiful." Thus she says is one of her favorite quotes and I completely understand her reasoning. She has such a commendable idea of beauty, it's no wonder she fails to see the intimidating affects her own beauty has on others. "I've heard that but I don't understand why," she admits. "I'm pretty easy to talk to and [am] such a goofball."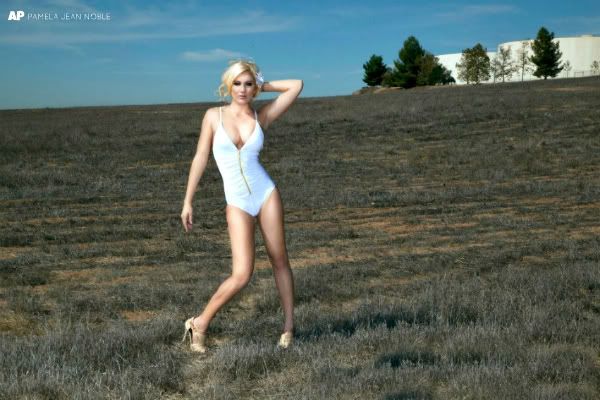 For every person her outer beauty intimidates, I'm certain there are a hundred more who attest to the wonders of her inner beauty. She figures guys will always be attracted to her body, and it plain to see why. She has a body that screams… woman! "I work out a lot," she says. "I'm always mixing it up. P90X, kickboxing, cardio, swimming and weightlifting. You have to keep your body guessing. I used to be a twig in school so it takes a lot of work to keep my body looking curvy and still in shape." As for girls, they usually admire Pamela's down-to-earth personality. "I'll talk to anyone and I like making new friends. Girl power really is amazing! They lift you up, help you relieve stress and are just fun to be with! If all girls saw it this way we'd be unstoppable!" Hmmm…  Thanks to our newest angel, Angels Playpen may have just found a worthy cause to take up. Angel Power. To the heavens angels…
Photography: Krystle Lina | Isaac Madera