Angels -
Interviews
Written by Khalid "Bless" Bey | Editor in Chief | As Seen in NY Times Bestseller: Rat Bastards
There was something about her body language that spoke to me. And so an interview request was sent. When the time came and I happened across her reply email stating yes she would grant us the interview, the accompanying excitement could be barely be contained. I couldn't wait to exchange questions and answers, impatience threatened to derail any sort of productivity. When the wait was finally over and I sat at my laptop reviewing the interview, I felt… proud. This angel belonged with us such as few others before. Meet Sabrina Watts.
Born in Atsugi, Japan, a city located in central Kanagawa Prefecture, Sabrina was raised in the United States in Yuma, Arizona. "At the moment I've been living here in the Philippines for five years and I am loving every single day of it," she says with palpable excitement. Where she lives is where everyone knows one another, everyone knows your name. "It's a small world. It's beautiful." There is nothing like living in a place you feel absolutely comfortable. "I'm getting more into traveling and I have it all on my bucket list," she says with a bit of laughter.  She can party anywhere there is a decent crowd but when it's time to eat, location and selection become grave. "I'll spend so much when it's time to eat but what matters is after the bill is paid you feel satisfied and a big smile [is] on your face no matter how much the worth is."
I am slowly falling in love with how she forms her sentences using otherworldly word combinations. I find it all exotic and adorable, like an angel. She says an angel should be transparent and true, gentle but strong, realistic and mysterious deep inside; sounds like she could be describing herself. It's her own attitude and personality that separates her from other models, "because I'm very readable and transparent," Sabrina concedes. "I'm a go with the flow kind of girl. Straightforward and I speak out."  I love the fact that she can accommodate different scenarios. "I know how to handle myself when professionalism is needed and when you can just be casual in situations; especially with time constraints."
When not on a photo shoot or becoming the beacon of some commercial message, Sabrina loves to stay active. Before modeling sports were her life. "I used to play Varsity Basketball for four years and I was really good," she proudly recalls. Food, as she has mentioned before, is quite an important part of her life and not just for life-sustaining nutrients. "I love to eat, eat, eat," she says. "Dine out whether the price is a bit pricey or inexpensive. A good meal makes me satisfied." Hot bubble-baths, Starbucks style coffee breaks, a good book to read, friendly Skype sessions, baking brownies and watching DVDs all puzzle together with her downtime. She admits devoting time to self-study research, even calling herself a homebody. "If I really need to go out, it's pretty much because it's for my friends." The self-study comes in handy as she confesses to wanting to discover her 'hidden treasure'. "I still haven't found that out about myself," she says, laughter permeating her statement.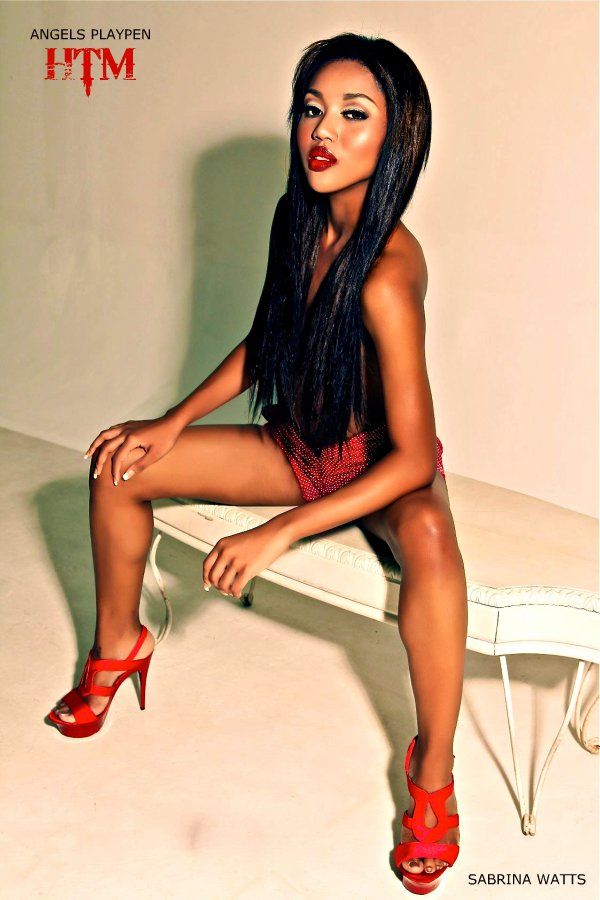 Her sign is Cancer, a sign she says fits her because she is "strong on the outside but very fragile deep inside". She admits she's "very open minded but again tries to stay on the safe side for not being too open". It makes sense for her to be strong externally; protecting her vulnerable core is basic survival. "Inspired. Spontaneous. Strong;" are the three words she chooses to best describe herself, however, she credits her fanfare to her honesty and frankness. "I'm very open-minded and I just love being transparent to others but still give them this mysterious side of me." Being told she's "a very intelligent woman" and "I admire you for your strong independence", are the best compliments she's ever received.
It was a single compliment that helped her persist with her chance modeling career. She was invited to a fashion show once where she was discovered by a director. "My first week in the industry I was booked [for] 20 shows." After that, she was constantly being compared to and called by the name of her main influence; Tyra Banks. "Which was honestly a great compliment." Soon she was being called out by her own name which people assumed was just a screen name because of how catchy it sounded. Continuing with her modeling, her real name grew in popularity and people were recognizing her for who she was. Along the way she met more interesting and intelligent people and compared to how she was growing up, she was a ton more assertive.
"I was a laid back girl," Sabrina talks of her childhood, "playing sports all my life, tied my hair back, big T-shirt, basketball shorts and sneakers is all I wore. [I was] Cool with everyone and was always known for my sense of humor." Her laid-back childhood includes one of the few times she genuinely laughed. "I was maybe 10 yrs. Old," recounts the girl who can't live without her family. "I was with my dad, skipping down a steep road holding hands together. It was so funny, because he was skipping with me and it's right next to the traffic road, cars were honking. We didn't care we just skipped down that road with tears of laughter for looking ridiculous together."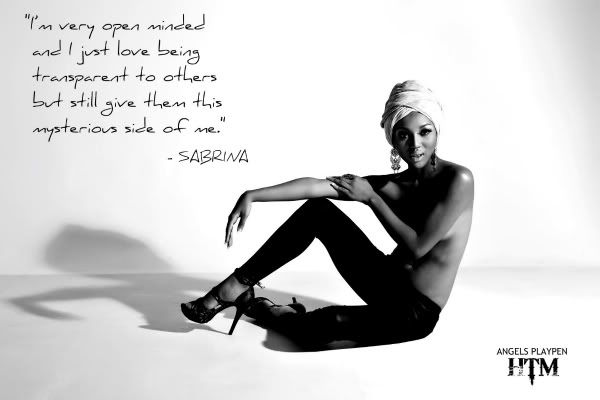 Tattooed permanently to her petite frame, the words 'Inspire, Believe and Strength' motivate her to overcome struggles making her dream a reality. The words can be seen on her left wrist as a daily affirmation. "I live by it every day of my life," she offers, "from all the tribulations, ups and downs I've been through; just looking at it makes me even stronger and never give up." Ms. Optimistic she asks to be called with a quiet dignity. "I look at life rationally and optimistically all the time." All of this led to her being extremely loyal to herself and dedicated to each and every experience and opportunity that enters her life. Such dedication has caused Sabrina to sacrifice personal time, her concentration complete. "As much as I want to see my friends and family, I had to do what I needed to do to reach my goals. And [up] until this day I'm still working hard to grab hold of my dreams."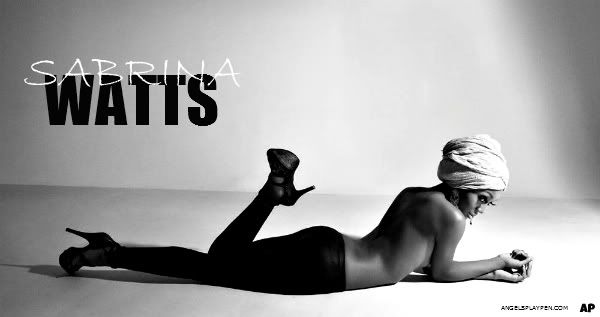 Each morning Sabrina wakes to the thought of another beautiful day and then she heads straight to the refrigerator. She lives each day for what it's worth, suffering few regrets if any at all. "You should never feel that way about life," she remarks. For her and me both, beauty is all about the simplicity of diversity. It's the reason this ethereal world of ours is called Angels Playpen; 'Angels' signifying a multitude of diversity, not possessiveness.
I find this lithe and agile angel incredibly sexy, it inspires a strange protectiveness in me. Though I love to go out on a Friday night and show off the lady in my life, I equally love a Sunday at home. Just her and I. "I feel really sexy on a Friday night in a black dress and killer heels," she tells me, touching on this particular subject, "But when it comes to a laid-back Sunday, I feel refreshed and relaxed. Our body needs it from time to time from all the activities." If ever someone wanted to make her blush, they would only need mention sincerely, 'You're the most beautiful girl I've ever seen!' or 'You stand out from most of the women here in this room.' These things should be easy to tell her, rosy cheeks achieved. I'm thankful she believes in a friendship between man and woman, I like to have a lot of girlfriends. Ha, that sounds worse than what I actually mean. "I think pure relationships between men and women do exist around us," she says in accordance. "Nobody can define [if] there are only romantic relationships between men and women. At least friends have no sexual limits in my opinion."
A lover of music, Sabrina embraces diversity in music same as she does in beauty. "I love Reggae, Jazz, Classical, Hip-Hop and RNB Soul." The very beauty she has been blessed with is a byproduct of diversity. "I am half Filipino and half American," she says of her heritage, "My father hails from South Carolina and my mother hails from The Philippines." It's the simplicity of her cultural duality that gives her the clearly exotic beauty we witness here now. I love the history it represents, the meaning of its blend and the implications to the world. She has a wish for this world that all stand to benefit from; that more opportunity was available for the less fortunate. "When I walk by someone who has less than me, it really breaks my heart. I wish I had some power to change it." This diverse, simple yet complex world is the kind of world to produce an angel like Sabrina Watts, an angel who represents its most beautiful part; it's simple diversity. AP-HTM.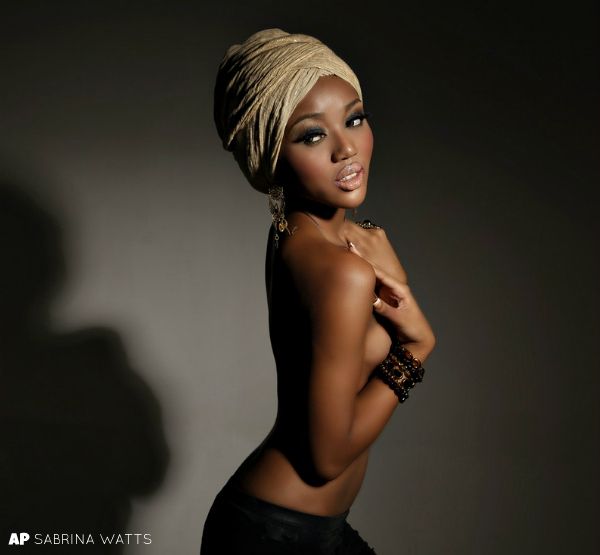 Photography: Pj Tiongson 2, 3, 4, 5, 7, 8, 9, 10, 11, 12