Angels -
Interviews
Written by Khalid "Bless" Bey | Editor in Chief | As Seen in NY Times Bestseller: Rat Bastards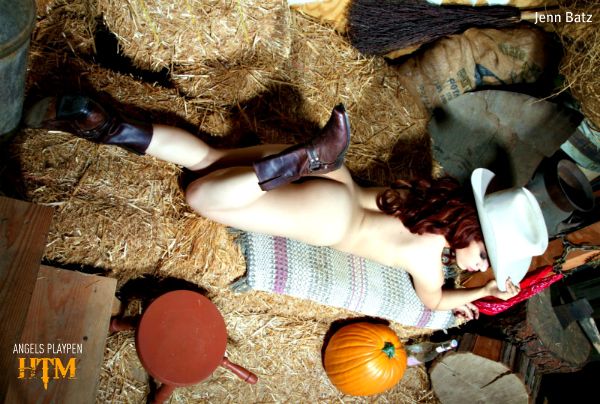 Life is to be lived. This means enduring both the good and bad, the beauty and the morose. For so many of us we forget to live and end up with a multitude of regrets. We get caught up in ideologies, trapped by misplaced loyalties or even find yourself living an unintentional lifestyle. All these account for different phases in our lives, taking up valuable time that we should spend… living. We you live life fully, experiencing as much as possible the only regrets you should have are if you cause another pain. "I don't regret anything that's happened in my life," the sexy Jenn Batz, our current angel injects, "of course I do regret whoever I treated bad but everything in life happens for a reason." Yes it does Jenn. And I believe there is a reason you're in Angels Playpen. Let's find out.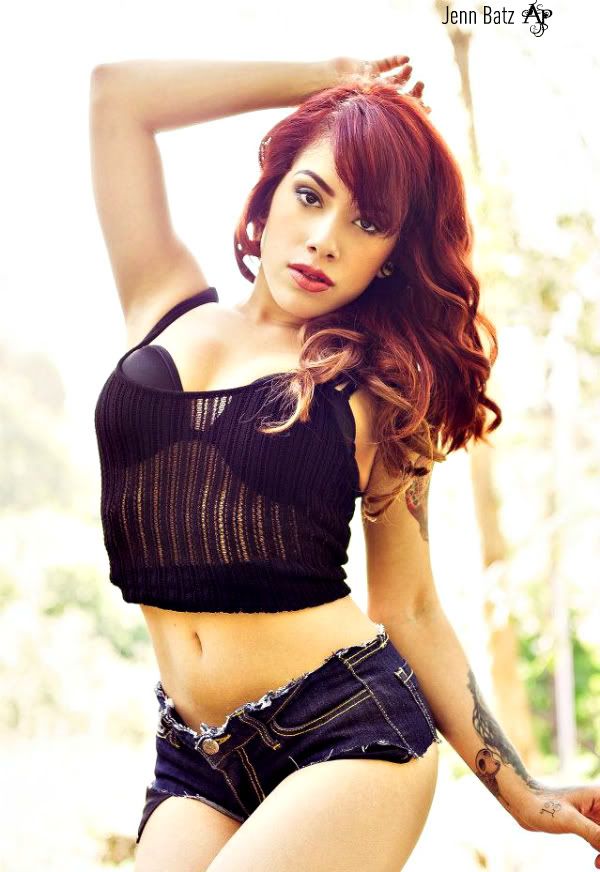 Jenn knows that "what doesn't kill you makes you stronger". She lives life by her books, subscribing only to that which she knows to be right. "I'm loyal to everything that has meaning to my life," she says. "My number one fan and biggest supporter my man. I stay loyal to myself of course and I stay loyal to my beliefs." I like how she thinks as she answers by litany of questions. "One thing I would like to see change in this world," she says expressing her world wish, "would be how people have become self-absorbed and have fallen asleep. There is too much chaos going on in this world and people need to wake up and focus on things that really matter in life rather than waiting ten years. In line for the new iPad really? It's the same damn thing except with a few upgrades! There are some things humans just don't understand, maybe never will and it might just be too late."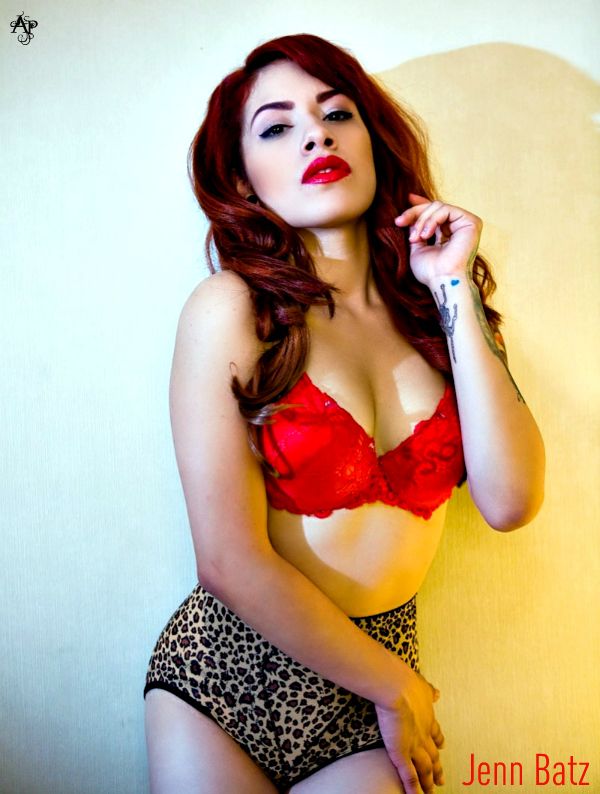 I share her thoughts, hoping against all opposition that it isn't too late for humankind. Maybe we can use her beauty as a beacon, guiding those lost souls to this message. "Since becoming a model," she says, "I've met a lot of people in my life and I'm grateful for that. Certain people were put in my path for a reason and I feel that since becoming a model now I'm able to reach my goals and influence people. In many ways its opened doors for bigger doors and I'm going to fly as high as I can to see where this mission takes me."  Taking in all that she now offers, I see her as more than an incredibly sexy girl, more than the provocative outfits and poses; I see depth. "I try to see beyond what any eye can see," Jenn explains.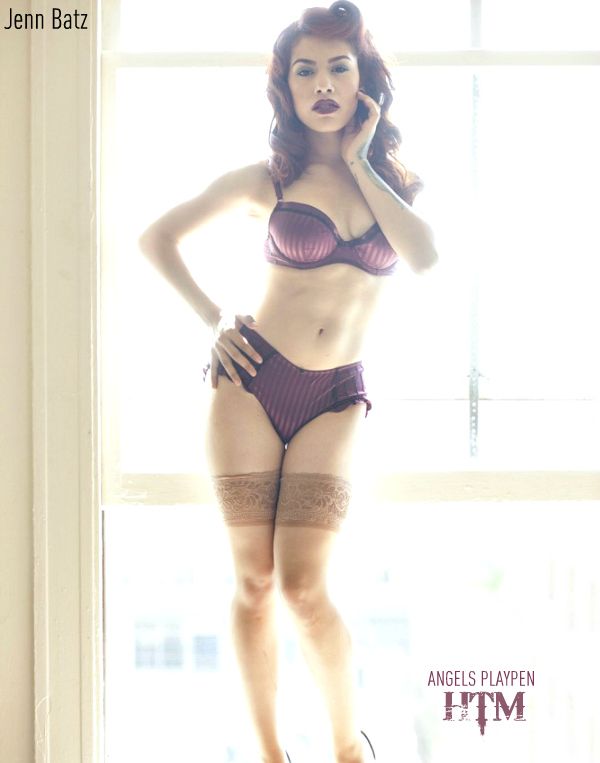 Interested in what her mind perceives beyond the eyes' reach, I tune in to her talk of what motives her to succeed. "What motivates me?" she begins questioningly, "Well allot of things. First being my family of course, [then] the fact that I'm living and kicking, that each day may be your last day and if it is so be it! But at least you tried purifying your soul." Purifying your soul has nothing to do with being a born-again Christian or virgin she reinforces. "None of that crap for me," says Jenn, "For me purifying your soul means learning from life and its crazy maze and realizing what you were born to do .everyone wasn't born just to be another human on this planet earth. Every individual was born to execute his or her destined mission… and that's what I'm here to do so what motivates me? Live life and become a better person every day until you've completed your mission." See she understands me… yes indeed live your life whatever that may entail, embrace your destiny.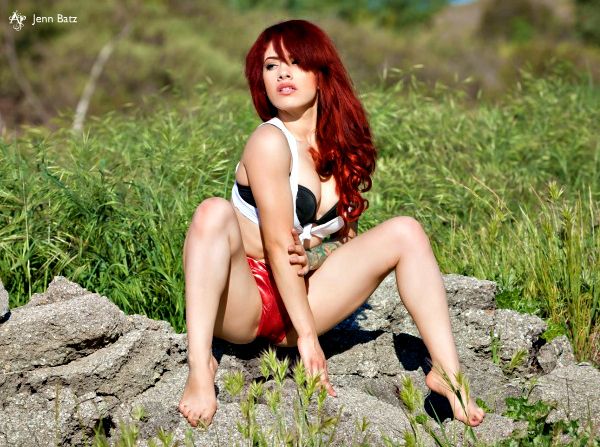 Being an attractive model should make it easy for her to get her message out, educating while entertaining. She'd wanted to be a model since about the age of six, with a fascination with Jessica Rabbit and influenced by Dita Von Teese, Mosh, Rita Hayworth and Bettie Page, Jenn looks to work with magazines like Playboy, Penthouse, Maxim and Bizarre. Alvarado, Ken Marcus, Holly Randall and Shannon Brooke are some of the photographer she has her sights on. It wasn't just modeling that a young Jenn Batz loved to do. She could be found dancing and singing and was really into her Barbie Dolls. Later she'd become a tomboy, even being labeled a bully and a fighter, something she attributes to raging hormones. "My hormones were kicking in then and I was just causing trouble, getting into fights constantly and by seventh grade I got expelled from my school," she recalls, "I got sent to Johnny L. Cochran Middle School and did excellent. My high school years were the critical point for me but [I] pulled through and don't regret a thing." Interestingly enough, her diatribe could easily surmise my very own upbringing. We all have our stories.
Jenn's story begins in Long Beach, California, home to one of the world's largest shipping ports, and grows in Los Angeles, the City of Angels.  Her family is from Honduras, a point she is certainly proud of. When she was fourteen, the burgeoning beauty rocked a tri-hawk and spent a lot of time on a skateboard. She knows how to belly dance, a vision I confess to wanting to witness. A bit theatrical and melodramatic, for middle school graduation, Jenn intentionally fell off stage. "It was a bet me and my teacher made and you know I walked through the bet," she says with a laugh. Living in Los Angeles, cultural diversity is a major characteristic of the city. "I love being around different types of people," she remarks, "you learn something new every day here in LA."
Daughter to a mother who once a bodybuilder; Jenn works out and has been since a teenager. "I have always grown up exercising and eating right. Curved just right, Jenn is one of those ladies you want to dress up and then dress down, she would be sumptuous regardless. "I can be sexy in a dress, big tee, or simply or simply naked," says the kinky model, "I think being in your own skin is the sexiest you can be."
To this day she is still a tomboy. "Besides the makeup, hair and lingerie," she reminds me, "I was built tough and different from others." Down-to-earth, Jenn stays true to herself. She loves chili with her food, thinks of her beloved dogs first when she wakes and describes herself as "Tough. Smart. And Kinky." My right eyebrow peaks at the mention of the third description. An effortlessly sexy girl, she nevertheless knows where true beauty lie. "Beauty isn't just looks, anybody can be beautiful," she says, "but not everyone can be beautiful and still have a genuine personality." I know she's right when she says this and in her I sense a genuine unique nature. "Aside from modeling my other interests are Special Effects makeup, clothing design, hairstyling and I love to feed my brain with the good stuff too," she says with raised excitement, "No one said you couldn't have beauty, booty and brains." Science, history, archeology and astronomy are all favored topics by both of us.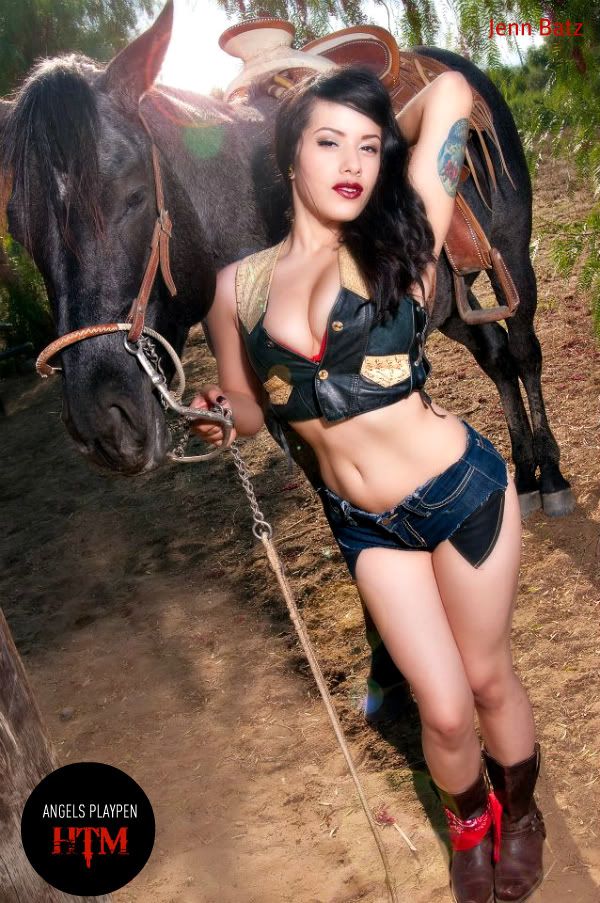 I can see us being close some day. If I made her upset for any reason, after having garnished her trust and friendship, I would insist on a small gift as a measure of my sincere apology. "If you were my close friend and got me upset," she says in thought, "I think a boba would suit me just fine." I glad to learn she believes men and women can be true friends. "Yes there could be friendship between a man and woman," she pines, "if they grow feelings for each other my thoughts on that would be just let life take its course." I ask her what words it would take to make her blush, I love giving women compliments. Laughing, she answers, "Good one! Well I'm very hard to crack and don't fall for anything. I don't blush when men say nice or cute stuff but I greatly appreciate it unless I'm attracted to you."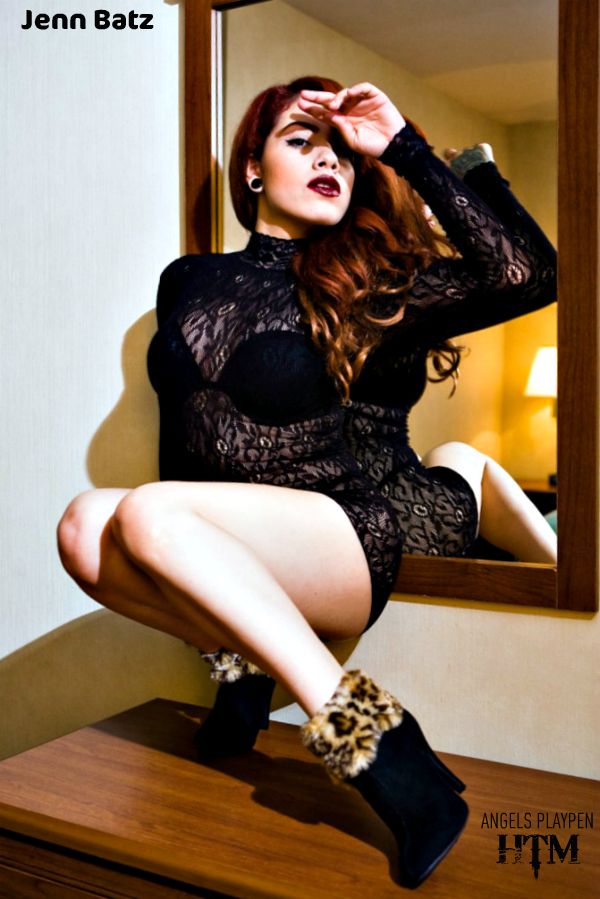 What about the opposite sex attracts Jenn Batz? Muscles. Check. Tattooes. Check. "I have a nose fetish so a nice structured nose makes me wild," she confesses. She gets turned on by brainy types as well. On the flipside there are a few things she's turned off by. "When people make noise when they're eating," she says about a pet peeve I also happen to have, "dumb men, ignorance, when I can see right through a guy which means you're very predictable and full of shit." Hope you guys are paying attention. She even admits to taking advantage her man as he sleeps unaware. "Why wouldn't I?" she ventures.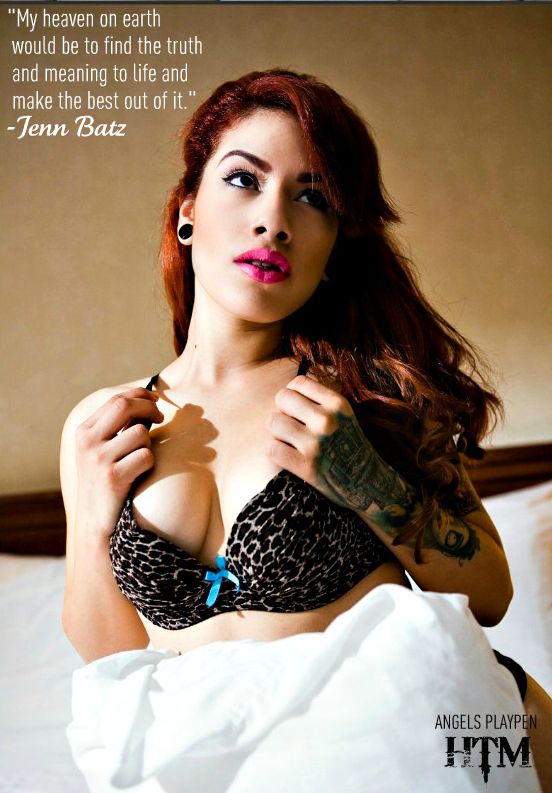 Her attitude is refreshing to say the least, a beautiful girl with a beautifully exotic personality, one I could no sooner tire of than I could ever tire of great company. Maybe we could sit, talk about our combined lack of regrets and our collective acceptance of the life we've lived. Somewhere in this conversation, I'd hope to talk over one of our favorite subjects like history or astrology. I could enjoy the company of such an exotic beauty, a lovely booty and excellent brains. Ultimately what would most interest me, because of the roads she's traveled to reach this point, is her personal paradise; her heaven on earth. "My heaven on earth would be to find the truth and meaning to life," she tells me almost confidentially, "and make the best out of it." Well said angel. Well said.