Angels -
Interviews
Written by Khalid "Bless" Bey | Editor in Chief | As Seen in NY Times Bestseller: Rat Bastards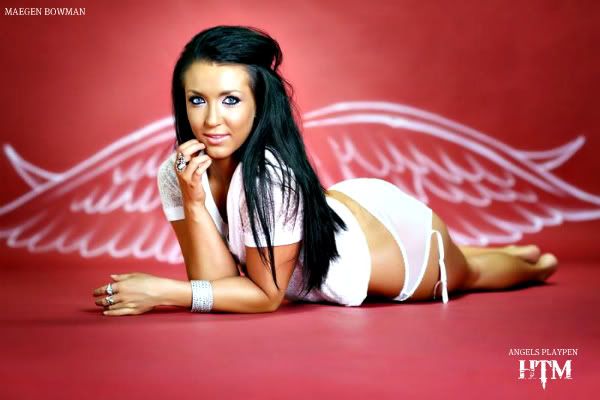 So many of us waste precious time concentrating on our faults. Here in Angels Playpen we say no way. Zero in on your blessings, focus and get familiar. "My name is Maegen Marie Bowman. The way I look at it, if I was blessed with a name as common as Maegen, at least I was given a unique spelling because that is exactly what I am, unique." The ability to find the unique within the common is also a blessing. I was looking forward to learning in what other ways she was blessed. "I was blessed," she continues counting her blessings, this in regards to her heritage, "with wonderful parents who couldn't be more different from one another. Mixed together to create me we have a blend of Irish, Dutch, German and Italian." Another blessing came in the form of great genes. "I do workout from time to time, but for the most part I was truly BLESSED with small parents. Thank goodness because I am not at all the calorie counting kind of chick."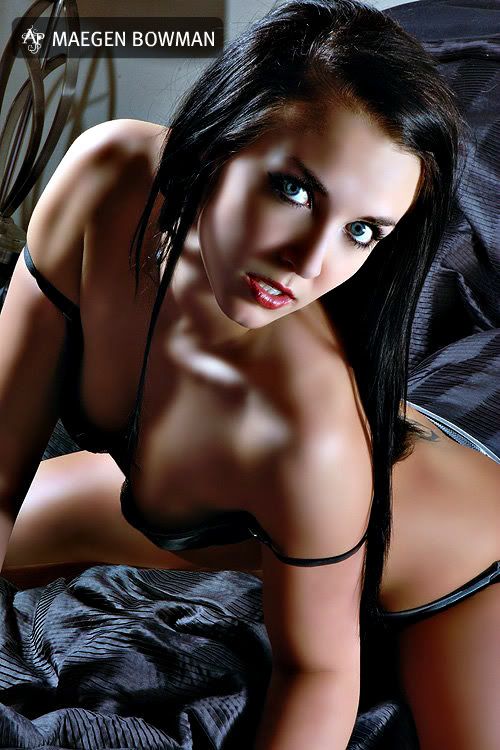 It's rare, I mean unique, to find a lady who was both a tomboy and a princess. Maegen again shows us why she is unique. During her 'wonder years' she could be found adorable in her pretty sundress, hair perfectly curled yet riding a four-wheeler through the mud. A picture of irony. "I absolutely love to dress up and look pretty," she says thinking back to those past years, "but other than looking girly I was a tomboy in every sense of the word." Still... she was a total princess totally in love with Barbie. "My sister still teases me to this day because I would line up all my Barbies," 500 in sum, "along the fireplace with a small gap directly in the middle and I would beg her to come take pictures of me surrounded by them like I was 'Queen Barbie.'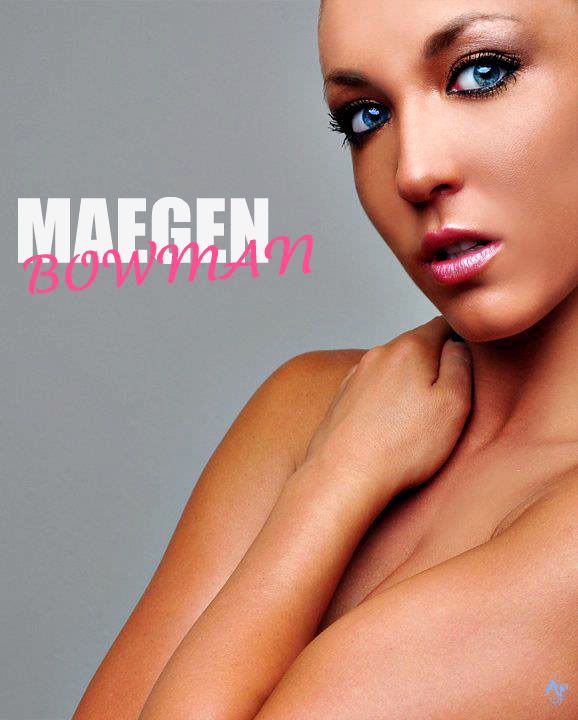 Nothing of true note has changed since Maegen became a model. "I am still me and I will not lose sight of that," she tells me. "I do have a lot more females who feed off of making snide comments and saying things to feed into their own self-doubt and insecurities, but other than that I am who I am and that is what will always be most important." Self-motivated, strong-minded, responsible and independent is how she views herself. She does admit to being too independent at times. It's taking time but she is coming to learn that it's ok to accept assistance once-in-a-while without it making a person appear weak. "My perspective is that you should strive to better yourself and become someone that you are proud of everyday. There is nothing wrong with being motivated by others or wanting to work hard for the sake of how you may be perceived, but if you are not happy and are aware of your own self-worth you will never truly be happy." Meagen's introspective answers show another philosophical side that I find impressive. I could listen to her talk all day.
For a beauty with such personality and character, humility would seem the furthest attribute but yet it stands. It's what separates Maegen from other models. She is appreciative of all the feedback and opportunities that she receives. "I am not a diva," she announces, "far from it actually." Pride is commonplace after work. She and whomever she works with always take something positive away from the experience, happy to work with the angel again. Already I look forward to the same. Modeling started the day a dear friend delivered words that set her in motion, telling her she was special and could make a name for herself. She never looked back except in memory, looking to her childhood, every picture with her striking a pose; knowing she has always wanted to model. "I can vividly remember looking through magazines and hoping that one day that would be my face gracing the cover."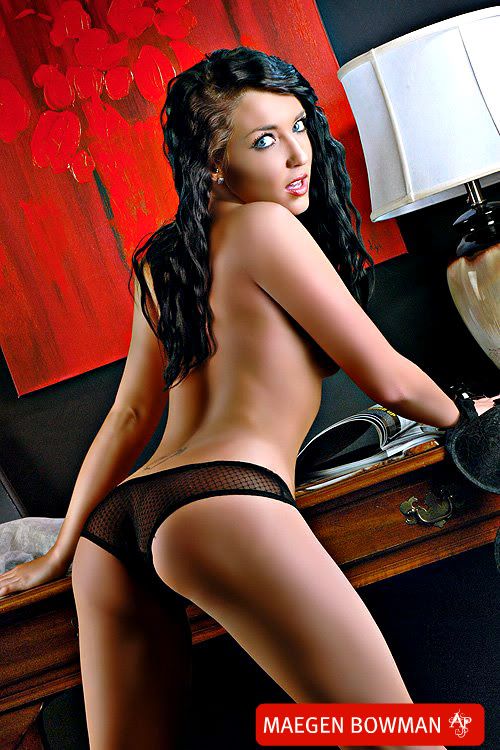 Life is a measured sense of experience, a totality to your existence. When you lack interest, desire nothing, refuse activity, essentially you limit your experience. You begin to work too much.  A void develops. Living death is certain. A blessing indeed that Maegen is the type of person who genuinely finds pleasure in just about everything. "There aren't many things in life that I don't like to do. I mean if I never had to go to the post office or DMV again in my life I wouldn't exactly complain," she says sarcastically, "but you get the drift." Work hasn't become her days' only purpose. Modeling doesn't completely consume her every night and weekend. "Aside from modeling one thing that I would say that is my second passion is cooking. There is nothing that I love more than so come home from a stressful day of work, pour a nice chilled glass of Moscato, and just put all of my attention and energy into creating something delicious." The Food Network has become an obsession; "it's pretty much the only thing I watch 80% of the time." On a night at home, watching her favorite channel, nothing brings her more joy than coming up with a new recipe and the results turning into something magnificent.
An adrenaline junkie, Maegen has, as of late, experienced her first skydiving trip, initiating a new passion. "I love fast cars, fast bikes and anything that can get my heart pumping," she warns and I take heed getting a little excited myself. I'm known to test fate on occasion. "Oh and I now have the pleasure of owning my very own street bike," her announcement sounding like the ending to a commercial. "Now I can really hang with the boys." Not a day goes by, after morning's craving five more minutes of slumber that she isn't laughing and to my surprise she laughs mostly at herself. "The things I do and happen to me…," she says, "if I couldn't laugh about it I would probably go insane." It's just another aspect of her philosophy; "Don't sweat the small stuff."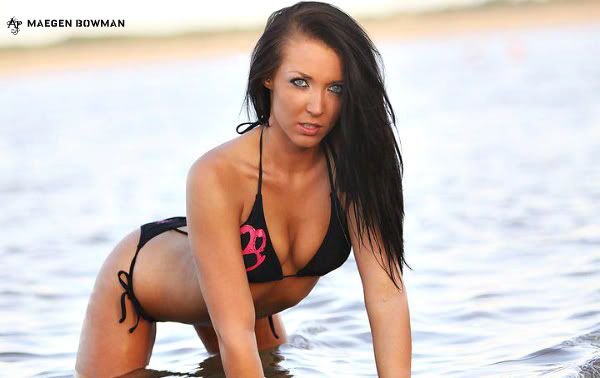 It's all about the eyes when it comes to seducing guys or whoever for that matter. Seduction and sex I've discovered aren't mutually exclusive; there are other things to be gained.  "I honestly feel that a woman can control the world just by the way she looks at you," explains the multi-blessed angel.  That look I'm sure has intimidated quite a few. "Once you get to know me that completely fades away," she says, confirming my suspicions. "I am just a big goofball." Just be a man she tutors; show the almost extinct chivalry once a vital part of romance, be genuine and patient but ultimately he should "look, feel and act like a man." When she is looking at you, she first notices teeth and breath soon follows; the latter could shatter a date.
I can only hope she and I become close friends, something she agrees is entirely possible. "Never push the limit," she says, "that is where the problem begin. You have to keep it just that… friends." Should a friendship develop and I made her upset for any reason, nothing of material could win her forgiveness. "If you wanted me to forgive you," she informs me, "give me a genuine, honest apology; heartfelt and meaningful. Sincerity means more to me than any gift ever could. I nice big hug isn't too shabby either." She ends this with a smile, and a hug and apology would be more a pleasure than bargaining tools. Still she allows a way to heart to be uncovered. A beach, margarita in hand under a beautiful sky, peace and quiet all in single bundle constitutes 'Heaven on Earth.' "I would love to just get on a plane to a private island with a cute little bungalow and great weather."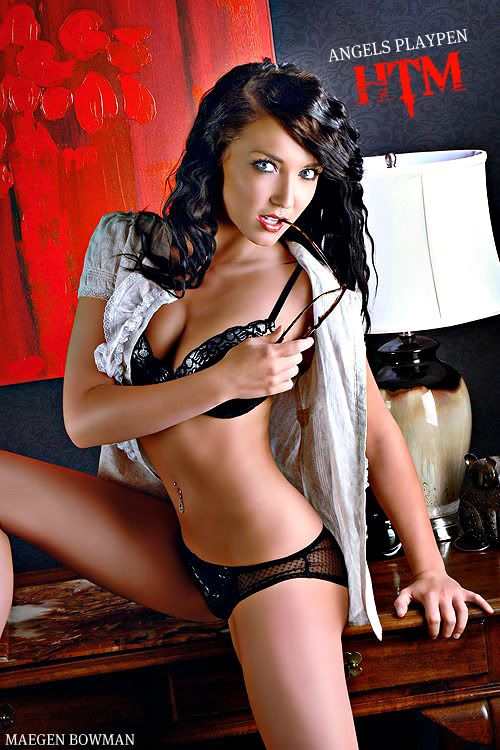 Meagen, a Sagittarius whose sign fits perfectly, is effortlessly outgoing, impatient yet loving, encouraging with a positive nature; and it doesn't stop there. She is also incredibly loyal to her family. "They are the foundation to your entire life."  Her input resonates with a preacher's conviction. "Everything else can crumble around you but the foundation is always left in the end." She confesses to not being able to live without music, a huge outlet for the Columbus, Ohio doll. "I believe that no matter the situation there is a song that can perfectly emulate your situation and make you feel at ease." She loves Skrillex, a genius she says and admits to being a sucker for the music of John Mayer. "His music and voice can make any situation sexy."
Maegen is adorable; her personality is a perfect match for her look, both likable. These few hundred words that have passed between us have left me feeling… blessed. "Overall I am just a likable person," she tells me, "In my job and everyday life I enjoy making everyone I come in contact with feel special or at least not regret the conversation." Not regretting our exchange of words, I carry on. Confidence defines true beauty in her mind. Who is there to truly judge? "If you are beautiful and carry yourself with confidence and respect," she says, "the whole world is going to notice." Being attractive is second nature to the politely philosophical angel - I say polite as philosophy tends to get pretentious - she says it's all about how you carry yourself. "I can feel sexy in a paper bag." I'd like to see that… What, if anything could I say to her, while dressed in a paper bag, could I say to make her blush. In no uncertain terms she tells me nothing, even tempting me to try. "I think it just may backfire," she predicts. And I predict feeling blessed by the mere opportunity. Amen.