Angels -
Interviews
Written by Khalid "Bless" Bey | Editor in Chief | As Seen in NY Times Bestseller: Rat Bastards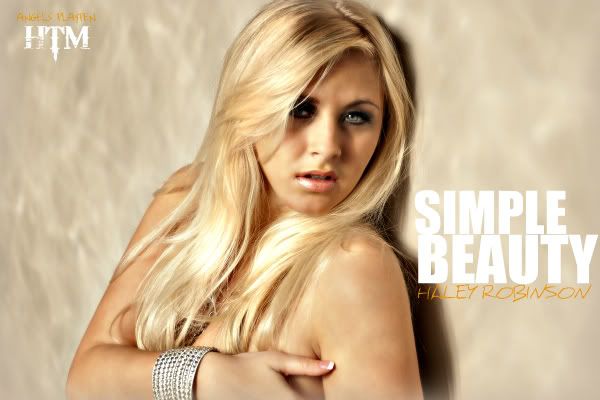 It's a quiet afternoon; calm presides. An empty tea cup sits as a suggestion of a second serving; freedom and simple beauty take up the forefront of my mind. Into The Wild, a surprisingly good film has me feeling a little like Alexander Supertramp at the moment, except I choose the moniker Bless Theangels. Right now, at this very instant, all I wish is the freedom to be whom I so ever should choose and enjoy a little 'simple beauty'. I'm blessed to be able enjoy a little 'simple beauty' within the parameters of this interview. Our interviewee and newest angel is the beautiful Haley Robinson.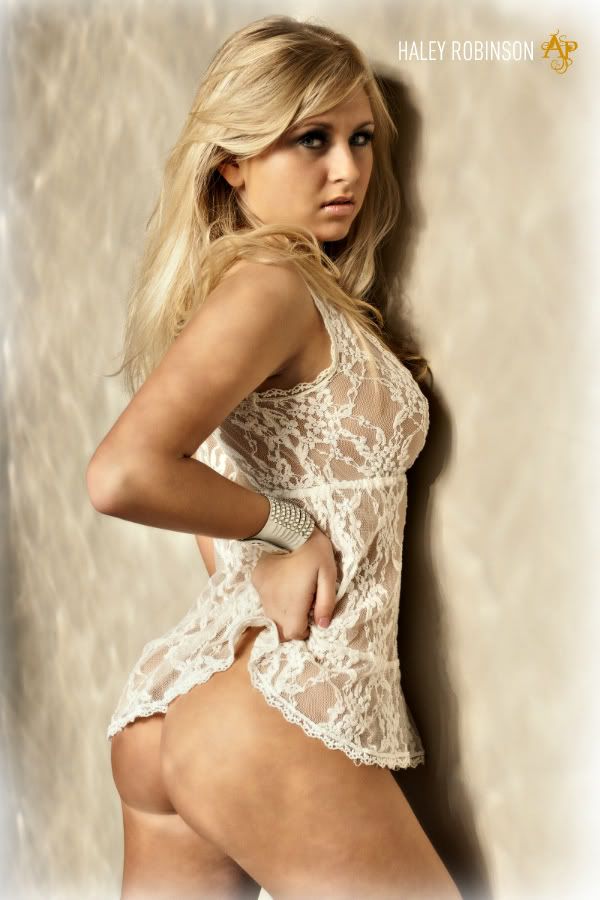 Haley, a sleep loving Taurus, comes to us from Saginaw, Michigan. "Trust me there is nothing good about living in Sagnasty," she says with a laugh. I laugh along. Seems this angel has a cute sense of humor. I like. This interview should prove funny. She is the first to admit she isn't much of an angel; someone who wouldn't break the rules she says. "Which is definitely not me." Breaking rules doesn't cause an angel to lose their wings; it makes them sort of a mischievous and playful angel. The exact type of angel I need in my life. "Not to toot my own horn, I'm just a great person to be around!"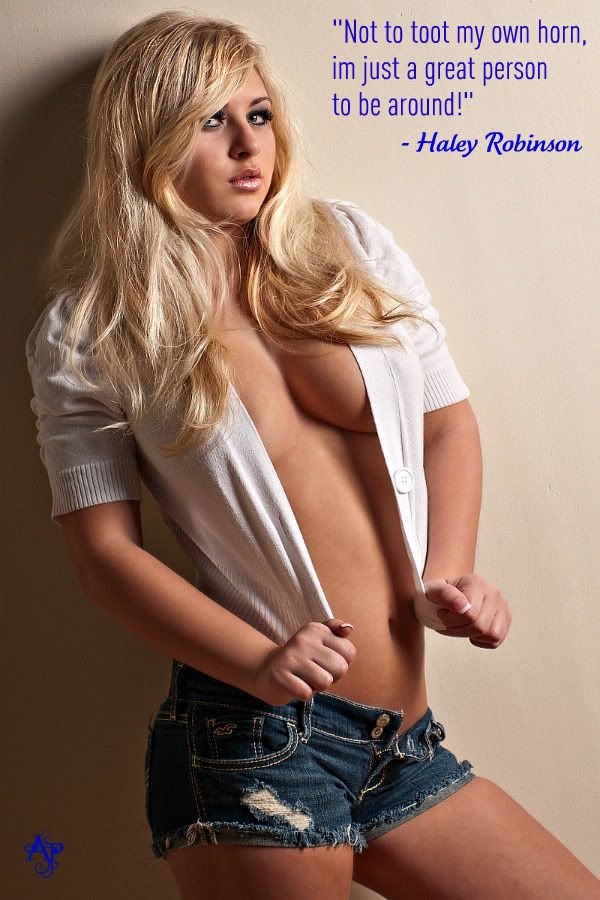 Growing up Haley was what she considers a sweetheart. It didn't matter what the weather was like, all she wanted to do was go outside and play. What she knows of her heritage is that she is American… and German. "A lot of people might not know this," she says, "but I am very patriotic." An image of Haley wrapped seductively in the American flag flashes in my mind, what could be more patriotic than that. Every day she enjoys genuine laughter, a wonderful thing, courtesy of her family. "I have the funniest family ever."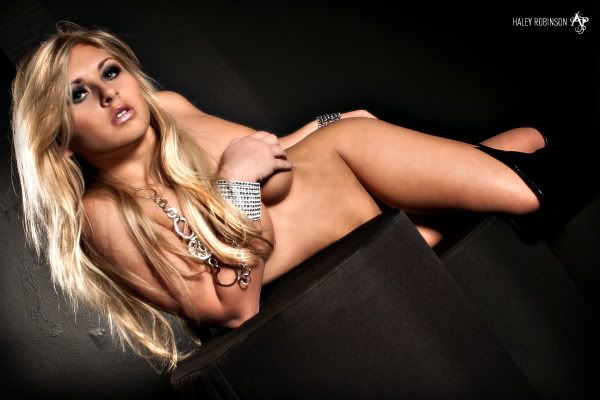 Haley's belief that everyone is beautiful in their own way is a belief shared by all in Angels Playpen. "It's not always what's on the outside but also what's on the inside," she says. Confidence and a great personality are more important to the concept of beauty that how a person looks she warns. Perhaps it's her confidence and awesome personality, not those crazy curves and pretty face that attracts and intimidates those she comes across. The only ones who are ever intimidated, she says, are the ones she wants that way. Once she received a compliment she saw greater than any other. "…in their eyes, I was the most beautiful girl on this earth," they'd told her and she's since never forgotten. She admits she has to work out to look as good as she does. "I used to just naturally have a great body but as I got older the McDonalds started catching up with me."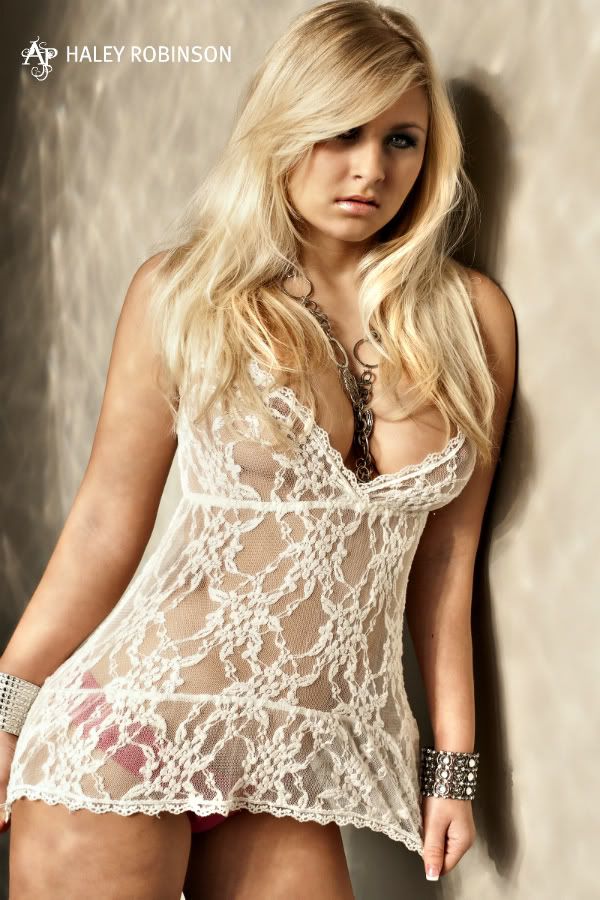 Regrettably she has only partied in Saginaw, something I'm sure we'll soon remedy. Haley's favorite city to shop is New York. "I absolutely love shopping at Victoria's Secret," she exclaims. If we get to become close friends, a night at her favorite restaurant, Lone Starr, would quickly squash any beef between us. I would never want her upset with me for very long. "I love food," she says with a laugh, "I don't get to go there as much as I'd like to since it closed down in my city." If I offered a free weekend getaway, sending her away to relax, she'd choose Bora Bora. "The water there is so beautiful," Haley declares, "and it's just looks like a awesome place to be." It would be my pleasure…
The worst that could happen on a romantic date, calling him or her by another name actually happened to Haley; she being the perpetrator. "Aah…," she says reminiscing, "so embarrassing." On the flip-side, there moments of love to be treasured, like telling for the first time you love that special person in your life. "Looking into their eyes and telling them how you feel and they feel the same," Haley illustrates and I fall heart-first into the vision she romantically depicts. "It could make you the happiest person knowing they feel the same way and they could be yours forever."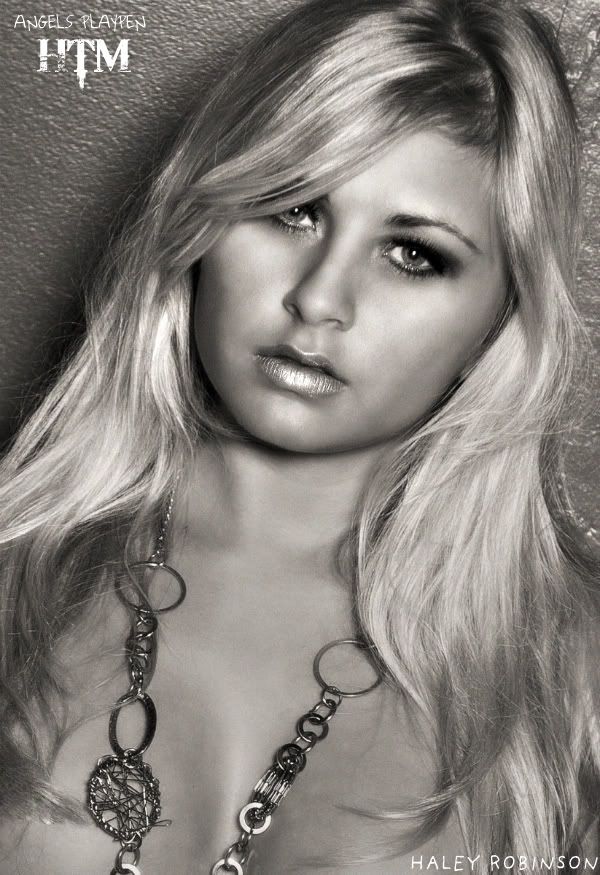 The girl whose only desire was to get outside and explore, also harbored another ambition. "I always wanted to model," recounts Haley. It was the images of all those beautiful models appearing on TV that inspired this longing, this desire to be a model. But it was her hairstylist later on that really influenced the sultry Midwestern beauty. Haley's stylist was also a model and would talk about it while working; her words stuck becoming a launching pad for her modeling dreams. Today she has made that dream a reality hoping to work with companies such as Maxim, FHM and perhaps Playboy. As of now I am happy she is an angel. Same as what caught her attention initially, the same motivates her today. "Seeing other beautiful models' photos," she says of her motivation to succeed, "it always motivates me and makes me want to do the best I can." I think she's doing quite well.
Freedom to pursue her modeling makes it easy to balance her personal time with her efforts. "When I start college and have a job I'm sure it will get a little harder," she tells me. "But I will always make time for modeling." Modeling has brought about some changes in Haley. "I stopped caring about what people thought about me," she states. "When it comes down to it, I let them think what they want. If they care enough to bother with what I do then I'm already better than them." And with regards to other models, our angel knows what separates her from the pack. "Some models you meet might be stuck up or snotty. But me, I'm nice sweet and caring. I won't let anything change me."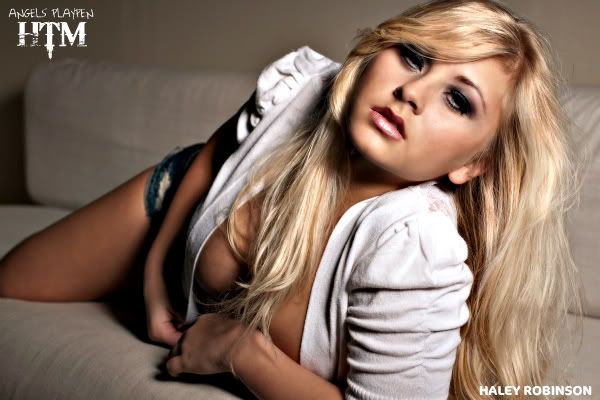 After getting to know a little about the only girl to turn Sagnasty into Sagnice, I confess to liking her a bit more than I should. She admits she can't live without her computer, and I realize I am the same. Well actually I've known this about myself for some time now, but still the realization taunts me with her words. We even share a similar outlook with the Angels Playpen institution: 'Heaven on Earth.' "My heaven on earth," she begins, "is that everybody is happy and there is no violence." 'Heaven on Earth' to Haley means that the needs of all are met unceremoniously; it should be a commonplace matter. Nothing complicated. Like beauty. So simple.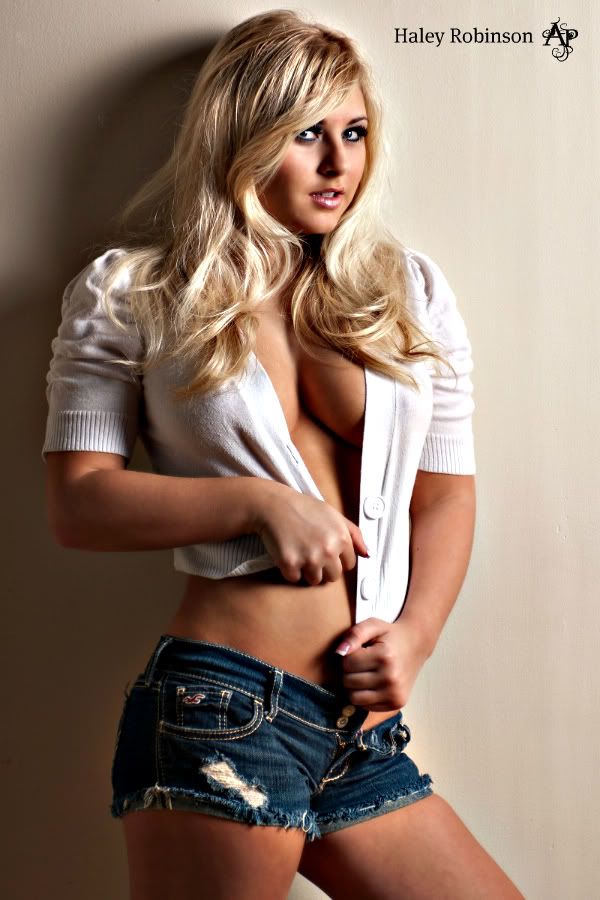 Photography: J. Scott Gallery