Angels -
Interviews
Written by Khalid "Bless" Bey | Editor in Chief | As Seen in NY Times Bestseller: Rat Bastards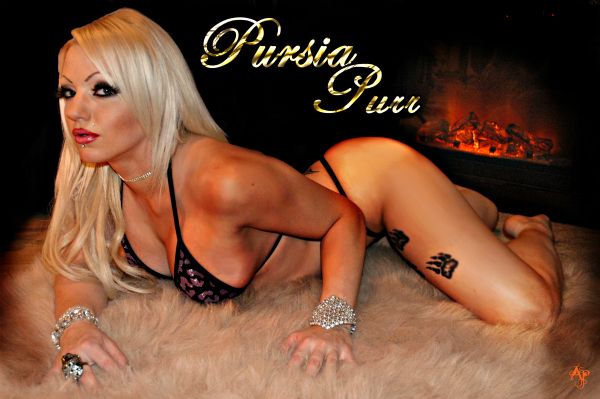 People have substance, not all, but believe it or not most do. This substance can lie on either side or at any point of the spectrum, running the gamut from positive to negative and all that falls in between.  When I do these interviews, that's precisely what I come across more often than not... substance. Pursia Purr has the type of substance I like... her answers to my intrusive questions are stories unto themselves prompting me to write chapter and verse detailing her... substance. I expect her to be one of our more popular angels, given that she has so much to offer. So let us abuse her substance, taking it in, learning exactly what makes her the angel she is.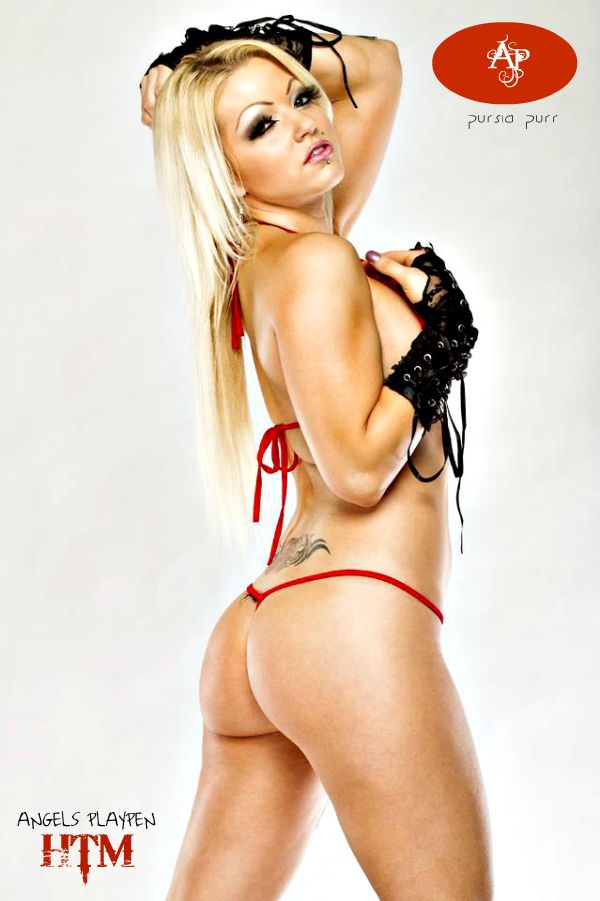 She comes from Canada, originally born in Niagara Falls, Ontario now living in Rockwood. She has lived all over Canada, Hamilton, Alberta, and Toronto so she sort of represents all of Canada. "I've settled for now on a quiet farm in Rockwood," she says. "A break from the hustle of the cities." Pursia enjoys the proximity of the farm to the cities, allowing her to visit how she wants, when she wants leaving her at peace most of the time. "No traffic ruining my meditation out here," she insists. When she doe decide to venture out, Pursia chooses Toronto for shopping, dining and partying. "So many great cities to choose from," she says, "but I have to stay close to home on this one. The shopping is great, dining amazing and nightlife sexy!  I love a city with so many choices! Is it wrong not to have just one favourite? Doesn't seem fair [laughs]."
Where her beauty comes from is something else entirely. "My wonderful mother is actually American which gave me dual citizenship which I LOVE for travelling and working in the states," says Pursia of her lineage. "My father, Canadian and Russian. I have an amazing family. Lots of love and respect to them." As a little girl Pursia admits she was a certified "bad ass" and "rebel to the fullest". At the lovely age of fourteen, she designed and got a tattoo without her mother's knowledge, absolutely infuriating her. "My mom hated it," she remembers vividly. "Oh wow she was pissed. The way I showed her was classic. I chose not to tell her but instead show her. No preparation for poor momma." They went to the beach one day, where she 'whipped' of her shorts, consequently exposing the illicit tattoo. "…Oh the look of death. I thought she was gonna bury me in the sand [laughs]. Family memories. Still no regrets."
These days she is a model, a "bad ass," sexy model and nothing much has changed about her. "I'm still down to earth, laid back, fun and outgoing as I always have been," assert the rebellious model. I never want to change who I am with or without being a model." It was the glamour of the modeling industry, the seemingly endless fun that lured her here, to a place like Angels Playpen, where beautiful angel like her are free to roam in all their glory. I realize how much I like her when she details what motivates her. "Art and the ability to create," she says mirroring what moves me as well to do what I do. "I love capturing a moment on film that makes people stop and say… 'Wow' and then at shows or events it's the look on people's faces when they meet you and get a smile or hug Sometimes people just need a hug to make their day. That's what sparks my fire," she finishes with a laugh.
Of course I asked what she thinks separates her from other models. "Oh my I have a list for this one," she begins ponderously. "Put it this way….I have seen a lot of both good and bad things in life along with lived some pretty interesting situations. Too much to [say] here but stay in touch and I may write that 'tell all' book on my bucket list. To sum it up, I know anything can happen in life. The key is how you react, think, live and treat others every day. So for Unique Qualities… I know how to turn negatives in to positives." I think it's certain to say we will indeed stay in touch as she continues her career. Some of the companies she would love to work with include Coquette Lingerie, Leg Avenue Lingerie, La Senza, La Vie en Rose. "I would like to make cover for magazine like American Curves and Maxim," says the ambitious model. Outside of modeling Pursia enjoys working out, running or bike-riding alongside her Rottweiler and Doberman Pincher and she's an airbrush artist. She actually has four dogs altogether that demand her time and attention keeping her in lovely shape. With all this she has no problem balancing her career and personal life. "If you love something enough you make everything work and you don't mind doing it."
Everyone has something in this world the day would not be the same without; something which without would be paramount to peril. "I'm pretty optimistic," says the curvy model. "There's nothing material that I can't live without. So I guess my answer then is I can't live without God.  I'd be a mess!" There she goes again, speaking words that carry a thoughtful weight when expressing herself. "Too many ugly things happening in the world and wrong influences teaching negative things," she tells me of her wish for the world, "if we could only learn how to treat and love each other properly…"
With so much to offer, inside and out, an inevitable attraction develops for Pursia. It's only fitting that I explore her romantic side. What is she like on a date? What's the worst that could happen? She tells me being stood up is the most awful. "Be hard to have a romantic date alone wouldn't it," she says. I imagine that guy is me, standing this beautiful girl up. Of course with my life that would happen unintentionally, and I would seek her forgiveness, gift in hand. I wouldn't want to ruin a great friendship. "Just ask for forgiveness," Pursia laments. "No gift needed. Everyone makes mistake." Still I would make it up to her. It's how I roll. A girl like her probably intimidates some guys. "Only the insecure ones," she offers with a laugh, "I understand. There is a lot of sexy to get wrapped up in. [It] can be [ahem] overpowering." This makes me smile. She is funny. She admits she was just kidding. "I'm a really cool, fun chick to chill with," she says. Sounds perfect to me; I would love to count her as a close, dear friend.
Can man and woman ever truly be 'friends'? I tell you now I have plenty female friends, but I confess being attracted to each for one reason or another. "Yes," she says answering my question. "As long as boundaries are set and understood by everyone. If you are honest about things than there should never be a problem; It's when you start hiding things that it gets nasty." Smart girl. She mentions being turned off by bad attitudes, arrogance, immaturity, terrible hygiene, anger and rudeness. There are some things that turn her on however, she's not all critical. She first notices a guy's smile, and after that if he is funny, honest, loyal, wise, and able to cook a romantic dinner once in awhile; she could be hooked. Seems she knows me well. Ha.
I think she would enjoy one of my weekend regiments. I would let her select the destination, setting the scene for a place to kick back and unwind; a little heaven on earth. "Ohhh now we are talking my language," she says excitedly. "Heaven on earth would be a place with the perfect weather, not to hot or too cold, on a quiet beach, possibly little island, where I can prance around in my tiny string thing bikinis getting tanned, swimming in the ocean. The gorgeous tropics, sipping pina coladas and eating fresh fruits… mmmm are we going yet?" Once there I would start with a home cooked dinner Friday before taking her out, showing her off to the world in something sleek and sexy, Saturday afternoon lunch at  a some intimate and quaint restaurant, maybe a movie, then let her plan the rest of the day and night. Sunday is chill day in oversized tees and undershorts. Where is Pursia sexier, Friday night in a black dress or Sunday in an oversized tee? "Both," she answers, "I can take ya' from sexy Friday through sexy Saturday, all the way into hello good morning sexy Sunday." Funny.
Indeed Pursia is sexy, something unquestioned when looking at her. "Sexy comes from within," she confides. "Nothing to do with the physical self. Once you understand and master the art of being sexy, it's natural my friend." She remarks that the key to a good seduction is in body language. "A woman's body, face, eyes, lips can be a dangerous weapon to a man if she knows how to use it. How can a man resist?" I couldn't. She would even take advantage of her man while he's sleeping. "Doesn't every woman?" she poses. "That's one of the advantages of being in a relationship."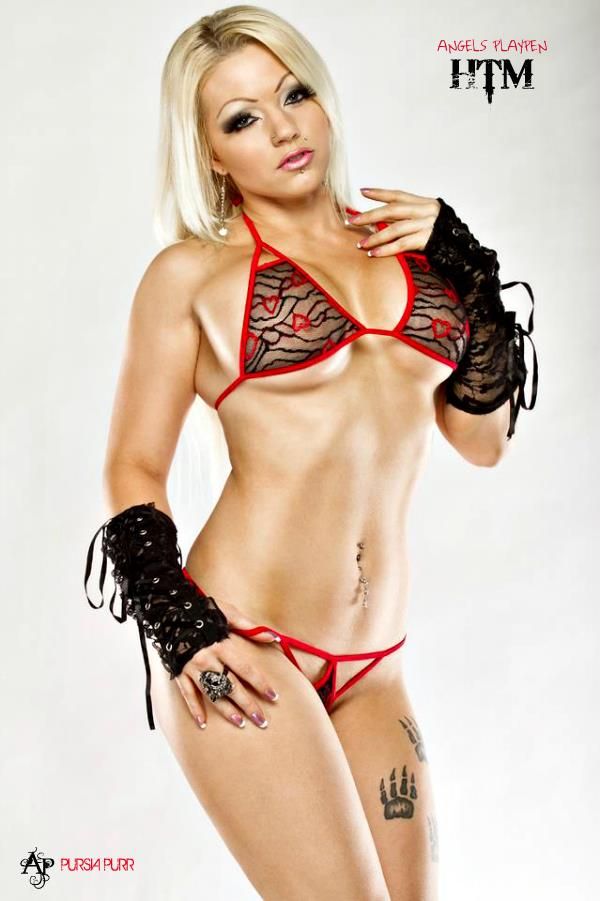 A great girl to talk to, our verbal exchange could literally go on forever. She is an Aquarius like me, admitting to being creeped out at how accurate her sign fits her. She laughs ever day. Compliments make her blush. What's the best compliment she remembers? "Aww," she says, "I'm blushing thinking about it. Someone once told me I'm as beautiful on the inside as I am on the outside." A point I readily agree on. Pursia believes beauty is a feeling. "When someone feels beautiful, it shines through". She has a love-hate relationship with junk food, describes herself as "loving, caring, strong", and is loyal to anything she puts her word to. It was a great pleasure getting to know Pursia Purr and coming to like her as much as I do. Does she know what it is about her that I and so many others like? "I'm not exactly sure since its different for everyone but if your reading this far than I'm assuming your enjoying our conversation, so let's go with personality for starters….." Yup. Substance.