Angels -
Interviews
Written by Khalid "Bless" Bey | Editor in Chief | As Seen in NY Times Bestseller: Rat Bastards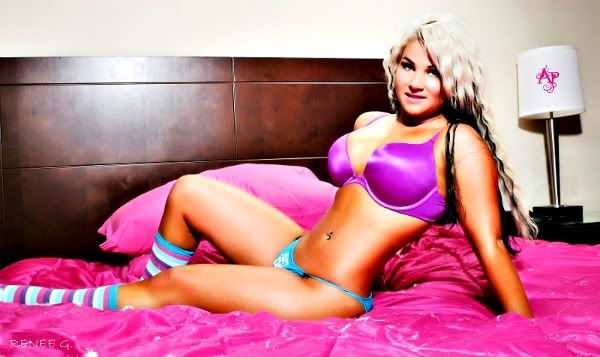 What is life? To you, is it something you're stuck enduring or a gift meant to be experienced to the fullest?  Do you hope to one day fall in love? Find a career you love more than any person? Through these interviews I've learned that more than anything else in life, most of just want to be ourselves; alive and well.  And those of us who are passionate about this find resistance more than we think there should ever be. Can there be more hate in this world than love? If you had the ability and power to make it happen, what would you change about the world we live in? I mean it is your life. "I would love for everyone to love each other," says Renee G.  "No hatred, no racism, no discrimination, etc. I think if everyone would just go about their business they all be able to be successful because people would be focusing on themselves and not what is going on negatively in society."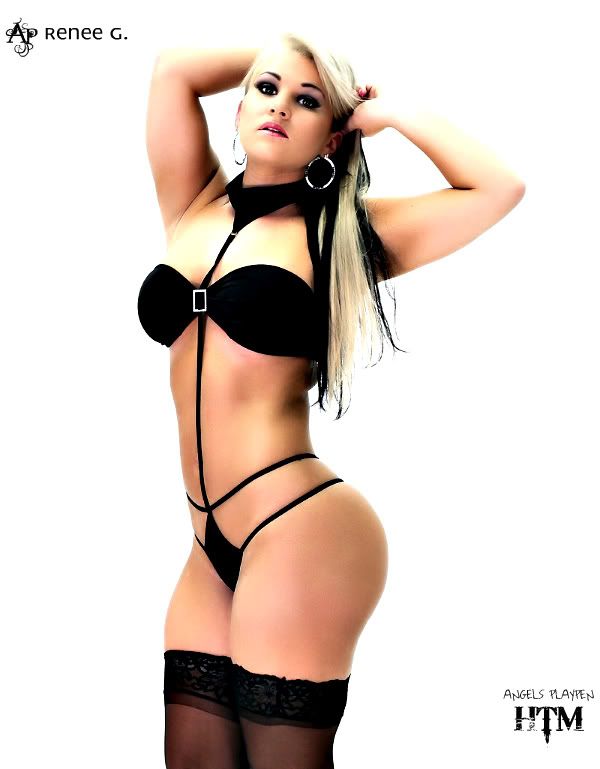 Renee G. is a model from Pensacola, Florida a place with the whitest sand and her favorite nightclub; Club Ice. A place where the well proportioned beauty grew up bouncing from being a girly-girl to a tomboy. "I loved being comfortable but then again loved dressing up and looking pretty," she says. Eventually she had to make a choice and thanks the heavens she is now an angel. "I am little different than the average model of my ethnicity," she points out. "I am curvier than most and know how to pose to show it." As I look over her photos, I find myself in complete accord. She has more curves than usual and knows where they are. Because she is well aware of her above average stats she says "would love to work with anyone who appreciates curvy women". That would be us.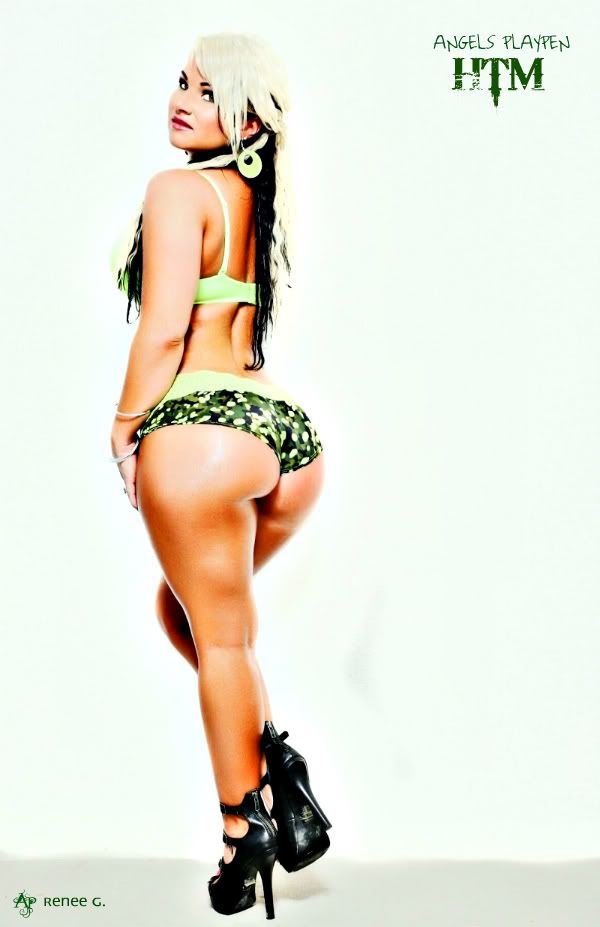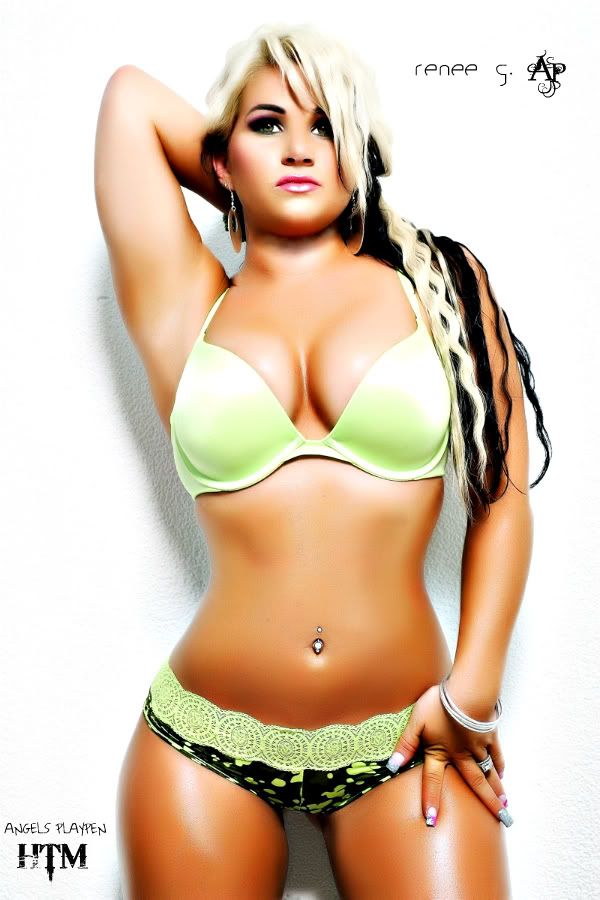 Outside of modeling she admits she knows a little about cars, something she knows is usually unexpected. "I have worked at a mechanic shop and changed oil, tires and other maintenance things." Well dear I must admit I don't know much about cars so you're welcome to check under mi hood anytime. Ha. Anyways… Pretty with a practical mind, she has an interest in math. "I have a degree in accounting and definitely plan on using it". She found plenty of support when she needed it, beyond her expectations nevertheless haters abound. "Of course there are those that have been negative about it but I suppose that is to expected," she tells thoughtfully. "I just try to keep positive and stay around positive people."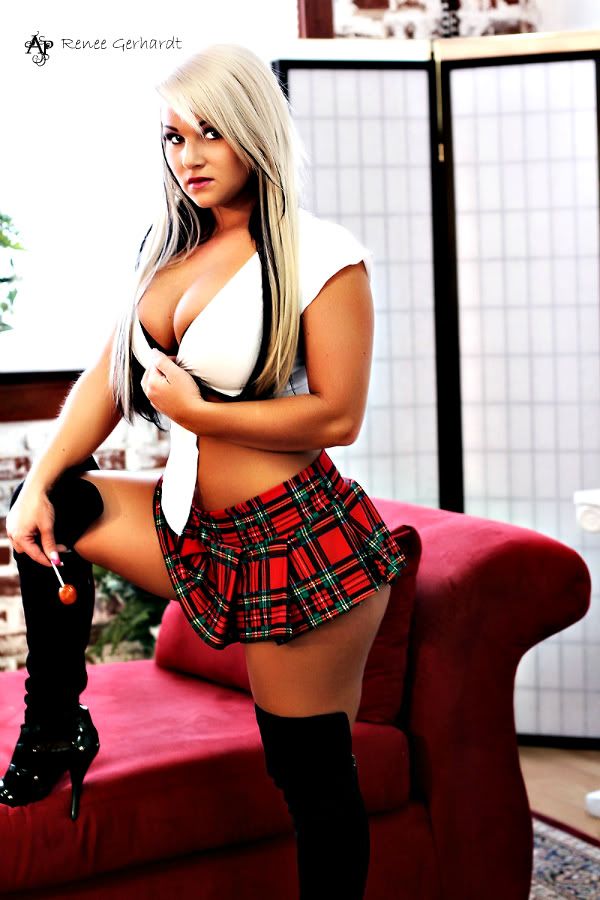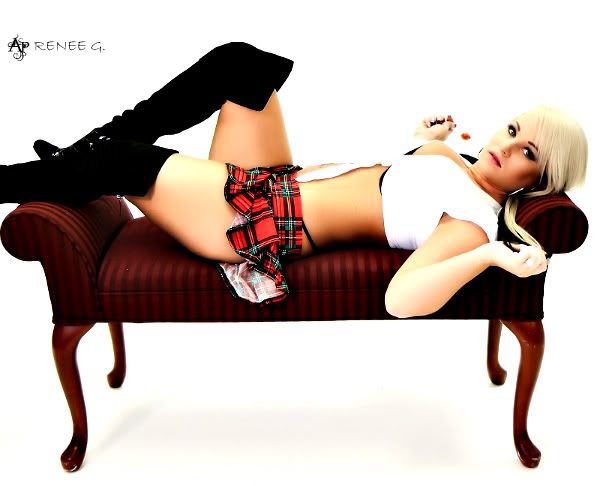 Another huge factor, if the main factor, is the Virgo's son. Yes she is mother. I'm hesitant to say MILF, yet somehow it fits. Her son keeps a smile on her face as each day passes and balance is sought. "It can be hard at times," Renee confesses, "but I try to always keep my family first." In the face of life and career decisions, "one has to weigh out one from the other". So when the time comes and she gets to relax, a weekend getaway would be my suggestion. "I would love to just get away to another country, anywhere really just as long as there is cabana boys and a beach," she says with a laugh. Miami is a favored city, Bal Harbour and Ventura Mall two places she likes to visit. Houston has its charm too. "They have great shopping there in the Galleria and the clubs are really classy; I love that," she says with excitement in punctuating the end.
Renee's sign being Virgo, she says she is "kind hearted and would give the shirt off my back for someone in need". Somehow such a valiant gesture brought with it an appealing vision; my insides stir slightly. I remain on track with her story and we talk of the "half German, half French" angel's own definition of beauty. She sees beauty as much more than appearance. "I see gorgeous women all the time but their attitudes are ugly." An angel she sees as "someone who watches over me and keeps me safe when good times and in bad". She laughs the most whenever she and the girls get together for a weekend of fun. Renee has mild needs to attain heaven on earth. I envy her this, as I need so much. "My heaven on earth is being content with my life and what is going on with it," she tells me. "I want to be content and happy with everything in my life." Not sure if I could ever be 'content' these days, always the explorer.
The best compliment she ever received was when she was told that "my personality is what makes me hotter than I already am… kind of cheesy but it was nice." Guys are sometimes too shaken to ever approach her but this she embellishes. "I like to think they should be that way they think before they speak." Lucky for her she has fallen in love, having found the one for her; it's a day she will never forget. She describes herself as fun, caring and loyal. Loyalties are often tested, but there is one that can't be broken with Renee. "My family," she states firmly. "It has to be the number one thing in my life that demands loyalty." Again… it's all about what life means to you. Live your life. Angels Playpen.  HTM.