Angels -
Interviews
Written by Khalid "Bless" Bey As Seen in NY Times Bestseller: Rat Bastards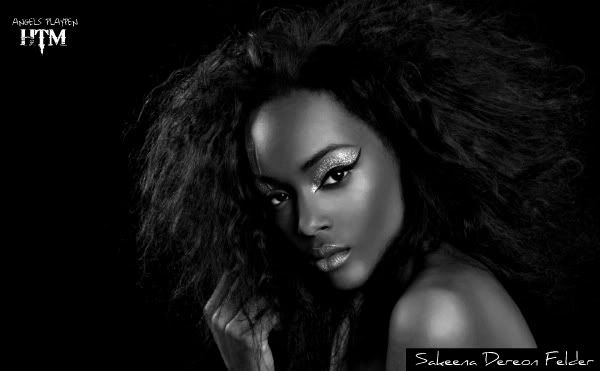 I march to a beat that only I hear, melody in my breathing, song in my step, the sounds around me form a symphony to which my heart beats. Music. All around music can be found, it's not the cacophony found in the absence of melody but what happens when sound mesh holistically. The world was meant to be harmonious, and if you're perceptive enough you can tap into this harmony. This angel we have with us today, I believe may have tapped into this. As is my custom, I pose the question; name the one thing you can't live without. "Music," she says mirroring my own sentiment, "without music, there is no life." And I have no choice but to agree.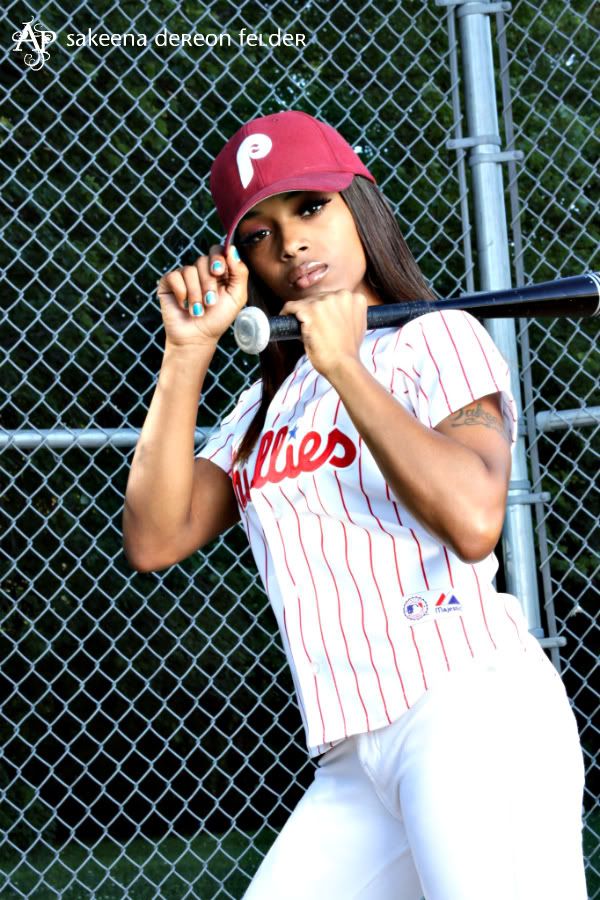 "Hello," she says. "My name is Sakeena Dereon Felder and I'm from Philadelphia Pa; home of the Phillies." Looking at her images, the Phillies baseball cap featured prominently had already given clues to her origins. I secretly get happy for I am from Philadelphia as well. "The best thing about Philly is our famous cheese steaks," Sakeena extols, "we have the best cheese steaks with just the right meat, cheese, mayo, and much more… I must treat Hidden Treasures Magazine to a cheese steak asap." That would be great… no onions please.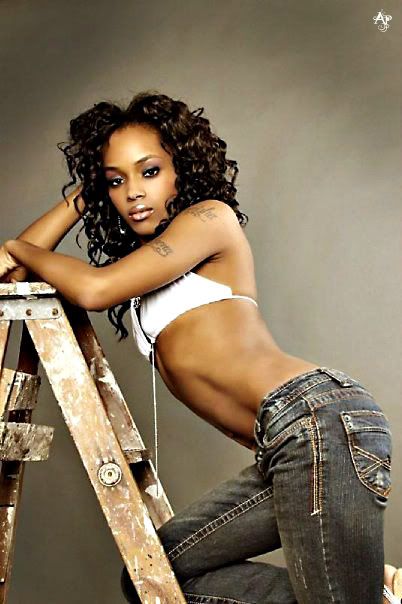 African and Cherokee, her sharp features bring to mind high-fashion couture. Dereon has been modeling since the tender age of twelve. "Well as a child," she tells, "I always loved taking pictures and posing in mirrors." Her mother took notice and enrolled her into modeling school and her she is today counting Tyra Banks and Megan Good amongst her influences. She goes on to state companies she'd love to work with. "OMG!" she begins with the popular terminology, "I would love to work with ANTM, Elite and Ford." The latter two being model agencies, the former none other than America's Next Top Model. Though she loved modeling, she also was quite a tomboy. "I always dressed like a boy," confesses the Philly beauty. "I played basketball, football, I ran track and field. Whatever the boys did I did better."
As a mother of three children with ambitious career goals, balance becomes a hard to reach plateau. Dereon admits she's looking for management. Her kids are her motivation. "They push me to do better in life and to want more for them." With so much to deal with, I'm thinking she deserves a weekend getaway to unwind. Her choice is Orlando Florida, my choice would be yes. "I love being there," she says, "everyone is so happy and it's just so much to do. I love to unwind in Orlando." She loves to laugh, something she does regularly to keep happy while hustling family and career. A natural actress, she loves it yet hates having to remember her lines. And she is the same girl from Philly; despite becoming an established model with what I am sure are plenty of fans. If she isn't modeling there are things she does to occupy her time. "I love to dance, act, and sing. I love playing the Just Dance [game] on the Wii and other Video Games."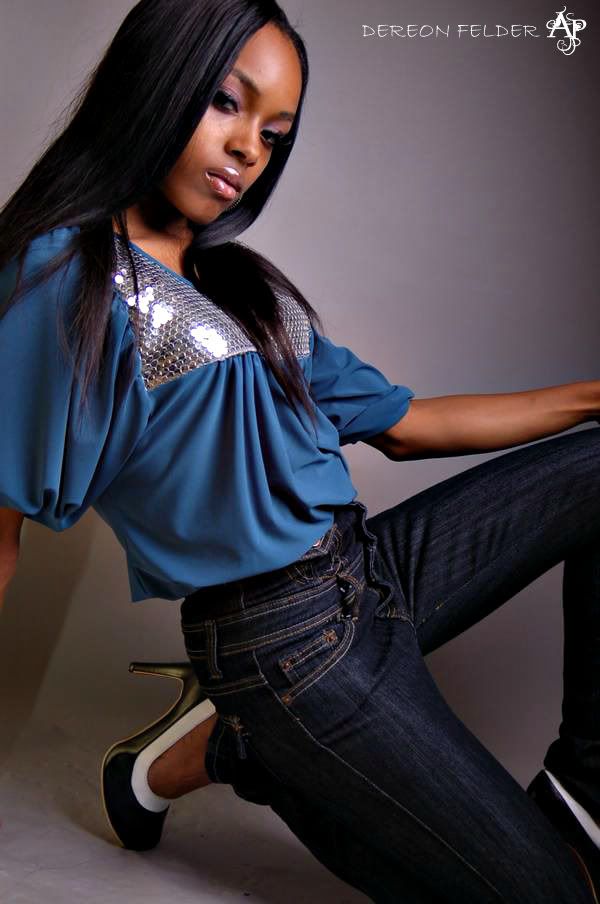 Unlike so many models, Dereon's passion for her craft is palpable, visible and credible. She knows a little about photography, able to work with lights and shadows, able to work well in front of a camera. Her long history with modeling has granted her the knowhow to work the camera. These days she seeks reputable management to help with her career, believing this will help achieve ever elusive balance. Her thin, lithe yet curvy frame is heaven-sent, workouts are just routine. "I still do hip-hop and pop dance," she explains, "so I like to stay in shape." Though she is committed to her modeling, she admits to being shaky with her singing; much more could be done. Still music and modeling both are the first things she thinks about when she wakes.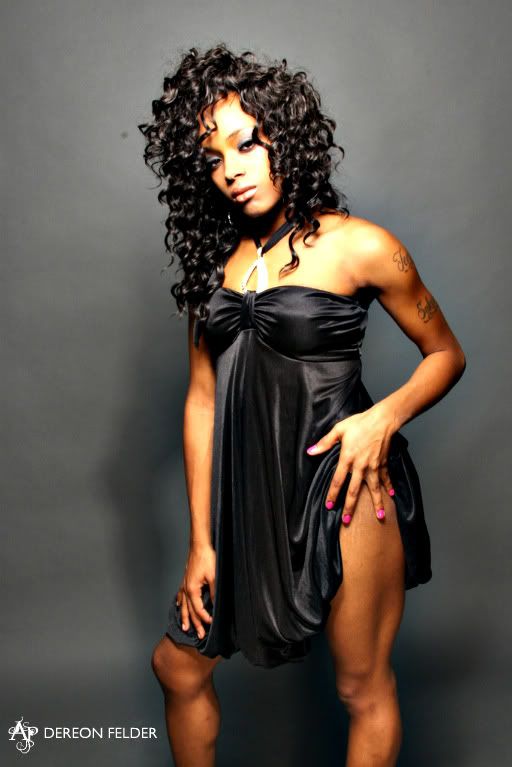 Dereon has a sense of humor that appears throughout her interview. When I ask what her 'Hidden Treasure' is she answers jokingly, "Let's see," she begins, "well I love to eat butter pecan ice cream while dancing in my pajamas." The vision pops immediately into my head and a smile spreads internally and externally. "Oh yea," she continues "I know how to hotwire a car. Hope that's enough hidden treasures." Bad breathe she says is a deal breaker on any date. "I mean how can we talk and you have bad breath," she explains.  "That's the worst thing ever." But I wonder what can be worse than discord between friends and what would it take to win her forgiveness. "Ummm it doesn't take much to make me happy," she says. "I would love to get a new Rihanna cd or Beyonce because I keep it on replay," she continues with a laugh, "or snacks. I love snacks."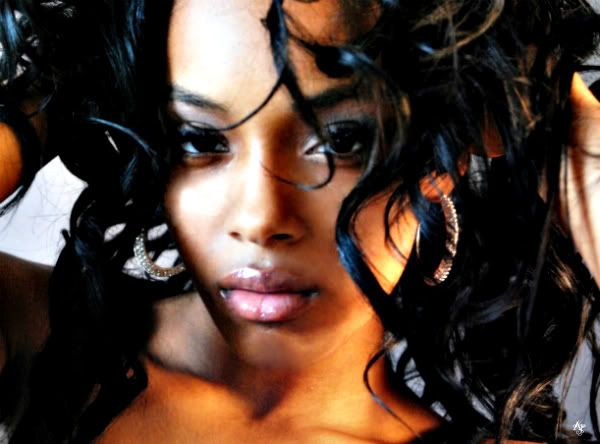 "My definition of beauty is being authentic," she tells me. "Natural grace, charm and having a nice personality." Beauty itself is not what Angels Playpen focuses on; it's the 'concept' of beauty. After this comes angels themselves and what it means to each individual. "My idea of an angel is someone who always thinks positive and just have certain presence to them that brings joy to others." I like her answer immensely. Dereon describes herself as "Loyal, Outgoing and Beautiful" with the best compliment she's ever received being "you have a pretty smile." Yes she does. As a Scorpio, she says everything the sign suggest about her character is a fit. "Rarely forgetting or forgiving emotional rejection; jealousy and possessiveness are self-defeating to just being person who has to have the last word." Well sorry angel this time around Bless has the final word.