Angels -
Playpen
Written by Khalid "Bless Theangels" Bey | Editor in Chief | As Seen in the NY Times Bestseller: Rat Bastards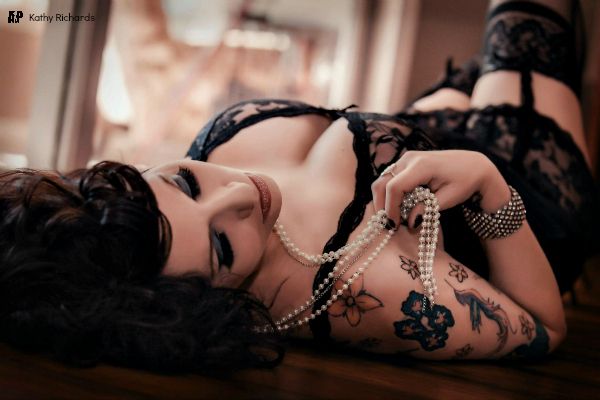 "My name is Kathy Richards," says our current angel. She is originally from South Georgia but has called North Carolina home for some time now. "I would like to represent the city from which I was raised… Tifton, Georgia," Kathy Richards declares. "It's a small town and I would like to show some recognition to the town." Family from the South, by way of Ireland, Scotland and Germany, Kathy herself was born in Germany. "The best thing about the city that I live in is that there is constant support from other models and photographers. The city itself doesn't have a lot going for it but that makes it easier knowing that there are people who know what you do, go through the same challenges and support you daily."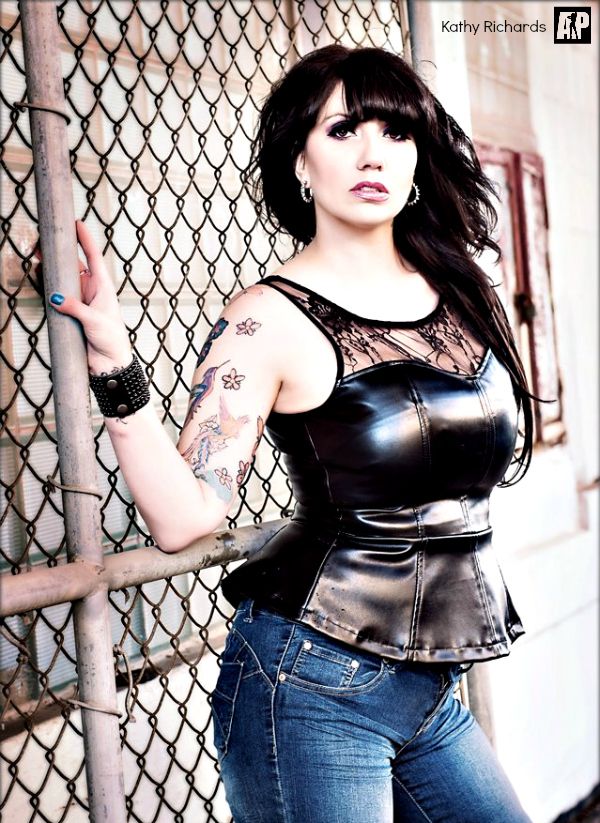 "Growing up I was always a girly-girl," recalls Kathy. "I remember being ten years old and putting on my mother's makeup, her clothes and striking a pose for the Kodak camera so I could get an instant picture," she says laughing. "I have always been into fashion." A love for posing and fashion easily translated into a modeling career. "What got me into modeling started as a teen," she says in remembrance. I modeled back then but didn't have the money or time to pursue it. Then I became pregnant with my first child and put it off for years." A paid photo shoot a couple of years ago prompted a return to modeling. "I saw the results, photographers saw the results and it has been nonstop ever since and a wonderful ride it has been." Influenced by Tyra Banks, "I love the fact that she is not a size 0 and can get on live tv with no makeup and be a real person," she'd love to work with Maxim, Inked Magazine or any "reputable magazine such as Angels Playpen where they not only respect models but 'treat' them with respect."
Kathy's return to modeling after an extensive break where she became a mother and wife reinvigorated her love of being a model. It also separates her from most other models. "I find the fact that I am almost forty-one years old, curvy and look like I am younger separates me from other models," she says. "When I tell photographers my age, they can't believe it until I show them my driver's license at times. It comes from years of taking care of myself and good genes." Returning to the modeling industry has brought a few pleasant surprises. "Photographers wanting to work with me, my self-esteem that I used to have years ago is back and I feel on top of the world."
"Aside from modeling," Kathy informs, "I have a huge interest in all aspects of criminal justice. I majored in Security so I could work with places such as TSA or Homeland Security but my focus is now geared more towards being a MUA or photographer." With a newfound modeling career, I wonder about her personal and how it's been affected or if it's difficult to balance family life with your career. "I don't find it hard to balance my career from my personal life, family and marriage, as my husband who is in the army fully supports me and is beyond proud at how far I've come." Motivation is key, it's not always about opportunity and circumstance. "I'd have to say that my youngest daughter, who is fifteen, is my biggest motivator," she says proudly. "She never lets me stop even though there are times I look at other models and compare myself to them. In her eyes I am the most beautiful of them all."
Kathy, the loving mother and model-wife, laughs every day, "usually at silly things most people don't", and makes it a point to get a laugh in at least once a day. "Life is too short to stay serious all the time." I secretly agree with her. Laughter is necessary. So is pleasure. Pastries are such a guilty pleasure that resistance is futile on occasion. "I try to avoid them but at times they pull me in." Heaven on earth is Scotland, where she hopes to move in five years when her husband finishes his stint in the army.
As I absorb her statements, I can see why her daughter thinks she the most beautiful person, even with her modeling. "I think that young girls and even some older girls admire the fact that I never give up," Kathy admits. "I am forty-one and people told me that I would never get anywhere in modeling but over the last two years I have proved them wrong. I have shown that at my age and with my curvy figure you 'can' go places and that people don't always love a size zero." She believes beauty is all about how you see yourself. "I have fought with this over the last several years and I have come to realize that beauty isn't just what you see in the mirror, it is how you feel inside."
Men are sometimes intimidated by Kathy's… sexiness. "I have a few photographers now that are excited to work with me but at the same time nervous," she says. "I explain to them that I am an average girl, goofy at times but professional in front of the camera. My shoots usually turn into a big fun party." She is a Sagittarius so being independent and outspoken are characteristics that suit her and probably a little intimidating to some; not me though. Those who aren't intimidated give compliments saying she looks like Katey Sagal. "At first I wasn't sure about that," she says, "but now I see it and embrace it." Being compared to Katey Sagal implies some serious sex appeail, which means she either works hard to maintain her looks or she is naturally sexy. "Lawd," she says emphasizing her Southern charm, "I workout, take vitamins and eat healthy. I am a vegetarian, don't eat junk food and stay away from bad carbs and sugars."
Her wonderful attitude would make for great company; I would whole-fully welcome her to my circle of friends. Sometimes friends have arguments and if I am at fault I always like to give a gift of apology; for some a gift is not necessary. "If you upset me in any way, the best gift that you could give me is an apology; A deep down, truthful apology." Great company for learning new things and experiencing new wonders; maybe I can even get her to take me to her favorite places to eat and shop. "My favorite places to eat and shop would have to be in Dublin, Ireland," she offers. "I can't imagine a more magical and beautiful place and actually long to go back to it." Wherever she travels, she cannot live without her Blackberry. "Mostly because I text like crazy and check Facebook throughout the day," she confesses. "Then again I would die without makeup and shoes."
An angel herself without question, she feels an angel "is one that can not only be beautiful but can represent women of all ages, shapes and sizes and do it with grace, style and class." Since she is such an angel, I, on behalf of Angels Playpen, would like to offer a sponsored trip to a destination of her choice, just to unwind for all her hard work. "That would be St. Augustine, Florida," she chooses, "with a couple massage and room delivery. I love staying in places where you can just call down, say what you want to eat and bam, it's at your door." For being a true angel, room service is the least we could do.
Photography: Julie Jackson | RTP | Monica K