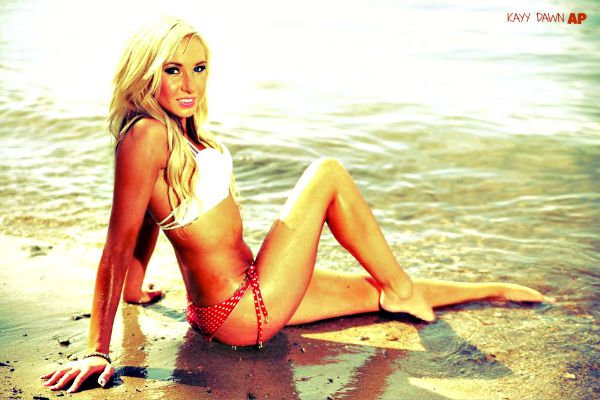 Kayy Dawn is… different. Not quite like Two Chains or Lady Gaga, she isn't entertainingly different, she is fundamentally different; seriously a pear in a bowl of apples. In Angels Playpen, difference is praised; character a blessing, uniqueness heavenly. It's almost become sort of a religion, a set of practices that embraces freedom of thought, actively repels negativity, vigorously spreads love and judges nothing and no one. 'Do You!' we suggest emphatically, you need not concern yourself with the actions of other unless they threaten the balance of our world. What makes Kayy Dawn different? "My weird outgoing, sexual, twisted personality," she answers proudly. Hmmm… this should be a good interview.
Her prevalence for dissimilarity shows in the story she tells and in the decisions she's made. Kayy Dawn's first tattoo celebrates her beliefs, permanently etched into her skin. The tattoo is comprised of three snowflakes located behind her ear. Each snowflake represents someone she loves dearly, her dad, mother and sister with the wintry precipitation symbolizing her childhood skiing. "No two snowflakes are the same," she says of her tattoos, "their delicate, unique and beautiful creations of life and I'm really happy with them!" She began skiing when she was three, two years before she began playing soccer.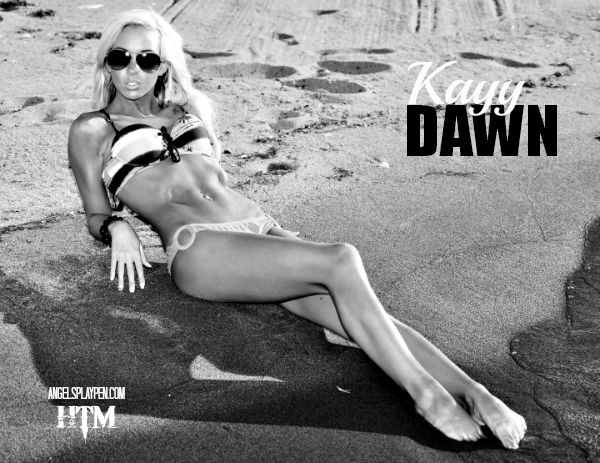 For Kayy, being adventurous is actually one of her interests. "I can't sit still," admits our angel. "I get bored easily." She further admits she was once a very weird child. "I played for hours in the mud, Power Rangers and pretended I was a dog throughout my childhood. In elementary school," she recalls, "[I] got chased by at least twenty boys for three years at lunch hour. I'm an excellent runner now." I laugh at the last of this, picturing her being accosted and pursued by the naughty boys at school. Kayy is from British Columbia, Canada, born in Edmonton, Alberta, raised in Okangan Valley. "I am a quarter Norwegian or more," she says of her heritage, "then the other half is English Isle mix. Mostly Canadian baby!"
Absurdly proud of whom she is, Kayy demonstrates pride in a fashion to wrought envy in anyone nearby. Always active, one may find it hard to keep up anyhow. Her conversations with her best friend Amanda are racy and she couldn't care less. Sex, skiing and men dominate as chosen topics; anytime, any day. I like her. She personally likes men who can be themselves, something that never troubles me. "Being able to carry a conversation and not try to impress me too much," she adds. "Make me laugh, don't be afraid to laugh at yourself. It's hot." And gentlemen, all that extra cocky stuff is frowned upon by our quirky angel.  More than anything, same as me, negativity of any sort will not be tolerated. "Don't like something," she says, "shut the hell up and change it. I don't have time for drama or negative people of any kind in my life." Negativity is inescapable. There is only one healthy way to handle it according to Kayy. "Taking negativity for what it is," she states firmly. "You have the power to choose how you react to everyday issues. Instead be thankful for the negative things, accept them. Change them into a positive; you'll be much happier this way."
Passion seems to power much of what drives her. She is most passionate about her friends and family. "Without them," Kayy commands, "I wouldn't be where I am today. Thank you." Today she is a model, no longer the weird little girl she once was, well maybe a tad. "A persistent Spanish man in Mexico" apparently is the reason Kayy began modeling in the first place. "When I was sixteen," she says drawing on that long ago memory, "[He] would follow me around the resort we were at for a week and would ask every single day to do a 'beautiful photo shoot on the beach.' Thank you."  Since that fateful day, she has loved everything about modeling. "Getting ready, the concepts, working with amazing talent, the images, everything down to the last detail; I'm in love." I wonder if should tell her that I'm love with her for being such a genuine character? Ahhh… I think she knows now.
A few changes have occurred following Kayy's foray into the world of fashion and flash. "My workout habits, my eating, my goals always getting bigger," she explains. "I'd love to be in more well known magazines, hopefully in the near future get sponsored, traveling for modeling workshops," her goals defined. "The list is never ending." And she certainly knows how to achieve these lofty goals. "Determination. Goals. Picking up, never losing sight of your dreams. Getting yourself out there. Networking." After a long day that may include any one of the things she mentioned, she either hits the gym, "getting all my stress and worries out" and sauna after which a nice soak at home in her hot tub. Of course cuddling with her beloved puppy has its calming affects too.
Determination aside, Kayy's beauty will also be the reason she ascends the ranks in the modeling industry. Beauty she says is all about confidence. "Beauty is such a deep characteristic," she further defines. "You could be the most beautiful looking woman in the world, but if you aren't deep in your soul then you aren't truly beautiful at all in my eyes." Her words are stern; she clearly has hard feelings on the subject of beauty. "It's more than a just a captivating look or beautiful hair or breathtaking eyes, it's how you are deep down. Caring individuals, selfless, nurturing, thoughtful, truthful people."
'Heaven on Earth', being surrounded by all one deems beautiful, is subject to individual desires. "There would have to be a beach, warm sand, my best friends, hot men, amazing healthy food and a mountain covered with powder," Kayy says of her own 'Heaven on Earth.' It sounds like where she lives in Okangan Valley, there she enjoys "the amazing hot summers, beautiful, friendly people and the powder rich winters!" Her favorite places to travel are usually regions of the world that are hot, temperatures nice and high. She admits she needs to travel more but Mexico is always a good time for her.
Kayy's style is sporty and relaxed, two surprising things in face of her admitted 'sexy, quirky' persona. Her guilty pleasure is chocolate but she also has an affinity for 'sparkly things.' Truth is I love her unique qualities and as I draw this interview to a close, I realize that her and aren't too different from one another. She also calls her style "girly with a bit of an edge." Skulls, studs, spikes and leather adorn her regularly. "[I'm] Always complimenting then with flowers, pink diamonds and some killer heels." Regardless of her chosen attire for the day, wherever she goes, her iPhone, purse full of makeup, the bestselling 50 Shades of Grey and a select fragrance comes along. She even keeps certain 'emergency accessories' on her person at all times. This angel seems ready for anything. Only the future knows and we plan on being around to bear witness. Thanks for being an angel of a 'different' sort.
Photography: Cecconi | Gord Klinchuck | Sonia Photo