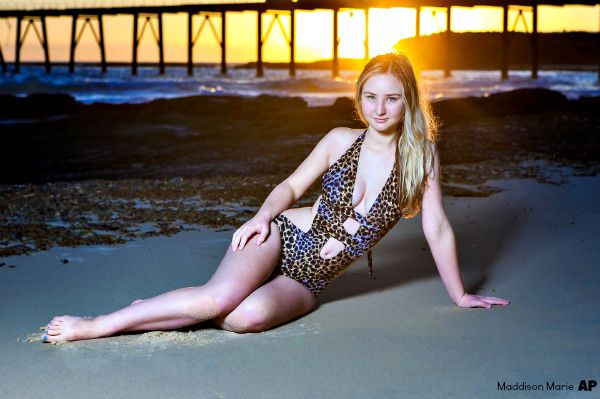 "My name is Maddison Marie and I am originally from Sydney, Australia," says our newest angel. "I now reside on the beautiful central coast about an hour away; [I] have lived here for about ten years now." Where Maddison lives now, beaches abound. "We have so many that I cannot name them all." The expansive selection of beaches creates the ideal scenario for isolating a quiet beach and adding variety to beach located photo shoots. "I plan to visit them all one day," she says.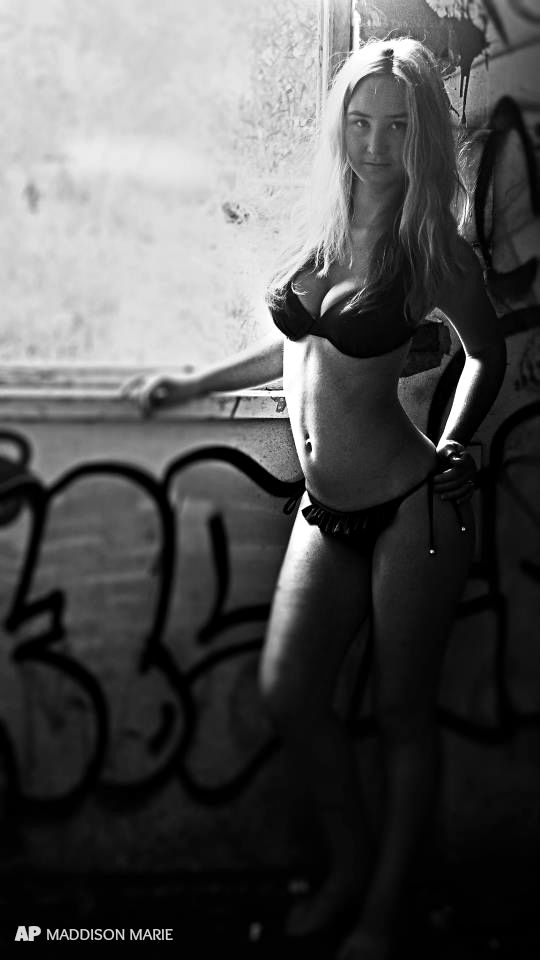 At home in her bedroom, Maddison tells us her story. "I see lots of pink and purple," she details her immediate surroundings, "and the cars driving past my house outside my window." Her bedroom is her favorite place to be when home. "[It's] my own private space to relax." She says that growing up she wasn't quite like the other kids. "I was quite eccentric; on one hand ridiculously shy, [on] the other crazy and loud. I never really fit in and was the ugly duckling." No longer the ugly duckling, as a model a few changes occurred. "I have been more conscious of what I want and who I am," she confesses. "It's quite strange having people admire me as well."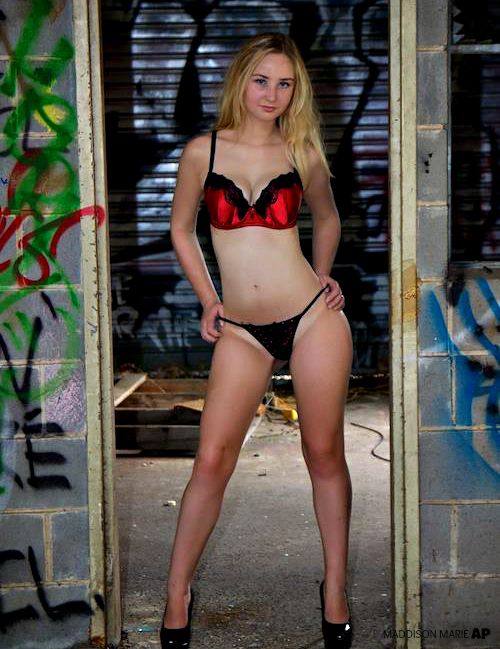 "My immediate family is Australian and has been living here for a few generations," Maddison explains her lineage. "My ancestors mainly originated around England and Ireland. Some of the Irish traditions my great-grandmother held are still going strong now." One of her favorite places in her land of residence is Newtown. "Newtown in Sydney is amazing," she says, "so many places to eat, drink and shop. It is a nice slice of heaven. My favorite part is there is a huge mix of all different people; it's always interesting." Though she loves her country and region, she travels whenever she can to other places. "So far," she says, "I have been to America, New Caledonia, Vanuata and New Zealand. It's amazing how different every place is. I also love to explore the outdoors, whether it is walking along the beach or bushwalking; nature is always a great visit, especially in this developed world." She speaks with a conscience I like; I find her words kind of inspirational.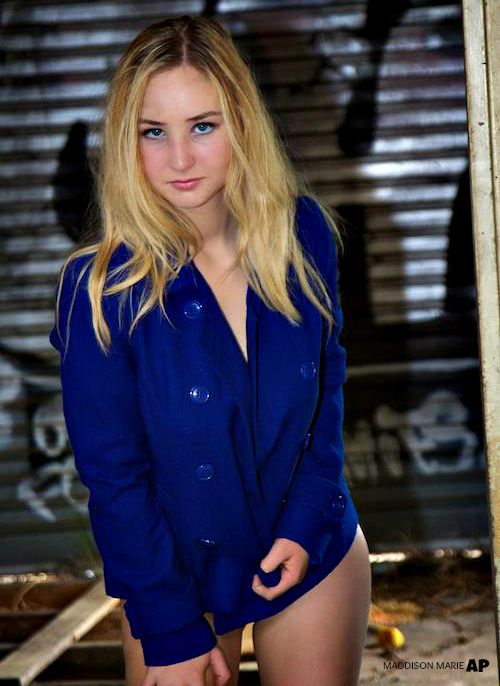 Maddison finds heaven in places most deem trivial. This made me wonder about a more comprehensive idea of what "Heaven on Earth" is to her. "Heaven on Earth for me would be living with the people that I love," she answers, "happy and care-free." I actually feel the same, even going so far as to take steps to bring this 'idea' to reality. There is a treasure in each of us, something unexpected that surprises others. "That would have to be my nonjudgmental heart," reveals Maddison. "I try to find out things for myself. You'll never know a person through gossip; I like to give everyone a chance."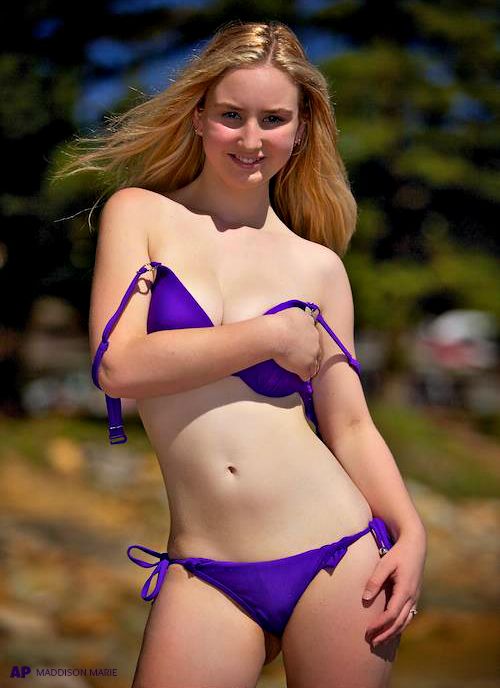 I learn that we share a love of incredibly hot, steamy showers. "Boiling hot!" she says, "Although I try not to indulge anymore, they are terrible for my skin." A cup of coffee or tea relaxes her after a long day of work, a simple ritual I too find relaxing. Science and history are two topics Maddison loves to talk about, favorites of mine as well. And in a world full of negativity, it's her achievements that keep her going, it's the love of the people around her that brings balance to her world, adding just the right amount of positivity to make it all worth it.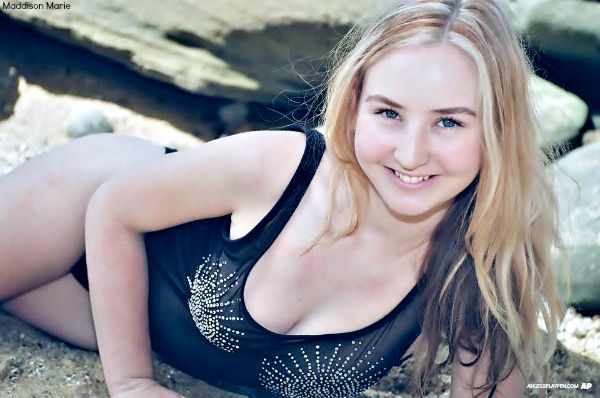 "I usually dress for comfort," she says describing her style, "so rather low maintenance. It really depends on my mood, sometimes I'm girly then other times I'm more tomboyish." To keep up with a style that can change literally with the weather, I ask where she likes to shop. "I prefer to shop in all different places," Maddison answers, "especially independent, smaller shops and op-shops. I like to have pieces that are more unusual, I don't follow fashions." A bit of a rebel but she is totally cute to me. "I love unique sunglasses," she adds, "whether they be vintage or bright colors, they are a must have for me."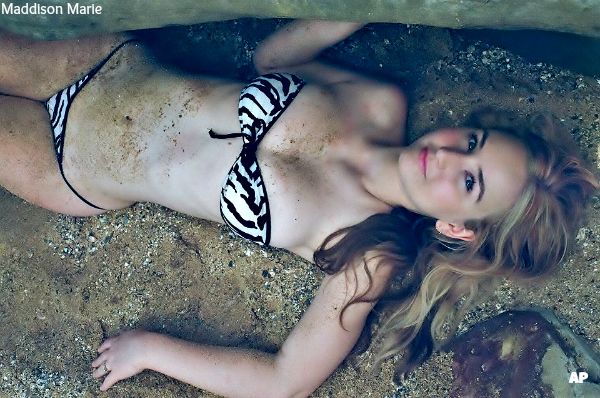 Maddison likes a man with a funny, care-free personality and says its okay for a man to cry. "Of course it is," she says of a man crying. "I would be worried if they never cried or displayed ant negative emotions." To stay healthy and pretty looking, Maddison has developed a habit of taking care of her skin. "Cleansing and moisturizing often really is necessary!" She also knows there is something about herself she wants to improve on. "Definitely my anxiety," divulges our current angel. "It is probably the one thing that holds me back from succeeding." Success for her means ultimately working fulltime as a model. "However," she says, "getting into more print work such as magazines and catalogues for designers would be amazing." She has an idea, other that managing her anxiety, of what it takes to succeed. "From my experience, my attitude has been an advantage. Simple things such as being polite, positive and reliable can open up doors for you."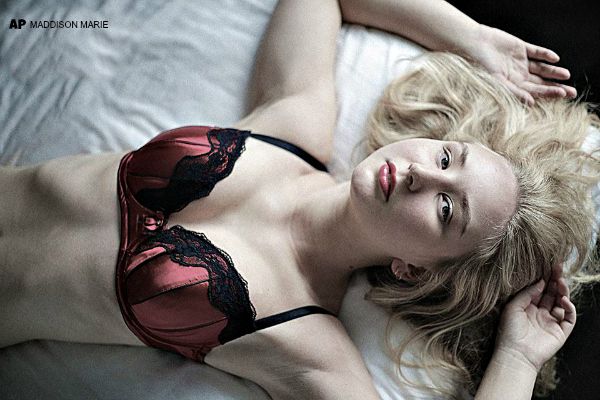 Modeling has created a lot of peasant memories for Maddison but says, "The biggest was when I started gaining a lot of interest. It was more than expected [and] in such a short time." She admits it "would be a dream come true" to work with the fashion company Guess. "Their models are full of class and sex appeal." Citing her size as a factor, she confesses to wanting to work with the elusive Victoria's Secret. "If I was taller," she says, "Victoria's Secret would be amazing. I love the wings in the shows."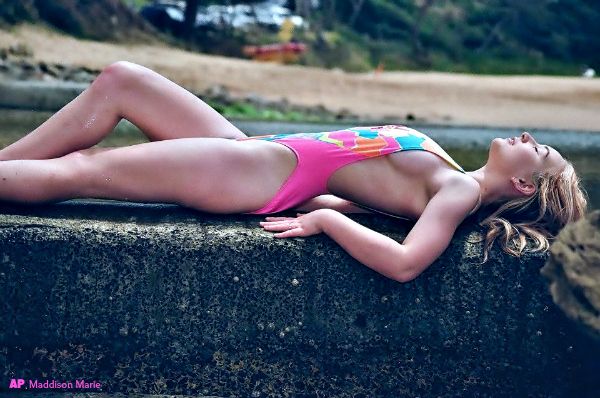 Happy to have her as an angel here, we come to the end of her interview. Being that beauty is our passion, we needed to know where Maddison's passions lie. "Right now," she offers, "I am passionate about striving for my best and being happy. Life's too short for silly things like stress." She has her own idea of beauty and what it means. "Beauty is a feeling," she says. "Whether it's superficial or inner-beauty, it is a feeling that varies from the eye of the beholder. I do not believe in a standard definition of beauty, it's all around us and ever changing." Maddison's definition of beauty makes her an angel and perfect for Angels Playpen, a world of indefinable beauty and courageous contrasts. Welcome love.