A girl of Irish descent who was blessed with adorable freckles comes by way of Stow, Ohio, a city within the Akron metro that offers incredible convenience. "Everything in Stow is about fifteen minutes from each other," Meaghan Stewart says. "All the stores, the mall, your friends… everything is close together." She is at work, on break taking care of this interview. "I see a ton of interesting things going on [at work]," Meaghan says. I can imagine. She tells me her family comes from Ireland and Scotland. "I got lucky though and I can actually get tan," she humors. Funny.
Meaghan says she was a bit of a firecracker when she was younger. "I was loud," she says laughing, "and very outgoing. If I wanted to do or try something I did." Not much has changed today; her confidence has however strengthened due to modeling. "I'm not as shy to strangers as I used to be," confesses our little angel. "I smile more too I guess." She began modeling at the age of fourteen. "I don't remember what started it exactly but after a few years of only getting like item promo jobs I backed away from it." When she became eighteen, Meaghan jumped back into modeling. "I really enjoy doing it," she says, "it makes me feel beautiful and I enjoy meeting new people and making new friends. It really is a blast. I know Marilyn Monroe was definitely an inspiration to me; my entire room is covered in Marilyn pictures and collectors' items."
There are brands she'd love to work with. "I wish I could be a Victoria's Secret angel more than anything! Too bad I'm like four feet too short," she jokingly states. Hopefully we can make her happy being an angel here with us. Ultimately she'd love to be internationally known as a model but realistically would like to be a regional star. "I just want to get my name out there and I want people to seek me out and want to work with me." She remembers once working with someone to make a caution tape dress. Laughing Meaghan recalls the memorable moment. "That was incredibly difficult and I had to stand very still and I walked like I had an item between my knees that I was trying desperately not to drop! [laughs] but in the end it was worth the trouble."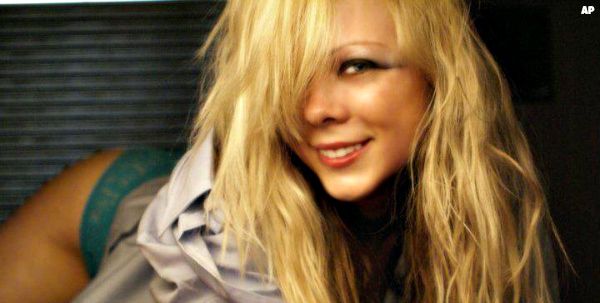 Still she loves the way it makes her feel beautiful and desirable regardless of where modeling takes her. "I think confidence and knowing what you're worth are keys to being successful. If you know you are talented and you work hard I believe good things can happen," words of enthusiasm make her point. "I feel strongly that it is very true that 'beauty is in the eye of the beholder.' My I think is beautiful others may not." She goes on to define beauty as how a person sees themselves. "I believe everyone is beautiful in some way," she adds, "it may not be their looks or it may not be inside but everyone has beauty in them in some form."
"I really enjoy dancing," Meaghan says of her other interests. "Ballet mostly, I also ice skate and love running." Mally's Chocolate Pretzel bars and wine combined is a guilty pleasure for the pretty blonde. "I want to work on my confidence when I'm not in front of the camera," she is interested in self-improvement. "I also want to work out more and eat better, Mally's has caused me to eat too much chocolate." She works in nursing and loves the atmosphere. "I love talking about my job," she confesses. "I love discussing all the interesting things I see and do." Sounds like an episode of Nurse Jackie but ok.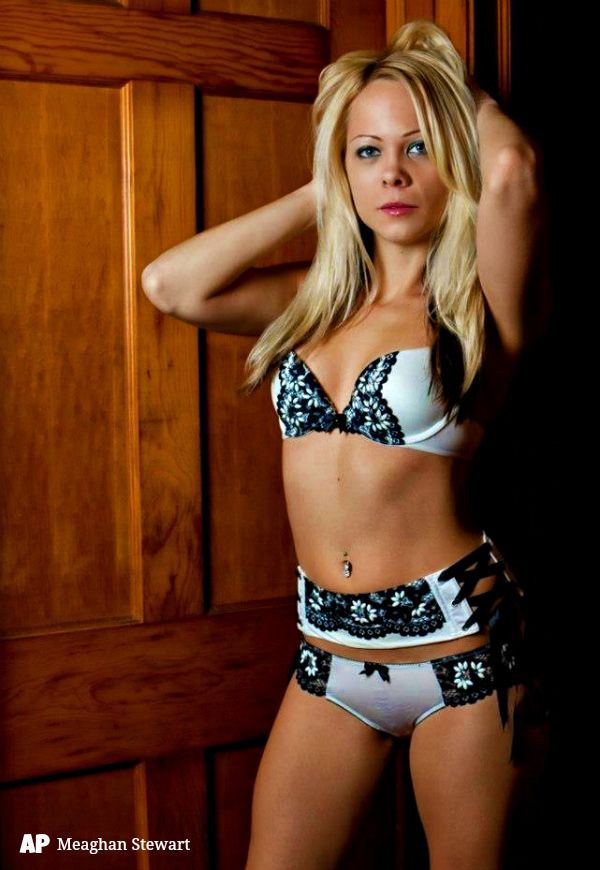 Meaghan likes to visit new places whenever she can. "My favorite state to visit so far is North Carolina, perfect weather all year round and it's almost out of the reach of hurricanes." She shops at Charlotte Russe, a favorite clothing store. "Hands down, besides my bras and underwear that I get from Victoria's Secret, everything else I wear is from Charlotte." When she is out and about, Meaghan has notice that being attractive has its advantages. "Unfortunately it seems that the more attractive you are the more opportunities you are presented with. I wish it wasn't true but it has definitely been my experience."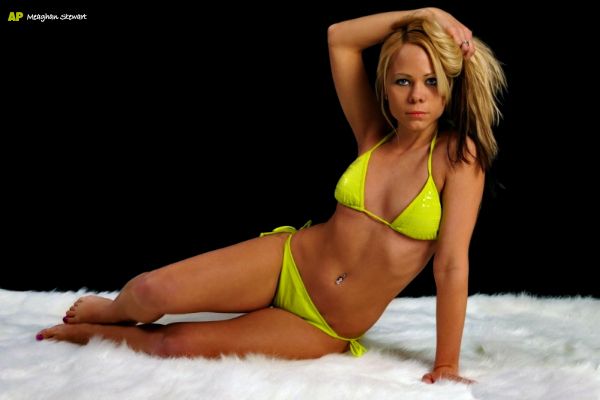 Cleveland is full of fun stuff to do and there is plenty of great food to be found. If she is there, I'm sure we would catch her in her signature style; diverse. "My fashion sense is all over the place," she says. "I love dresses, absolutely love them. I also love jeans and coats and Ugg Boots. If I go out anywhere I have to wear high heels. I don't care what else I have on, heels are going with me. But I basically wear what I think looks flattering for me." Yes it's apparently true that she loves her high heels, admitting she owns "about a million pairs".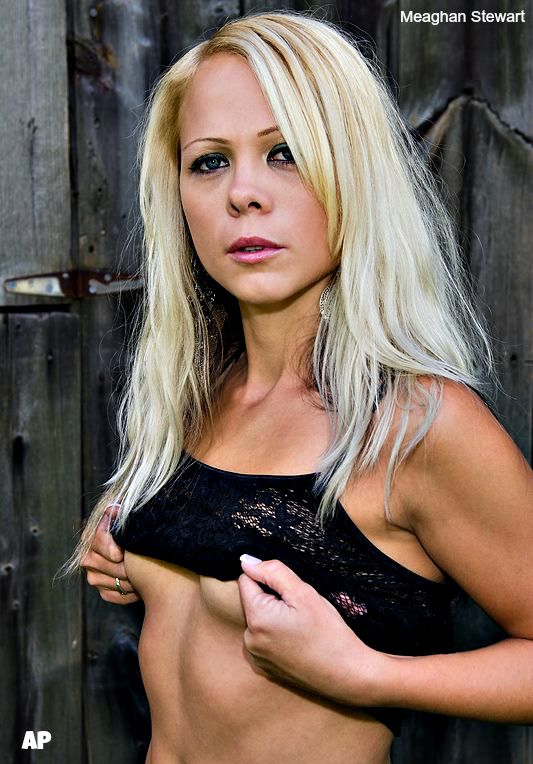 I like her idea of 'heaven on earth'. "This is a tough one," she offers, "I feel like in order to see 'heaven on earth' you have to find happiness in all things and see the good in others. If you do all that than you will feel like there is no better place to be; you're already happy." Her hidden treasure is a bit creepy but cute coming from Meaghan. "I can bend my pinkie finger all the way backwards," another laugh escapes. "Not that impressive but people always ask me to do it. It's definitely not something a lot of people can do; at least not a lot of people I know."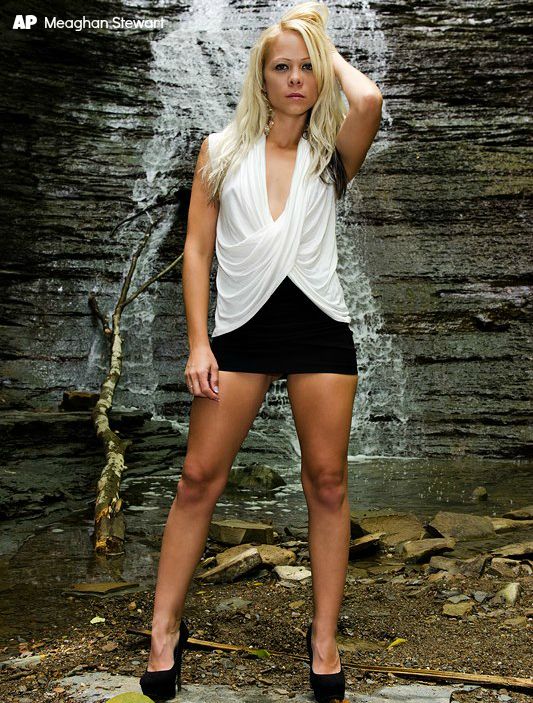 Meaghan finds her joy in life in the love of for her son. "He is one of the sweetest people I have ever met, he thinks of everyone else before himself," she says of her boy. "I hope that lasts." Her first tattoo is dedicated to her son. "My first tattoo is inside my bottom lip; It's Love with two hearts, it's for my son, his last name is Love." She also finds passion in all that she does. "Most things that I do I am passionate about, if I wasn't I wouldn't do them wouldn't do them."  Forgotten by those she remembers is a huge fear of hers, I don't think anyone would like to be forgotten. Here in Angels Playpen Meaghan shall always be appreciated and above all… remembered.