Experience
Arts and Culture -
Experience
Written by Khalid "Bless Theangels" Bey | From the NY Times Bestseller: Rat Bastards
My friend and frequent collaborator, Desi Adorno hosted wonderfully. She demanded the best from the presenting artists, staff and viewers alike. Whatever she needed of me, I was honored to oblige. Passionate, Desi orchestrated an event that celebrated local artists, providing a platform for growth. The night's music was provided by Street Khemistry's Dj Instincz, with whom I'd exchanged heartfelt words over the future, family and career.
Read more...
Arts and Culture -
Experience
Written by Bless Theangels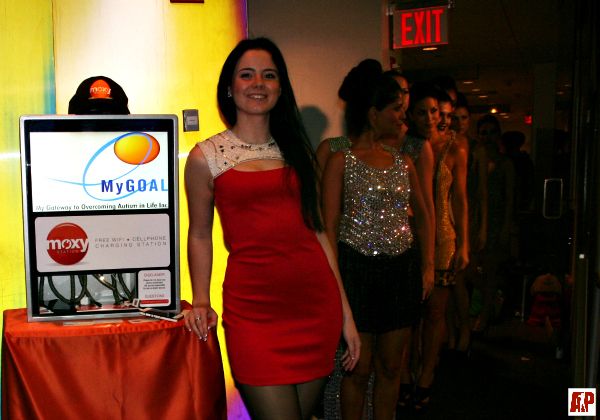 A bit of bad news tainted the night, my photographer Mike's mother suffered a seizure and Creative Director and videographer, Carmelo Soberano was also unable to attend leaving the lens work and reporting to rest squarely on my shoulders. Travel was simple, my mind open to impression, I looked forward to the day's itinerary. I arrived in Midtown early, street-side artists attracted throngs of onlookers in Times Square, the usual assortment of cultures blending into New York's tapestry. Soon I had to direct my attention to the event that brought me here; my habit of wandering the city unhinged truncated to a few hours before arriving at the venue, which I arrived at inconspicuously.
Read more...
Arts and Culture -
Experience
Written by Khalid "Bless" Bey | Editor in Chief | As Seen in NY Times Bestseller: Rat Bastards
I'd decided to put in a rare appearance knowing that the very brand I'd created doesn't mirror the image of its creator. It's all a dream. A dream I believe possible. A dream where people are free to be themselves and luxury is a state of mind, not a collection of possessions, where treasures are found at every given turn and heaven on earth is to be found around every corner. The venue, Encore Restaurant and Lounge in Wayne NJ, is a darkly hued establishment with light browns and tans; perfect for me depending on my mood. Cloth, stone and metal structured my immediate surroundings, giving the room an earthy feel. It felt real. I'd come alone, as is my custom if not rarely accompanied by a beautiful girl, close friend, kidnapped family member or business associate. I come from a world where discretion is valor and as usual as possible I stayed to the shadows.
Read more...
Arts and Culture -
Experience
Written by Khalid "Bless" Bey | Editor in Chief
The night was already charged. The excitement of having Angels Playpen newbie model Chloe Q. and my Argentine ride or die chic Lexi with me had me giddy with anticipation. The night would prove interesting if nothing else. When I pulled up in my intermediate rental (I rarely drive), I received a call from another model that I had recently become a fan of; Fia Khalid. Yes her name is Khalid; ironic. Her company was welcomed and I really appreciated her laid back demeanor. She was cool. She brought with her a friend who I later learned was named Camille. Our hosts for the evening, Park East Restaurant and Lounge along with Twylife's Yao Huang saw fit to provide a reserved seating area and table upon which sat a bottle of non-descript vodka. It was all appreciated. Security kept tight watch over the girls, this too was greatly appreciated. Some say I am a little over-protective of the girls, but I say that's silly. They are the night's main attraction and a valued commodity to HTM. We love our angels.
Read more...
Arts and Culture -
Experience
Written by Khalid "Bless" Bey | Editor in Chief
The trip to NYC was oddly ritualistic. Fashionably late, I was certainly looking forward to seeing Simone Rodriguez of Sisa Designs. I wonder if I'd fallen in love with an angel… again. This Brazilian fashion designer, her creative spirit and unrelenting stride towards success are both as attractive as she.  She is a wonderful lady so for her I will try to be on my best behavior. The last thing I want to do is embarrass the classy owner of Sisa Designs; a fashion boutique nestled in Union Township, New Jersey.
Read more...
Arts and Culture -
Experience
Written by Khalid "Bless" Bey | Editor In Chief
John "Red" Shea @ Williams Rogers Hotel | NYC
Ultimately... You are what you experience. Ask yourself; "Who are you?" If you don't find the answer to your liking, there is a simple solution. Do something different. -Bless.
I met with John at the Williams Roger Hotel; located at 131 Madison Ave., just blocks from the Empire State building. I'd taken the train into the city from my hiding place in New Jersey only to arrive in New York to be played by a taxi driver. I didn't know exactly how far the hotel was from Penn Station, apparently walking distance, and the driver took $17 from me to drive a mile and a half. In my excitement to spend the weekend in NY my street smarts vanished. I was also in a rush as John had saw fit to reserve a table for us at the world renowned Nobu Japanese Restaurant in uptown. Before dinner I had arranged a photo shoot with HTM photographer Davy Pena who was waiting patiently in the lobby along with HTM loyalist Ginally.
Read more...
We have 150 guests online
Rat

Bastards w/ Khalid "Bless" Bey
Maxine

Monroe Design Company