Angels -
Interviews
Written by Khalid "Bless" Bey | Editor in Chief | As Seen in NY Times Bestseller: Rat Bastards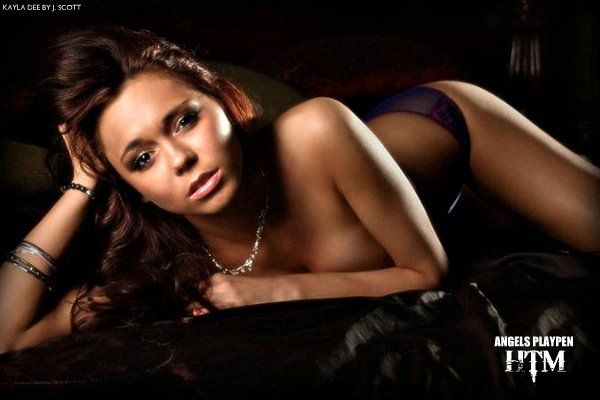 Once again P!nk Elite's Tiffany Habib's influence in Ohio is felt. From Lancaster we have our newest angel Kayla Dee, whom after a bit of a mix up, has come to share her beauty with us. Originally from Columbus, Kayla moved to Lancaster about a year ago. She credits Tiffany with influencing her to model.  "She is internationally published and I look up to her for her accomplishments in the modeling industry," says Kayla. It is an admirable thing when a person can cite their real world influences with such obvious endearment.
Becoming a model takes more than influence and desire, sometimes elements of your life is even sacrificed. "I have sacrificed spending time with the other half of my family. "My modeling work usually takes place on the weekends and I am always busy on the weekdays," says Kayla. "I would love to work with Maxim and other similar glamour magazines," she puts forth. Her ambition is noteworthy. To get there she knows it's all about getting that one chance. "My motivation in the modeling world would be getting that perfect shot which could land a magazine submission."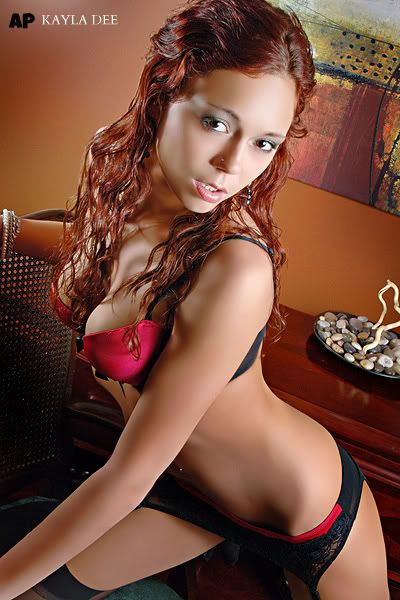 Also she has learned a valuable lesson in the modeling world. "Experience has taught me that once you sign a photo release from the photographer, any picture taken from that photo shoot can be posted anywhere unless the model notes exclusions. Those images may contain something embarrassing." This however does not stop her from remaining loyal to photographers and their scheduling concerns. "I am committed to m appointments," she says. "A photographer that I admired told me that I had talent," Kayla recalls a past compliment. "It meant a lot to me because at the time I was still new to modeling."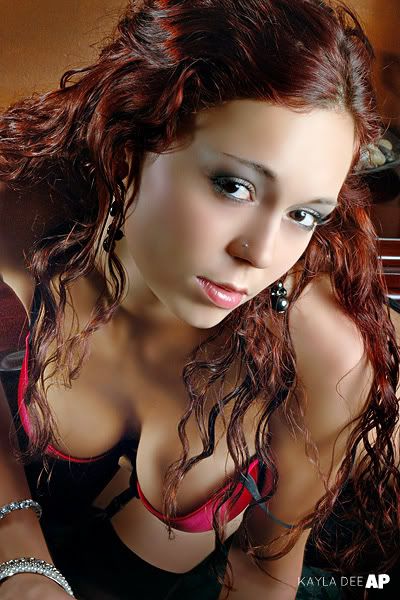 Kayla, like so many other models, admits she was once a tomboy. "But I couldn't stand getting my hands dirty." That maybe the difference between her and the other former tomboy models. Also separating her from the other models is her resourcefulness. "By this," she says, "I mean I don't want to just take pictures and not do anything with them. Most girls that consider themselves models only post pictures on social media and nothing more. I use more than just Facebook and Instagram."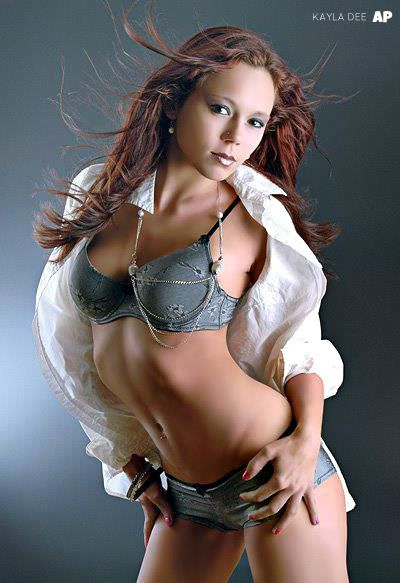 Nowadays the former tomboy gets dolled up on the regular. "I now wear makeup," she confesses. "I never used to wear foundation or any kind of eye shadow." Fridays nights in a sexy black dress is nothing compared to a lazy Sunday afternoon, "I am sexier on a Sunday with an oversized t-shirt on." As pretty as she is guys must approach her regularly or at the least she's always catching a few stares. Are they ever intimidated? "Not at all," she answers. Then with a slight pause she quips, "…I think." Could be she just never noticed.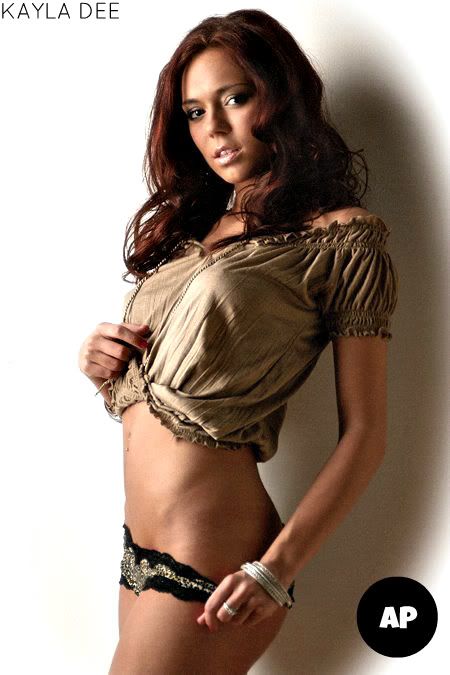 Nice teeth, good hygiene, tall and physically fit; Kayla knows what she likes in a guy. "Bad hygiene, weird shaped ears, crazy looking toes and lots and facial hair," are reasons a guys gets axed. Before all this, it's his manner of speech that first attracts her. "Grammar says a lot about a guy," she notes. If the words he spoke were delivered in melody, chances are he will touch her heart, producing a reddening of the face. "He would have to sing to me," she says of a guy making her blush. Not only are words important initially, they continue to carry weight from then on. "In a relationship," she explains, "I love communication. I hate when the guy is too clingy." I don't think anyone likes a cling-on. I laugh as I say this to myself.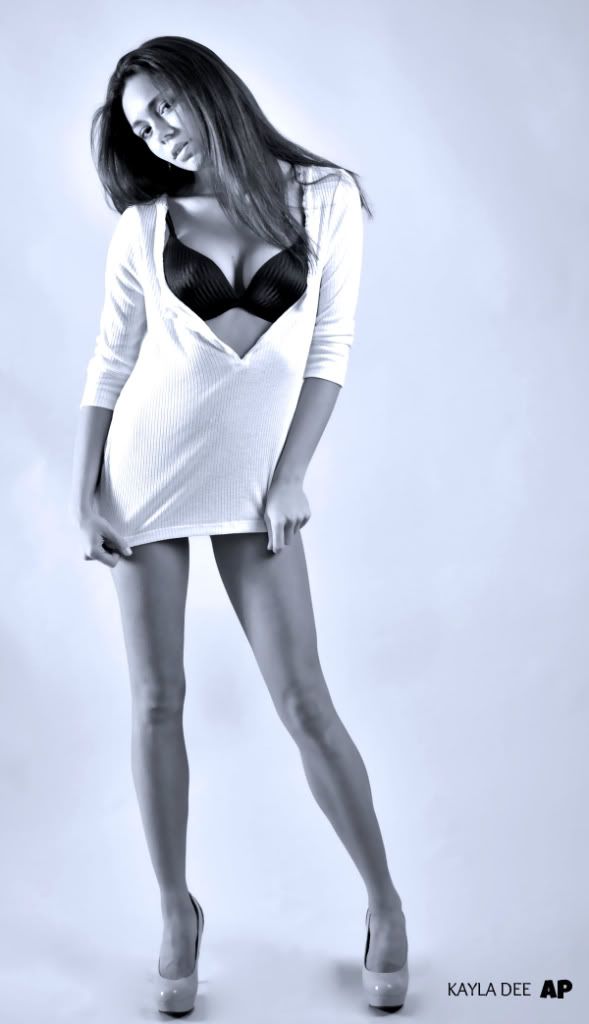 She, like I, is an Aquarius. I never paid attention to this 'soft science' until people began to attribute my talents to my sign. "My sign can relate to me because I am very friendly and independent," Kayla points out. "On the other hand I can also be detached from my surroundings depending on my mood." Funny how I am the same, occasionally the life of the party but then I can also be the reclusive observer. Similarities arise once again when she describes her 'heaven on earth.' "My heaven on earth," she says, "would be on a beach where nobody knows who I am. No clouds in the sky while I sun bathe until the sun set. At the moment," finishing her statement in thought she adds, "I would consider it to be paradise."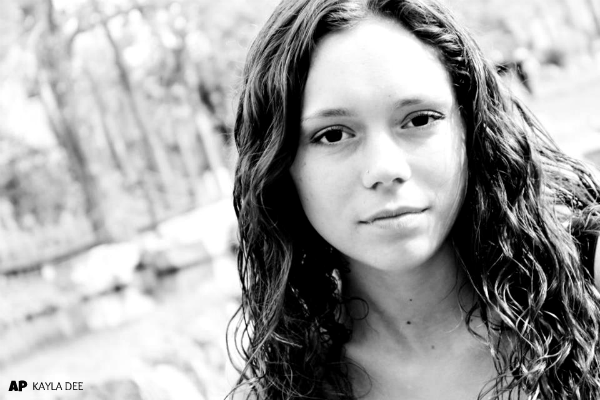 Her days usually start with a frantic search for her phone says the girl who admits she laughs all the time. "I 'almost' pee my pants all the time laughing so hard," she courageously divulges. Bubbly, persistent and punctual are the three words she chooses to describe herself. I would like to add that she is also beautiful. "I define beauty as something that cannot be described because it should not only show on the outside but prevail from the inside as well," she says thoughtfully. Kayla's inner beauty shines when she reveals what her wish for the world. "I would like to find a solution to child abuse," serious and sincere is her wish.
Kayla says an angel is someone with a universally acceptable personality and think she qualifies. So far there is nothing that we've learned here that I find 'unacceptable.' She thinks most admire her hair, but I would think they like her for much more. Like the cute little fact that she wishes she were the one who'd invented Little Debbie Snacks. Adorable. When she isn't modeling fashion, she's shopping for it. "I feel like I am always looking outfits that could come in handy in the future for photo shoots," she says. "I like to shop at Body Central and Victoria's Secret." Partying isn't really her thing, she is a homebody to the point of turning down a free trip. "I wouldn't go anywhere."
I was indeed surprised at her 'hidden treasure.' "Well," her answer began, "I am very shy about my body." It's rare that I am surprised in these interviews but this is one of those times. She admits she doesn't have to endure grueling sessions at the gym to stay trim and sexy. "I do watch what I eat… occasionally. But no I hardly work out." Watching what she eats means finding time to consume her food obsession. "I can't live without crunchy peanut butter." Now that I think about it, crunchy peanut butter is actually pretty good.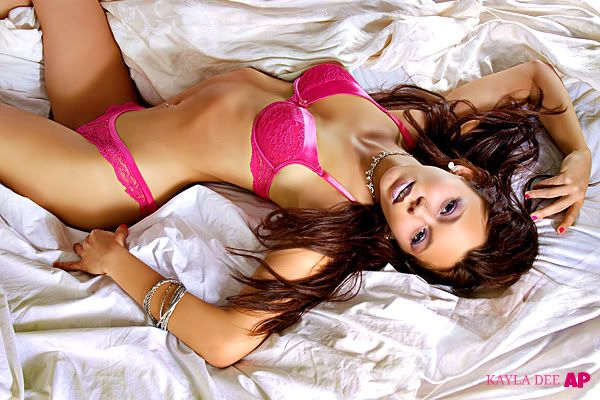 At this point I like Kayla. Her straight forward attitude and direct response to my questions are appreciated. Maybe in the future or in another place and time we'd actually become close friends. This I think would be super cool. I love having hot girls as friends, best company ever. I do get carried away sometimes with my critical eye and cynical ways so I am known to give gifts as a way to apologize. "Daisies and Dove chocolate," declares the crunchy peanut butter lover as her choice of gift. It would be my pleasure though I would probably give her gifts any chance I could. For now I'd like to thank Kayla for this gift of exchange. Her willingness to tell us a little about her and what powers her overall beauty. Unknowingly she has become part of a newfound legacy of beauty and intelligent design. Thank you for being an angel. AP.