Angels -
Interviews
Written by Khalid "Bless" Bey | Editor in Chief | As Seen in NY Times Bestseller: Rat Bastards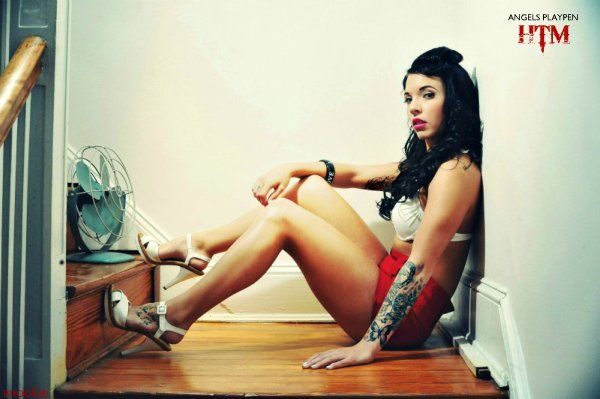 Writing has always been a multi-dimensional release for me. From songs that depict raw emotion to stories that relate to the human soul, writing has a cathartic affect that soothes my restless soul. Tattooed Brookie, a model from Baltimore, Maryland, is a closet writer as well. At anytime she can be found doodling intimate thoughts, finding a permanent place for these words of self-expression. "I've been writing poems, songs, devotionals and just random stuff since I was nine," discloses the inked up angel. "I love to capture things that inspire me with a pen and paper." Apparently her love of writing isn't limited to pen and paper, keyboard and screen. Just look at her and see she is scribed about her body like graffiti to a wall.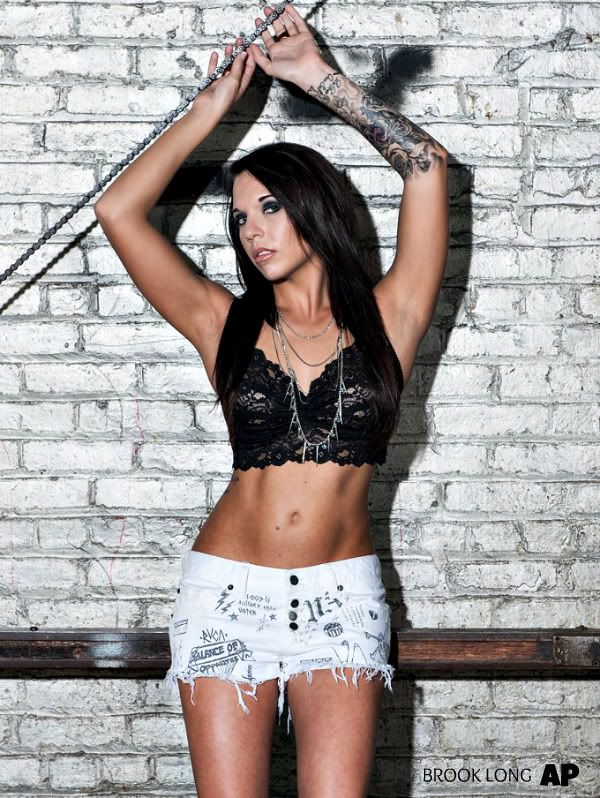 "Writing is my outlet," Brookie says of her interests outside of modeling, "reading is my 'away place' and music is my muse." A married angel, she spends much of her time with her beloved husband and cat Gnarly. Brookie's greatest influence in life, her grandfather, whom she credits with showing her how to love and look out for family, also got her to love black and white films. "There is nothing like a bag of Raisonettes, a cup of coffee, curled up on the couch watching an old movie," she asserts. No work means time to shop, eat out and maybe do a little partying. "My favorite place to shop is Forever 21," she says with a laugh. "It's inexpensive and adorable, what's not to love." An affectionately dubbed "hole-in-the-wall" called Stalking Horse is where she goes to party. "It's like four places in one," excited she professes her adoration. "A restaurant downstairs to stuff your face, [a] dance floor and dj to dance the Cupid Shuffle of course and a lounge to chill out and talk with your besties." Her favorite place to eat is Nacho Mama's. "Their food is to die for."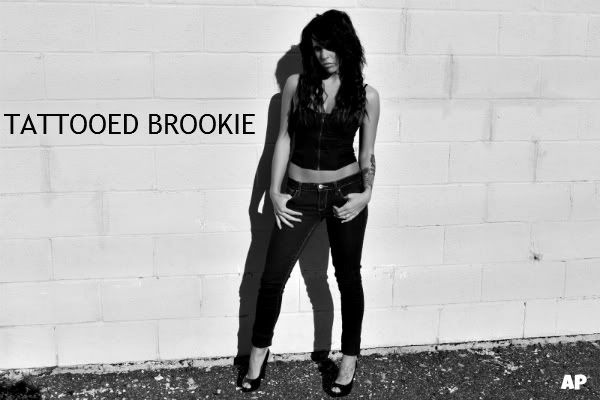 Born and raised in Baltimore where she still lives, Brookie says there is never a shortage of things to get into. She and her husband, both music lovers, enjoy attending local band concerts. She grew up a tomboy, running around in baggy clothes, backwards baseball caps, playing freeze tag. "I owned two horses and loved riding them," she remembers, "still love to horseback ride whenever I get time." Family life was a thing to be treasured for the former tomboy. "Most of my crazy, lovable family hails from Italy. My most favorite memories growing up were every Thursday night was 'spaghetti night' at my grandparent's house and man did we eat. My grandfather would put on Frank Sinatra and make his secret sauce while the parents, aunts, uncles and cousins all helped set the table, chit-chatted and argued on who is going to get to eat the biggest meatball."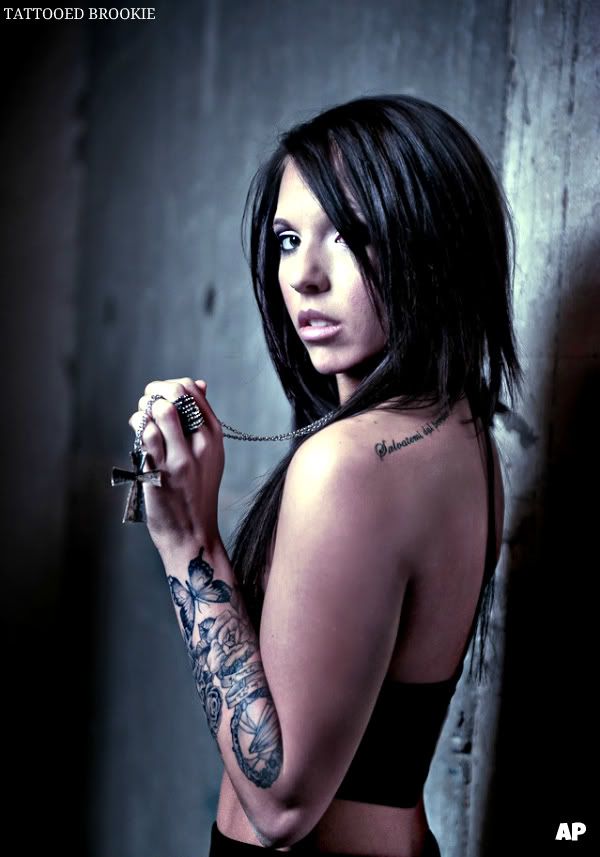 With such fond memories it catches me off guard when Brookie admits she has some regrets. "If you are a person who says you don't regret something in your life then you're lying to yourself," she says with surprising aggression. "Everyone makes mistakes every now and then. I truly believe mistakes are good for us. [They] knock us down a few notches and humble us. You would never learn if you didn't mess up once in a while. But with regrets you shouldn't continuously beat yourself up about them, you should learn from the experience and become an even better you." Her childlike wisdom is adorable, it shows an innocence I find refreshingly intoxicating. She has a view of the world that an uncorrupted soul usually possesses, though I'm sure she has dealt with her share of improprieties.
Her outlook on life is rooted in spirituality, a greatly appreciated thing here in Angels Playpen where brushes with beauty and great design are meant to enhance one's life. "My faith in God is definitely something not spoken openly [about] too much in this biz," she says. "I've had a strong Christian faith my entire life [and] each of my tattoos reflects that. I've also had some hardcore trials in my short little twenty-four years." We have a saying here, "a bit of hell for a taste of heaven." It's the things we go through, especially the dark heavy stuff that gives us such a deep appreciation of all that this bright and uplifting. Because of this she makes it a point to be kind to others, a break from what this competitive industry usually offers. "I feel as women, we need to build each other up and that is something that I will always strive to do."
"I always felt like the 'ugly girl' growing up," Brookie talks of her reasons for getting into modeling. "I think I had the longest awkward phase in the history of awkward phases. It wasn't until after I got married that I started looking at beauty in a different light." More of accident than a decision, she started modeling right after her wedding. A girlfriend who happened to be a photographer offers to do her 'trash-the-dress' photo shoot. With nothing resembling experience, posing or anything otherwise she proceeded with the shoot. "As we started taking photos I realized how much of a high being in front the camera is. So  my modeling sparked from there." All the models that she's found inspiration in have an edge she says. "Alysha Nett, Sabina Kelley, Sarah Fabel and AJ Stewart. My influences are girls who don't just model for the 'pretty' picture but also for the 'interesting' picture." Inked Magazine is the publication her heart is set on with a few specific photographers she'd love to work with "one on one especially Kieth Selle and Robert Alvardo."
After seeing beauty in a different light, inevitably her understanding of it grew. "Beauty is all from the inside," she says. "That was something that took me a long time to learn. I used to hate the way I looked." And modeling did not go to her head. "Not much has changed personally; I'm still the same ole Brookie," admits the tatted angel. "I don't really like talking about my modeling to most people, because when I do I get reactions like, 'Oh now you're a big model you think you're so hot and beautiful, think you're better than others', which is totally not the case for me at all. I'm still the same person, I never brag about my modeling." Doesn't matter how a person looks, "If you strive to be beautiful on the inside, it will shine through no matter what size, shape, or color you are." It was an offhanded compliment one day that reminded her of this. "Someone I work with actually came up to me out of the blue and said to me, " You know, you aren't like other pretty girls, other pretty girls talk and gossip about other girls, always have something mean or negative to complain about, think that their poop don't stink, and you are the opposite,' they'd said, 'your kind and sweet to everyone, you don't talk behind peoples backs and you genuinely care about people's feelings over your own.'"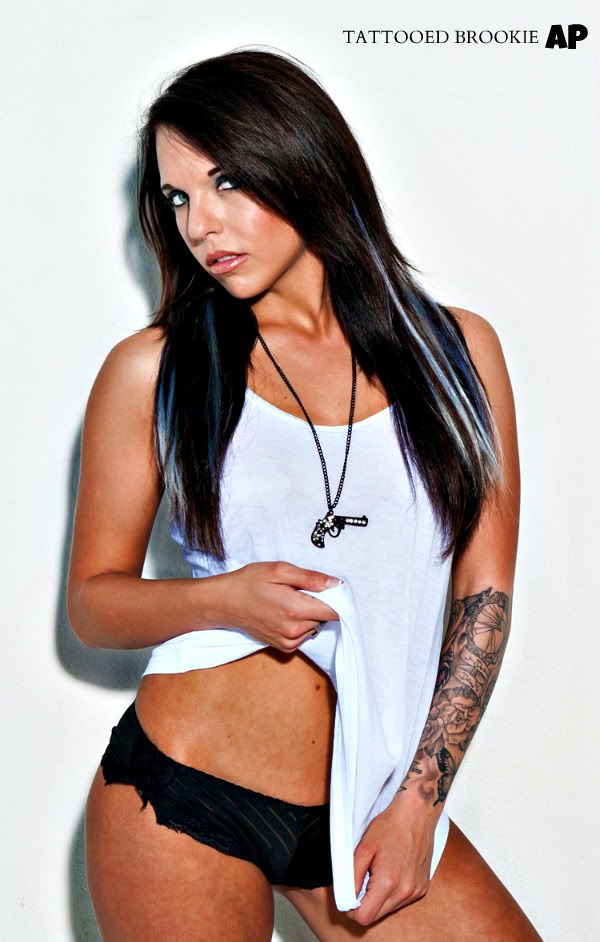 And so it was written. One of a few models who actually acts like an angel, I am glad to have her here with us. Beauty inside and out is what we are here to discover, both are appreciated on every level. "Angel to me has always been such a pretty word," Brookie describes her vision of an angel. "Striving to be beautiful on the inside and taking care of your body on the outside is a 'heavenly' mix!  Be confident in yourself just like insanely famous saying, "If you won't believe in yourself, who will?"   Being an angel is letting your confident beauty shine within." Heavenly words to be left with. May they point you in the right direction. AP.