Angels -
Interviews
Written by Khalid "Bless" Bey | Editor in Chief | As Seen in NY Times Bestseller: Rat Bastards
The weather woman said things are going to warm up soon. I want to run. It clears my head but I'm no indoor runner nor do I like to run in cold, clammy weather. During the winter months I suffer a sort of mental congestion. Therefore I usually winter with weights; training of any kind has a multitude of benefits.  "I never worked out until just recently," says our current tattooed angel, Lisa Zee. "I got a gym membership to build some muscle," her reason for working out clear. "My arms are terribly weak so my goal is to be able to do even just one pull up. I will be ecstatic if that happens!"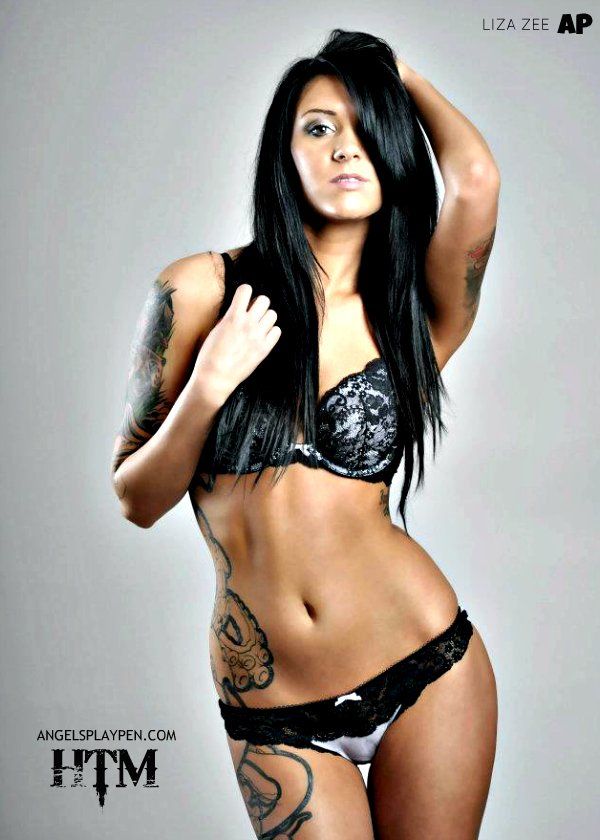 Lisa admits guys are already intimidated by her so I would dare put forth that adding muscle to her petite sexy frame would further cause them to cower in her presence. "People think I have this devilish, seductive look," she confesses, "but I swear I'm a big sweetheart. Don't  get me wrong, when one on one I can spice it up… but I don't really try to put that out there too quick. Keeping them wanting more is the trick." She quickly asserts that 'teasing' is also good for seduction. "Like I said, keeping them wanting more, never exposing too much about yourself to anyone keeps a bit of mystery to you and gets them hooked," says the girl who reveals she is definitely sexier in an oversized tee than a black dress. "Aren't all chicks sexier in a T-shirt?  When I feel like myself I'm certainly more sexy."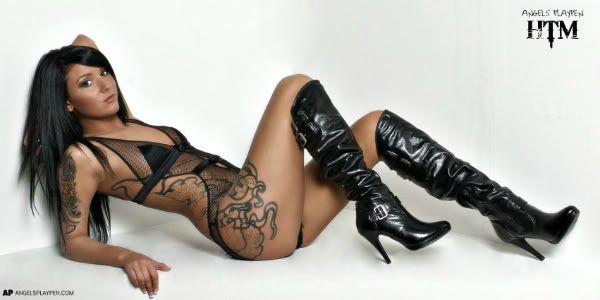 The mystery that is Lisa Zee unravels with each question posed, with each answer received. Her nationality is Croatian, something she is quite proud of. "I love and embrace my ethnicity," she says. "My dad came to the US when he was eight years old with my grandmother. My family still lives overseas and I plan after this summer to vacation there. I love our people, history, food, land and architecture. It's a beautiful and diverse country." Lisa now lives in Cincinnati, Ohio though she is from Cleveland. "I moved here two years ago for school and I ended up loving it and decided to stay." The diversity of Cincinnati has been just as alluring to Lisa as Croatia. "I never feel as if I'm in one place."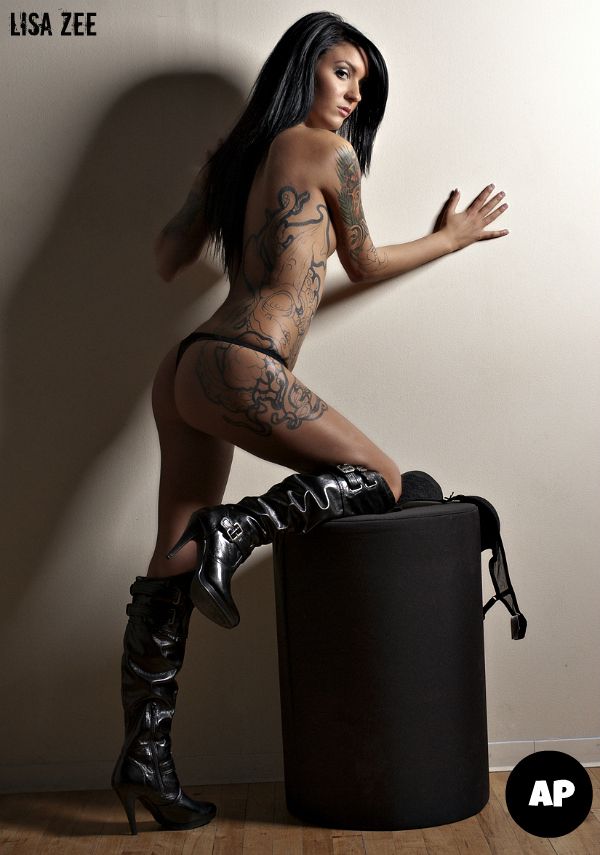 As a young Cleveland girl, Lisa was as I can tell, a tad defiant. "I was never a "girly girl" to the fullest extent. I always like makeup and hair, but I despised girly clothing and the color pink.  In kindergarten, I forced my mom the make me a black tutu in order for me to participate in ballet class," her defiance exacted, "I refused to wear the pink ones!  I also was into cars, trucks, horror movies, and getting dirty.  I have a twin brother, so I sometimes attribute it to that." "I'd love to visit my family's homeland…," Lisa says of her ideal destination to unwind. "I keep saying I'm going to go but things always come up. Rabac," she continues, "is a gorgeous resort area of the country with amazing beaches. I'd love to unwind there and at the same get to visit with my family."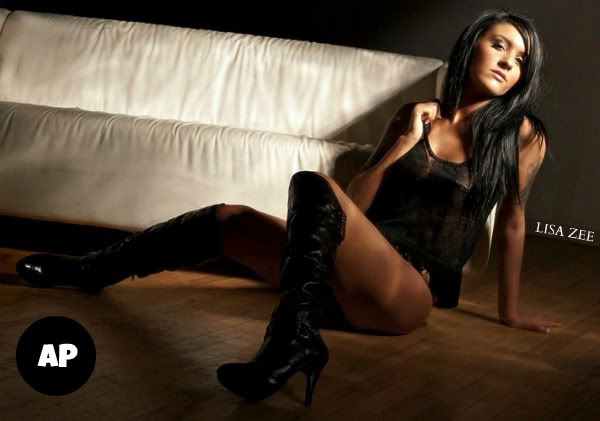 Far from a party animal, anyplace with good music, food, "chill atmosphere" and great company suits her just fine. Lisa enjoys a variety of food but frequents 'Cloud Nine', a Sushi spot in Cincinnati, at least a few times a week. She actively seeks out new places to shop, tiny boutiques and "even thrift stores" she says. The usual love-hate relationship with food that women suffer is further compounded and is a different dilemma for Lisa. "I have Celiac disease, meaning I can't eat wheat or gluten. I usually cheat my gluten free diet because I just can't resist but always end up sick," she mentions remorsefully.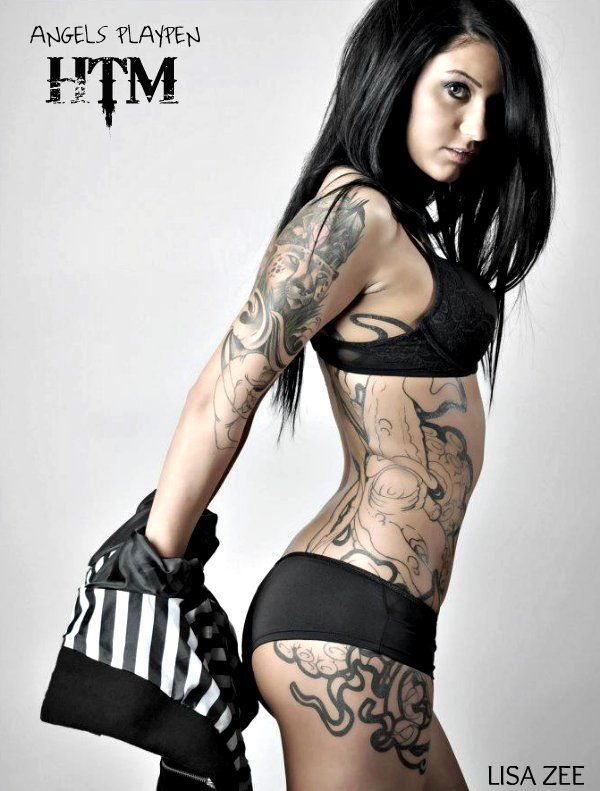 A treasure in her is her love of horses. Lisa has always loved the big-eyed hoofed creatures, learning to ride as a kid. "My dream is to have enough land and be able to own one someday. They are just so beautiful to me!" In love with animals, this interest takes up much of her life. Rescuing animals and finding them a home is a cause dear to her heart. "I also love learning about wildlife," she says affectionately. Lisa is an owner of three dogs she quickly admits she can't live without and are also a main source of motivation. "They are like my children. My world revolves around them and making sure they are safe and happy. I work to be able to support my house payment so that I can have them all and feed them. They are my little family."
"Clearly from my tattoos, it's obvious that I'm an animal lover," Lisa's wish for the world begins, "I'd love to see people stop abusing animals.  My entire life has always been devoted towards animal welfare and animal rights.  I've been called an 'animal terrorist' by friends because I tend to have more sympathy for animals than people.  In general though, I just want everyone, people and animals, to live in harmony." Self-diagnosed as passionate, reliable and loyal, Lisa is a Scorpio. "Passion, independence and loyalty are traits that mark us," she explains consciously omitting the negative traits that also apply. "I'm also ambitious, focused and secretive. We'll just stick to the good ones," she finishes with a laugh.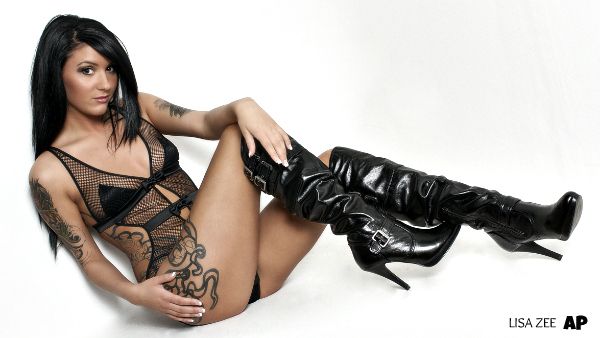 Repeatedly approached by companies, requesting her presence, alluding to a potential modeling career; Lisa held out until meeting someone of whom I happen to be a big fan; Tiffany Habib and P!nk Elite. It wasn't until I got in touch with Tiffany Habib and was recruited into P!nk Elite that I actually put thought into it and tried it out," she insists rather passionately. With no influences, she could do one thing only; be herself. "I just stick to who I am."
"I think what separates me from other models," Lisa explains, "is that although I have a lot of tattoos; I don't look like the 'stereotypical tattooed girl'.  Most people have no idea I have as many as I do until I start showing them off." Before modeling Lisa was a corporate girl, working in very professional atmospheres where she was forced to conceal her many tattoos. Being told that she had a very versatile look; opportunities are always on the horizon. Some of the companies she hopes for the opportunity to work with include "any reputable tattoo company, Maxim and many clothing lines." She is well aware that her tats may exclude her from ever becoming a Victoria's Secret model but if a brand accepts them, she's there.
Modeling brought with it a few noticeable changes. "I'd say I am more comfortable with who I am.  I always have been very confident and secure in myself, but having people be so overwhelmingly supportive of this new path I've taken just reassures me of who I am." Support is important, dedication is key and sometimes sacrifices must be made when you have goals ahead of you. "I've lately been sacrificing a lot of time away from my family to achieve my life and career goals.  It's something I'm getting used to, but I know it'll pay off in the future." And I believe that as well. These sacrifices sometimes lead to regrets. "Everyone second guesses themselves," Lisa says thoughtfully, "but as cliché as it sounds I am here today and have accomplished all I have due to the choices I've made in the past and I've never been happier than I am now."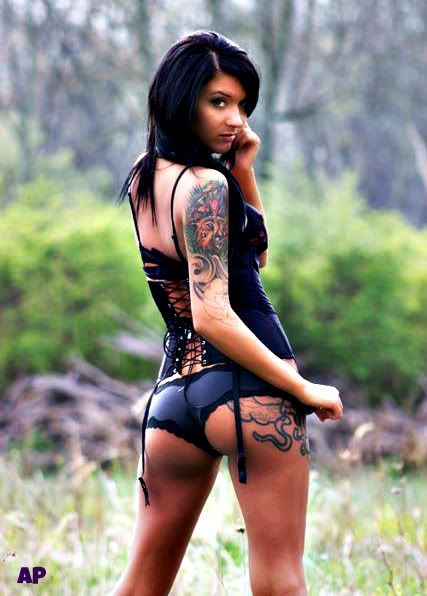 "When I'm not working I like going to shows, traveling as much as I can, learning about other cultures and trying new foods. I have a huge appreciation for other cultures… Whether it's eating at a new family owned Mexican restaurant or going to a different country, I love experiencing what they have to offer." I find her worldliness attractive as she, as enchanting as her eyes. "I usually get a lot of compliments on my eyes," she says and I see why. "I am forever blushing at everything… the little compliments make me giggle. It's almost embarrassingly unbearable for me to take a compliment because of it." This unfortunately offers the impression she is interested in whoever gives the compliment. "I'm just a very humble person so when someone says something sweet 'm genuinely surprised and happy for it." Humility aside, appreciation for compliments these days are a hundredfold. "I was in a car accident a year and a half ago that completely tore up the right side of my face. It's been a long recovery, and now that I'm healed and look like myself again to hear people that don't even know me personally think so highly of me makes me feel awesome!"
The car accident taught her that the love in her life, her fiancé, was a real thing. As she lay unconscious, prior to shock settling in, Lisa can recall a tender moment where he held her head, attempting to stifle the bleeding and him at her side in the ER as she receives the required stitches. For this she is immovably loyal to this man. "I don't take relationships lightly, and I would never do anything to lose his trust. I have a very healthy, mutually respectable relationship that I value a lot." Even though as she talks about this I am slightly disappointed at her unavailability, I think she would still make for a great friend, something I value immensely. Does she even see a genuine friendship between us possible or between any man and woman? "There certainly can be!  It's not always innocent though.  I have had good friends that I had no interest in, but I can't say the same for them. I think all friendships develop because of some sort of initial attraction," agreeably she clarifies, "and even if innocent at first is bound for the possibility of falling for each other."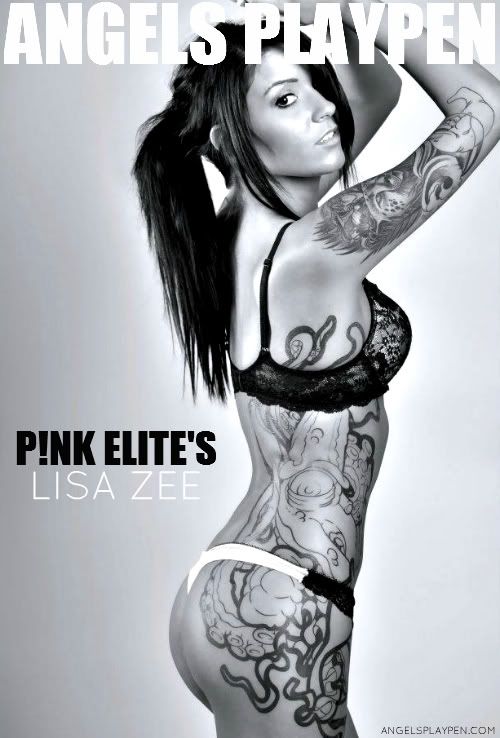 As the interview comes to an end, I concentrate on her idea of 'Heaven on Earth', 'angels', and 'beauty'. Three very integral parts of our belief system here in Angels Playpen. "My heaven on earth is time spent relaxing with my family.  I don't get to see my family as much as I used to anymore, so when I get to hang out with my parents and my brother all at once it's something I really value!" She views beauty as what "emanates from being comfortable with yourself" and an angel as "one that is confident and conducts them self with dignity and class".  Her assessments are intelligent and make her a welcome addition to our family of seekers of hidden treasures and unabashed heaven lovers. We should be so blessed.
Photography: J. Scott | Nicholson Studios | William Bende | T Danae