Angels -
Interviews
Written by Khalid "Bless" Bey | Editor in Chief | As Seen in NY Times Bestseller: Rat Bastards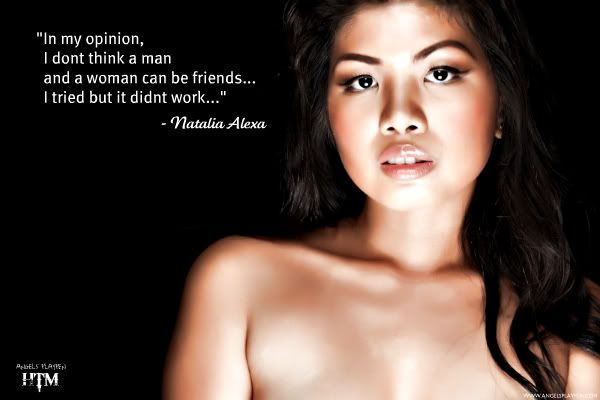 "Hello," she says. I am attentive. "My name is Natalia Alexa," she continues as my focus intensifies minutely. "I'm originally from the province of Pampanga but I work in Makati, Manila; the center of the Philippines." She tells of the Philippines being a historically conservative country though times have changes significantly. "Now they are more open about things like gays and lesbians," she says, "and posing sexy in a magazine and all." Raised by her grandparents, her household was very conservative. "I wasn't allowed to talk to boys." School, church and home were the three things that made up her world. "I didn't even know in the future I would become a bikini model." She did. And she's here.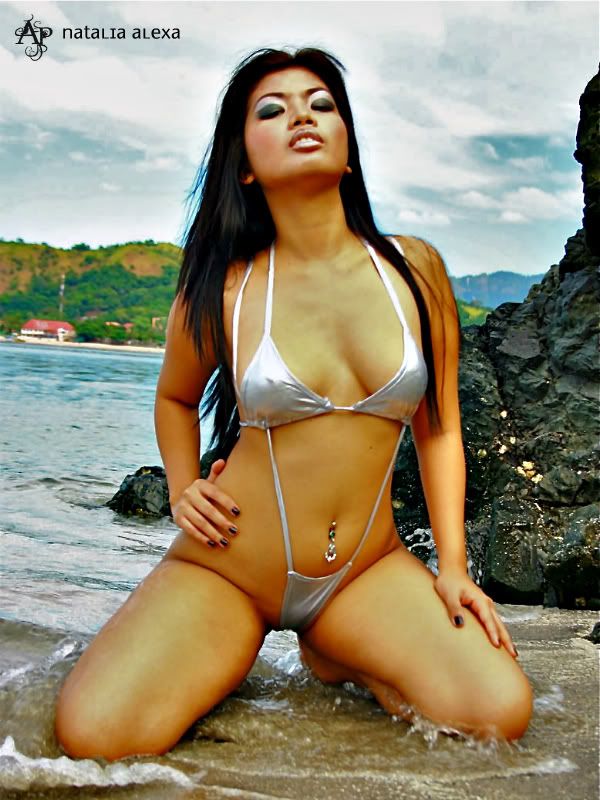 "I started modeling when I was eighteen or nineteen," she says, "but just to try it…" Natalia always wanted to be a Victoria's Secret model, idolizing supermodels like Alessandra Ambrosio and Adreana Lima. She figures that being Asian without the long legs and height wouldn't all her to become a Victoria's Secret model, Natalia decides to concentrate on bikini and lingerie concepts. She wouldn't mind working with a jeans company like Levis either. Her motivation is her family. She wants a life for them, a wonderful future where they get to see her gracing the covers of popular magazines or on stage in front a crowd of adoring fans. I imagine she'll make it someday, with every photographer she works with liking her bubbly personality and friendly work ethic. "That's why they love me."
Natalia becoming a model has had not so great an impact on her personal life. "It's hard to balance my modeling career with my personal life sometimes," she says, "especially for a bikini, lingerie model like me. You don't know if a guy will take you seriously or not." She is well aware of the perception of others, believing she may be "easy and cheap" because she is a sexy model. It's not true for her though it maybe for some. For Natalia, it's just a job. "They just want you in bed or it's hard to date a guy when you're a sexy model… he gets jealous all the time," she says. "Every time I'm on a date, I don't know if he just wants to sleep with me or what!"
Even growing up, just being sexy was an issue. Natalia was sort of a tomboy, always wearing baseball caps and baggie clothes. "My classmates were teasing me because my body is so feminine and I hated it so I told them I am a lesbian and I don't like guys," she recalls with a laugh. "I hated my body back then as they usually noticed either my boobs or my butt which didn't change up to now." Filipino men, she says, are intimidated by her body. "Especially men that are not really buff. I usually go out or are attracted to buff guys." It's a man's physique that first attracts Natalia's gaze. His body, especially his arms.  She hates a rude guy who is a bad kisser, and any guy who makes a girl pay the bill on a first date. "I mean it's fine if we are already dating but not on the first date at least," she says passionately. "I don't wanna see that guy anymore when that happens to me."
"First thing I think about when I wake up… of course I pray. Then I think of the guy I am attracted to then feel horny," she tells me jokingly and I smile. I like her witty banter and begin to see us getting close. If we did and I mistakenly angered her, something she admits is easy to do; all I'd need do was offer one of my world renowned hugs and deliver my delicate cheek kiss. I give them to almost ever angel I see.  "If we become close and you made me upset," Natalia warns, "I think you just have to kiss and hug me and tell me you're sorry for me to forgive you. I'm that easy to give my forgiveness." I think I could handle her demands. Shame she doesn't believe a man and a woman can be friends. "In my opinion," she says, "I don't think a man and a woman can be friends. I tried but it didn't work. They always end up liking me more than a friend or mostly liking me in bed!" Don't see how she can blame a man, I mean look how sexy she is.
Natalia sees herself sexier on a Friday night out in a black dress, showing her curves, as opposed to a Sunday morning in an oversized tee-shirt. The key to a good seduction, she says, "is sexy skimpy lingerie, high heels and sexy music!" Her choice is music includes 'Lost Without You' by Robin Thicke and 'Freak Me' by Silk. I ask if she's ever taken advantage of a sleeping lover in order to get a little something started. "Is hugging him and pushing my behind on his crotch a start?" she asks in return.  For a guy like me who wants to make her blush as often as possible, all I have to do is look her in the eye, smile and whisper how beautiful she is. The best compliment she has ever received was the she has the best smile and nicest teeth. Cool to learn that she is a loyal girlfriend though it hard to find one and hard to maintain one. She sounds like me when she says this.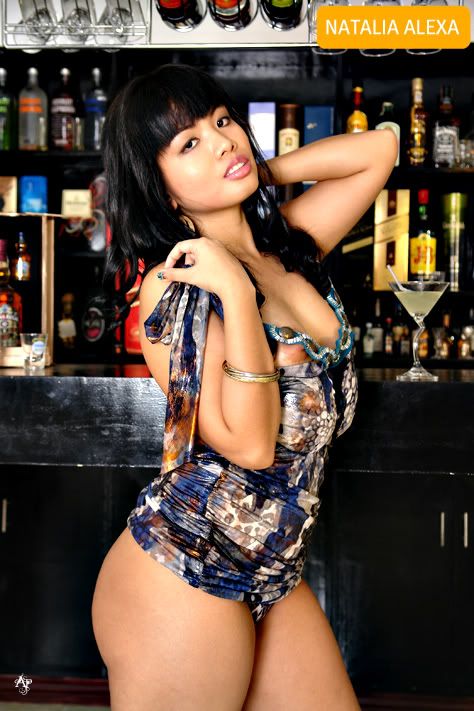 "I think beauty is not the physical beauty," she makes known. "Not because how skinny you are or how sexy you are or pretty. It's about your personality and how you treat people around you. If you treat them bad then they will treat you bad. Even your most beautiful woman in the world." Though she knows beauty is about what's on the inside, Natalia still understands the power of physical attraction. She figures guys are fascinated by her tush, small waist and lovely hips. "But girls I think they like just that way I have my curvy body. They say it's like an hourglass. And probably my personality as I'm really friendly if I like the person." People always asks if she works out or if she is naturally sexy. "Well when I was younger I didn't work out. I never really tried to go to the gym." These days she likes to dance a few times a week but still doesn't work out. "I guess I'm lucky to have an hourglass shape," she notes, "I got it from my mom I guess."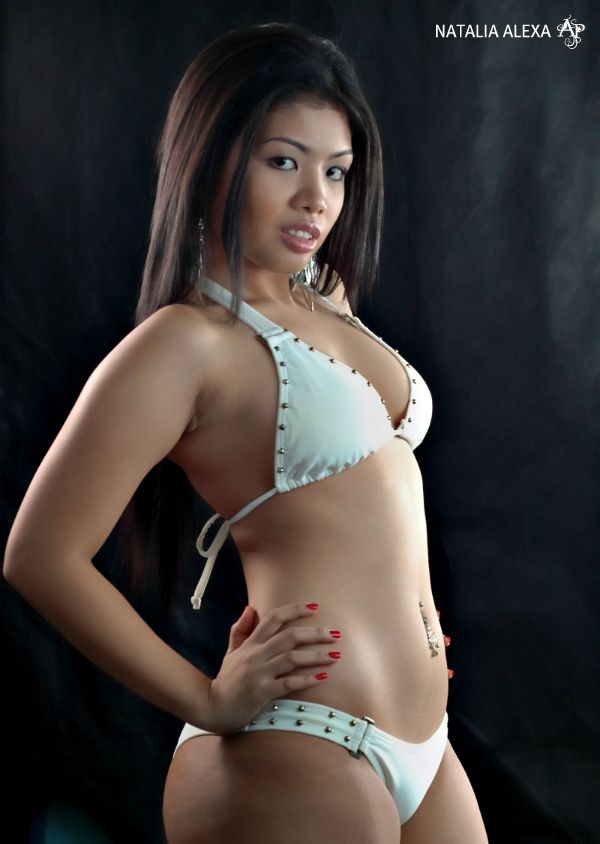 Cute, sexy and bubbly, she sums herself up in three words, and I see so clearly. She is a Gemini and she says her sign fits her perfectly. She has a love-hate relationship with her phone but it seems more like it's with men. "Sometimes I hate when the guy I like don't call me or text me so I want to throw my phone so bad. But when I get calls or messages I like; I'm in love with my phone." Love without hate exists in memory of her first love. "My first love was about to leave the country the next day," Natalia relays in recollection, "I was on the terrace thinking about him leaving and he suddenly hug me from behind and he said "Why time running so fast? Then he said he loves me."
The adorable Natalia Alexa, a girl who wishes people around the world would stop killing each other. She wishes to see an end to rape and murder. Heaven on earth for this angel is being with family and the people she loves. The knowledge that they are alive and healthy is paradise in itself. Angels Playpen thinks she and any other angel deserves a trip to getaway to a place of their choosing. "My ideal destination to unwind would be Greece or Paris," she proclaims, "I always wanted to go somewhere in Europe and just unwind and think about life." Well, we here thank you for sharing a little of your sexy spirit and giving us something heavenly to think about. Thanks for being an angel. AP.