Angels -
Interviews
Written by Khalid "Bless" Bey | Editor in Chief | As Seen in NY Times Bestseller: Rat Bastards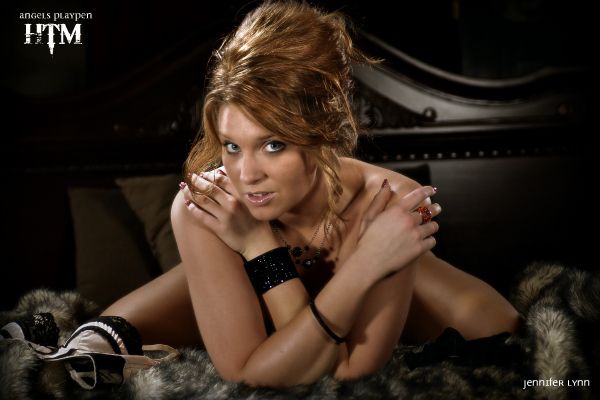 In college, with a bright future ahead of her, a girl from a small village dreams big. The more she experiences the more these alluring dreams take shape. Her spirit tells her heaven on earth is achievable. "A stellar career. A wonderful man. An amazing family. A house in the hills," she says of her 'heaven on earth.' And somewhere, sometime, her toes buried in sand. She decides to participate in a "bikini model search." Eighteen at the time she starts getting involved with local promotions and events which led to her modeling. Today she is an angel. Her name? Jennifer Lynn.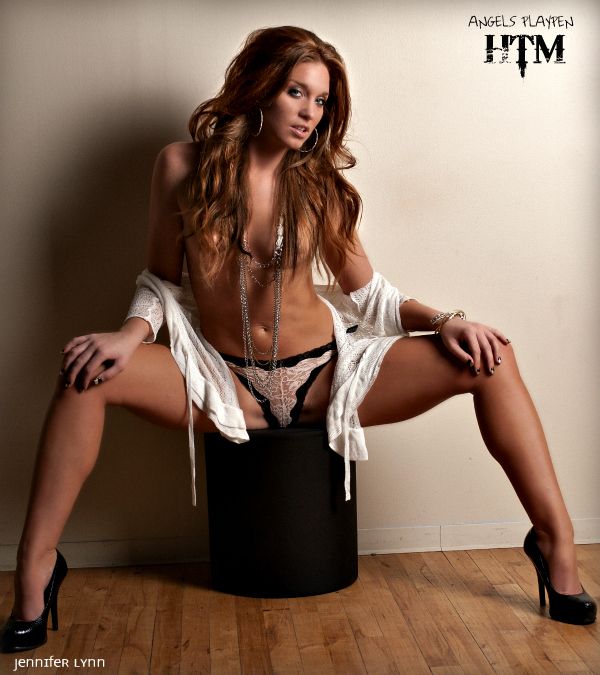 Jennifer Lynn is a homegrown beauty from Wellington Ohio, who was quite the tomboy while growing into the beautiful girl we see today. "I'm lucky I come from a small town," she says, "I cherish everything about it. The openness of the fields put my heart at ease. I learned to appreciate the smaller things in life." Jennifer quickly and readily admits to being a "country girl at heart." A lovely mix of German, Irish and Cherokee, she grew up on a farm where she "took cows to the county fair", developing a sense of showmanship early on. "I was and always will be one of the guys. I never wore make-up, bailed hay with grandpa, raced dirt-bikes with dad, played sports year round as well as hit the gym every day." If Jennifer wasn't in the gym, she was out riding. "Whether on horse or bike, it was the highlight of growing up in the country. I was never into beauty or modeling but my senior year of high school I grew an interest in design."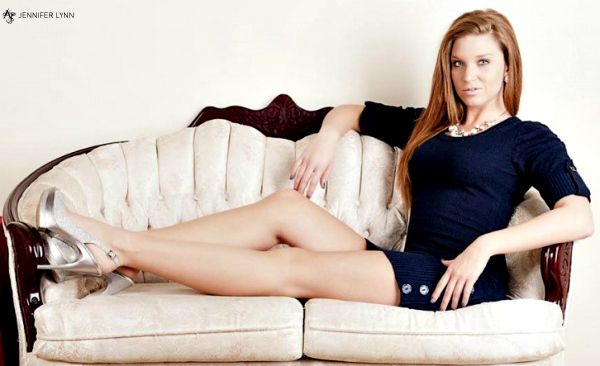 Angels Playpen is beyond happy she made the leap, becoming a very sexy public figure, fueling the desires of men all over. "I actually have always been a public figure," she says enlightening me. The daughter of the small, quaint village's Fire Chief, her mother also held another prominent position as teacher. "In a town of three-hundred," she says, "I was a celebrity."  In spite of the perks that should come with such a role, Jennifer admits she wasn't always in favor of it. Actually she hated it. "Everyone knew when I got a speeding ticket or was published." Despite this, she is unshakably loyal first and foremost to her family. Then comes the love of her life, her godson Aiden Joseph Mercurio. And any man to come into her life seeking affection would be wise to be jealous.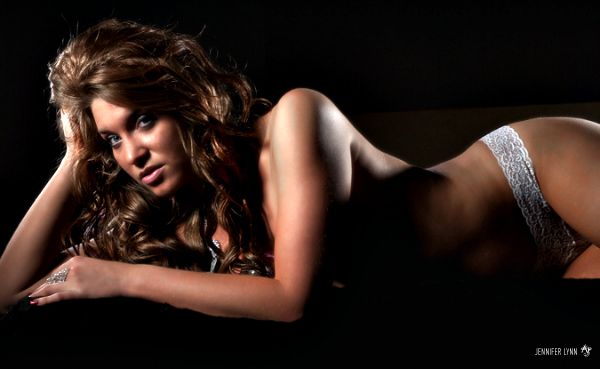 Jennifer also bartended at an adult entertainment club where she fell in love with the art of 'pole dancing.'"It brings out this other character and you learn how to express yourself through dance," she tells me. I accept her answer although I suspect other more carnal reasons played a part in her decision. Bartending, car shows, stunt shows, blogging, and designing custom accessories are her other activities. She admits times being trying occasionally when tending to both her personal life and career. "I really don't have a love life because I put so much effort into my work," she says. "I'm still young. I have my older years to find someone." Nevertheless she secretly desires someone to by her side while she builds her career. Supporting her. Cheering her on even. "Chumps can't keep up with me."
As I process this interview, there is something that becomes painfully obvious; she is very forthcoming in the telling of her story. I like this. "The fact that I am brutally blunt and intense," she says of her most admirable trait. She reminds me of myself. "I know what I want and don't want." Her words mirror my own on the subject. "As a young woman," she continues, "I want to be well off in life and that means minimal partying and work, work, work," she finishes excitedly. Guys, she says, usually see her as one of the guys calling her a goofball. Her humor is never more apparent than when she tells me her wish to witness in this world. "Zombie apocalypse."
Without looking manly, Jennifer's body looks… strong. There is a subtle strength underlining each pose. Each frame.  "As the great LMFAO said it, 'I workout,'" she informs me. "I put myself into the gym everyday growing up but I've slacked off a bit. I wanted curves!" Looking at her photos, it's apparent her technique worked. Jennifer certainly has curves. Funny thing is she doesn't always have a great relationship with one of her most endearing body parts. "My butt. It's awesome but never fits in my jeans." To maintain that fine balance between toned and feminine, a personal trainer has her on a strict diet. I'm guessing the polite combination of strength and sexy can be daunting to some guys. "Yes," she agrees energetically. "I received a text yesterday saying I was too intimidating to talk to. Weak men!" With this I begin to think her strength causes her to be hard on guys. Well at least the chumps and weaklings. Ha.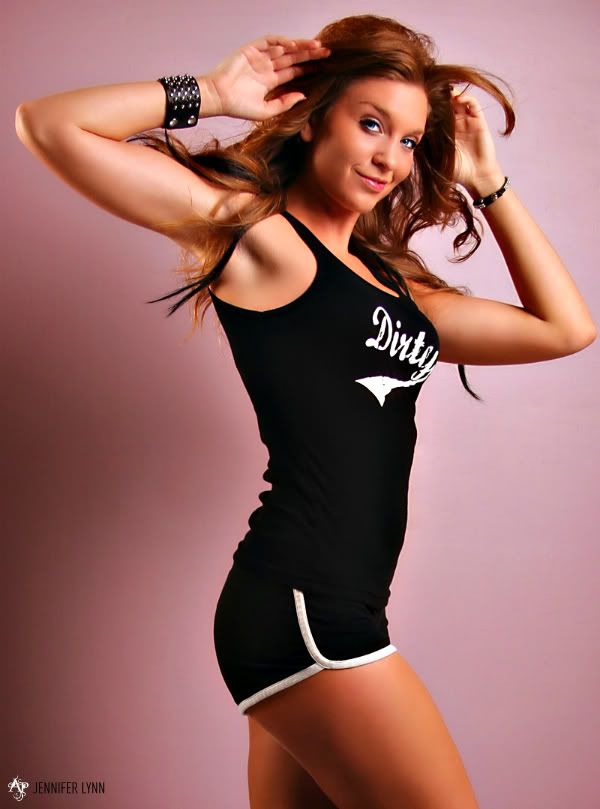 Told once that she looks eighteen but acts thirty, she never forgot it. "I take that as I act mature for my young age," Jennifer says thoughtfully. But don't take this to mean simple compliments will make her blush and you excited. "I've heard everything," she says. "If they used proper English and carried themselves properly then wouldn't make me blush but it would make me take a step in getting to know him further." Tough but open to possibility. I like. So much I want her as a friend. I'm thankful she believes man and woman can be friends when so many don't. "Absolutely," Jennifer accords, "most of my friends are male." She tells me if I ever make mad after we've become close, she'd forgive me if I took her in a 'nice long bike ride' or have flowers delivered to her at work. Either would be my pleasure. If I decided to send her away to a place where she could relax, she chooses, "any island with white sandy beaches."
While talking of her beauty, I wonder at how she defines beauty. "The old saying 'beauty lies within'," she tells me, "I truly do believe that." Still she knows very well the import of both physical and mental attraction. She tells me "sincerity and true sexual attraction" constitutes a great seduction. Since she doesn't like a guy who smokes, chances are you won't get a second date especially if you're self-centered, have no job, no car or "announces he's been on thedirty.com." Not sure what that site is but if Jennifer isn't interested in anyone who visits, I think I'll pass on checking it out. She does however like a tall man with broad shoulders, someone strong like her, accepting and protective. "Someone who lets me be me," she adds, "and is comfortable with my career choices.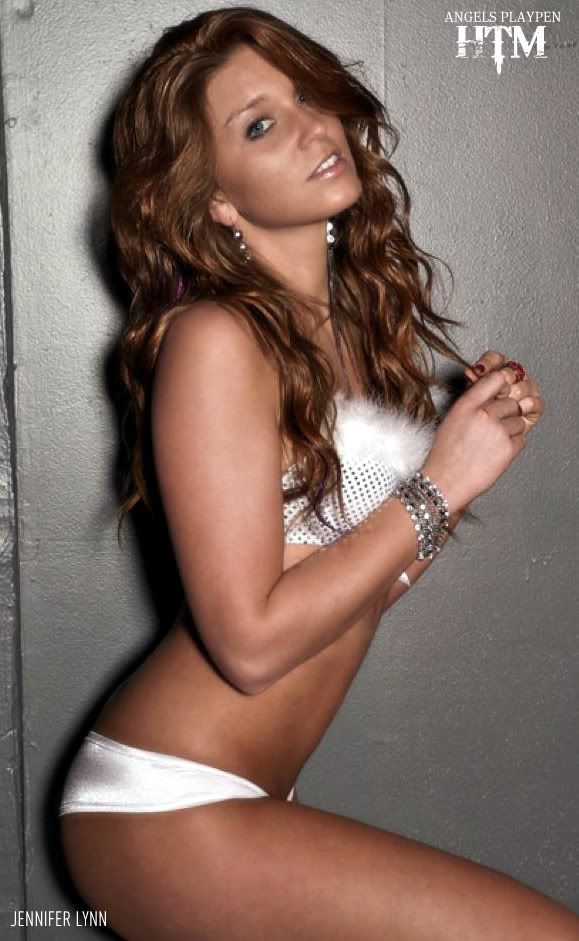 She says her idea of an angel, a title she can now claim, she explains is a role model. "Someone who fights for what she believes in even if it makes people doubt her and talk," she says, "someone who puts others before herself and helps others succeed as well." Jennifer describes herself as sarcastic, intense and feisty, three things this interview makes clear she is. "I'm a Taurus," she tells me. "We are aggressive, persistent assholes with OCD." Once again I find myself laughing at her unrestricted speech. She has her moments to laugh too. "When my mom and dad did a complete dance to 'Superman' on Dance Dance Revolution for Xbox Connect."
Waking up every day chasing her dreams, the first thought that comes to mind is what will she get accomplished that day. A confession of sorts, Jennifer admits to being motivated by 'haters.' Of course she also motivated by family and friends she's acquired in the business. "I couldn't ask for a better support staff," she says almost sweetly yet it still packs the punch her words usually carry. No matter where her modeling takes her, she can't live without her 'Louis Vuitton,' camera and what so many have come to know about her… her phone. It's something soon noticed by all around her. She can always be found on her phone searching through new apps and emails.
It seems that the sooner I get to know Jennifer the sooner I have to let her go. I truly enjoyed getting to know her, her unrestrained rhetoric, strength and determination. Maybe one day I can join her at her favorite restaurant, find out why it's so special to her. "I'm addicted to this little truck stop cafe called Big Dogs Track Diner in my little city," she tells me and a vision of us conversing over a meal flashes in my mind. Kind of sweet. Anyway, the outspoken online boutique owner apparently can give it as well as take it. "I also LOVE when photographers yell at me," she says. "When you're shooting, sometimes you don't notice your doing something you shouldn't. I usually tell them to yell at me so I stop doing it and I realize I need to change it." STOP DOING THAT!!! Just kidding… I'm hoping you just never change a thing about yourself. Thanks for being an angel.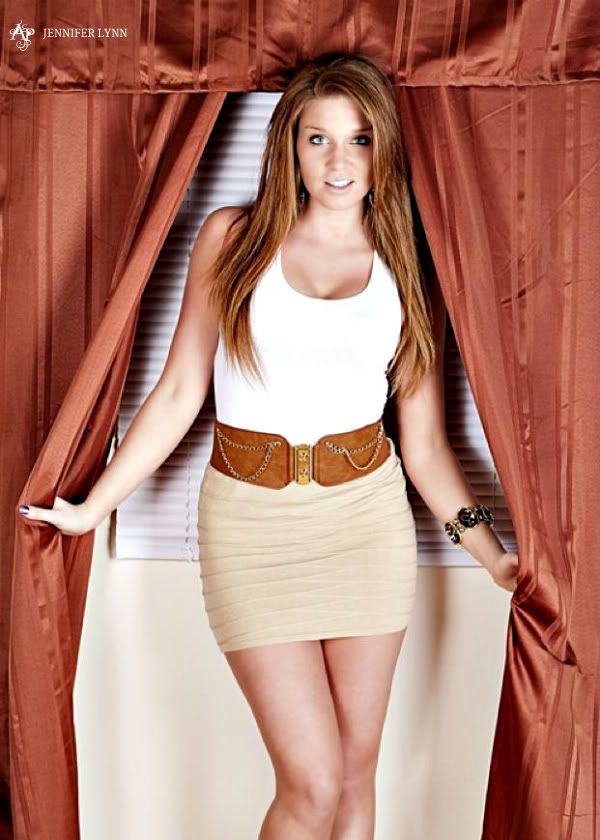 Photos By J. Scott | Erik Pickering | Studio D