Angels -
Interviews
Written by Khalid "Bless" Bey | Editor in Chief | As Seen in NY Times Bestseller: Rat Bastards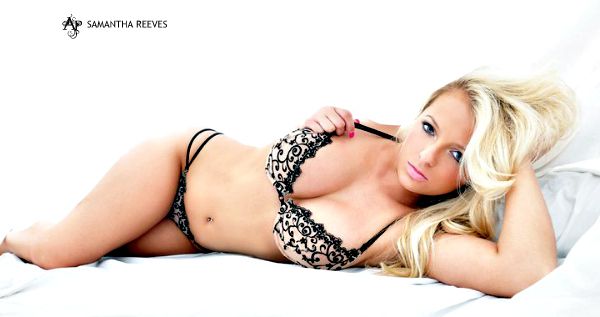 We are here to talk about a girl, a girl with a celebrity crush that spells out more like a fantasy. So much so that it's her vision of 'heaven on earth'; something we hold fatefully here in Angels Playpen. "Heaven on earth," says Samantha Reeves of Cincinnati, Ohio, "would be a long full body massage by James Franco while sipping a glass of Moet and eating chocolate covered strawberries." This girl, our newest angel, Samantha Reeves - part German, part Irish, part Native American - is here with us now, baring her soul to our much varied and distinct visitors, providing an glimpse at the inner workings of her mind.
Unafraid to admit that men are intimidated by how sexy she is, "I'd like to think that is the issue"; Samantha is unrestrained when it comes to her whip appeal. She knows beauty is in the eye of the beholder, so she works out on a regular basis, maintaining one of the sexiest bodies I've seen in awhile. "I try to stay as healthy as I can," says the lady who describes herself as "Crazy. Honest. Sexual." She reports being an absolute vision Friday night in a black, sleek dress. I myself may prefer to see her Sunday in an oversized tee with her hair pulled back, with nothing but boy-shorts underneath. "Confidence," she says is the key to a good seduction, "if you are unsure of yourself no one will be turned on". She herself gets turned on by a nice smile and sense of humor with body odor and cockiness being her turn offs but what attracts her initially are his eyes. Guess it's like they say, eyes are the windows to the soul.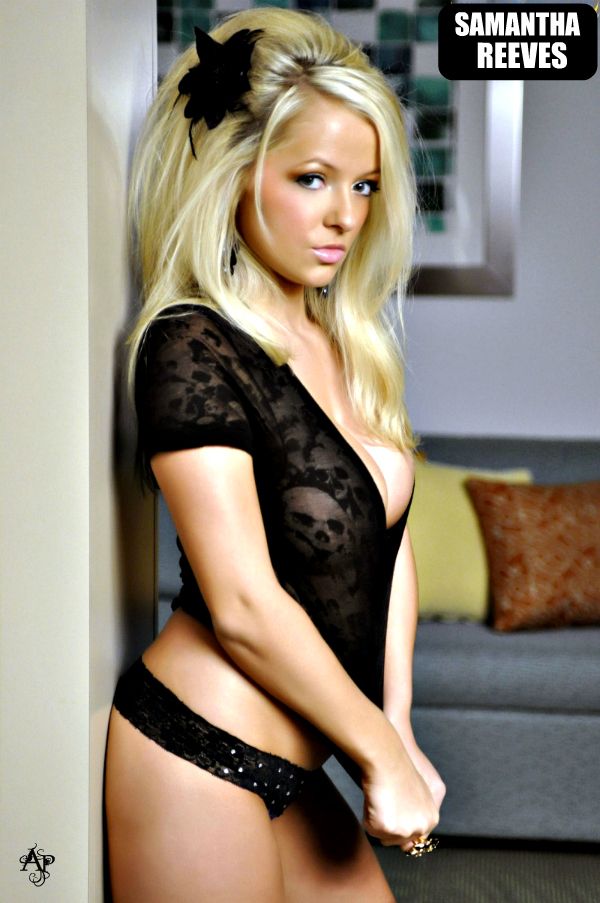 So many of these angels tell me they used to be tomboys, rarely is it so obvious. With Samantha, it's not such a surprise. There is a look to her that tells a story. In this story, the aggressiveness that men display would have been attractive to a daring beauty like she. "I always wanted to be like my older brother and his friends," she admits, "I played with power rangers and wrestler. That's actually really embarrassing." It's her don't-give-a-fuck attitude that attracts me most, her photos personify it, her eyes project it, her body performs it. "My personality is what separates from other models," she says confidently, "I believe it shows in my work." She is acquainted with the fact it's her bold personality that both guys and girls admire. "Ok, maybe my boobs too."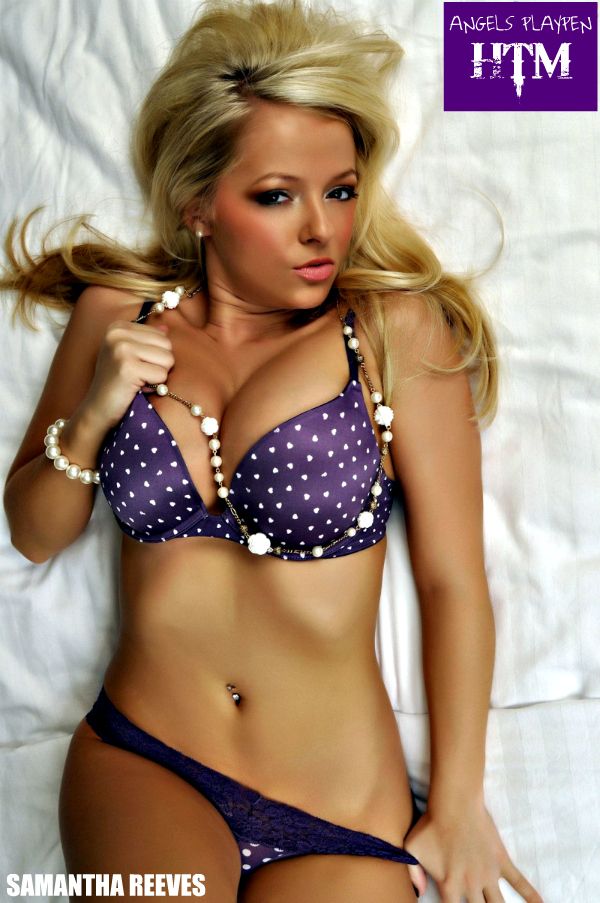 Her start in modeling came rather nonchalantly. At the request of a photographer to use her as a feature model, she initiated her career. "Things just picked up from there." She looks to one day work with Playboy, and I don't begrudge her even a bit, she would be a perfect playmate. Today she is an angel, someone she describes as, "A girl who is sexy, confident and smart." Samantha is all of these things marking her the perfect angel. As a professional model, the added attention she has to deal with is both good and bad, especially from guys. Finding balance between her career and personal life is difficult to say the least. "That's probably why I still single," she says though her family and friends are very supportive and provide the motivation she needs to forge ahead. Her biggest influences include sex icons such as Pam Anderson and Carmen Electra; worthy subjects of her admiration.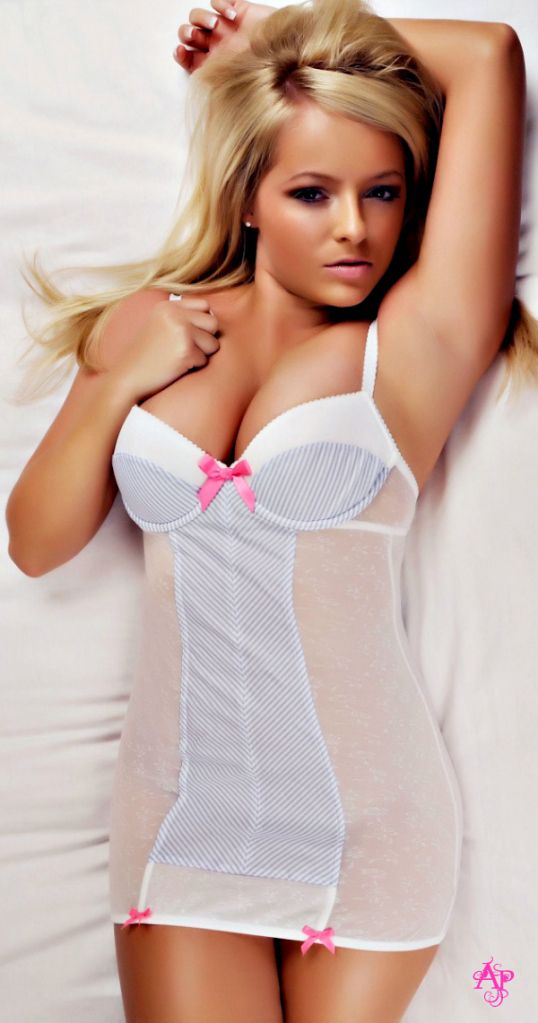 In her spare time, Samantha loves to play chef. "I love to cook," she tells me. "I'm the Paula Dean of my house." I was learning about her outside of modeling, when she isn't being an incredibly sexy public feature, what treasures she hides behind that pretty bout and disarming eyes. "My hidden treasure is my mind. I graduated with a bachelor's degree in business and was on the dean's list and national honors society." Beauty and good brains, can't beat that, much rather join. "Most people wouldn't notice because I'm real silly," she says about her beautiful mind.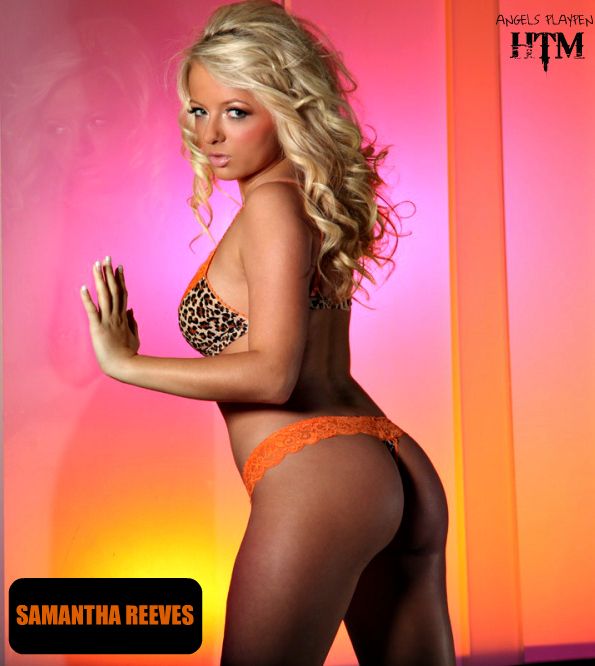 Of course like so many other pretty girls, she enjoys the pleasures of shopping, dining, and traveling. "My favorite place to shop is Bebe," says Samantha, "I am addicted to that store, I am on their website almost every day. I eat at Chipotle often, I can't help my cravings." Her ideal place to getaway surprises me. With options like Hawaii, Fiji, and Morroco, she chooses Ireland. "I have always wanted to go there and meet hot Irish guys," she says. I'm thinking she could easily do that in Boston. Ha. But then I think of the history Ireland has to offer and alter my opinion.
More than just a sex symbol, she is a lady, which means there are things to learn about her as a woman, like has she ever taken advantage of her sleeping man, what makes her blush to unforgettable moments of love. "My first kiss will always be unforgettable," confides Samantha, "I was in 5th grade and I was scared to kiss my little boyfriend because my mother told me I would get pregnant. Then everyone laughed at me and my friend pushed our heads together!" Nowadays she is nowhere that timid yet there something that makes her blush. "Just romance the shit out of me," she advises. Now romance I appreciate; it's a dying art. Romance aside, when she is ready for love from her slumbering mate, Samantha will proceed to start the affair, taking full advantage of his vulnerable state. Think I just fell in love.
Since I'm slowly falling in love; my imagination revs up. I begin to see us out on a date; she looking absolutely amazing in some sexy outfit, I her unworthy escort. There we sit; table set with our favorite meals and drink, conversation flows accordingly with me complimenting her endlessly. Then her ex walks in and she clams up, a nervous look becomes her face, turning our date into a worst case scenario. This, she sees as the worst that could happen on a romantic date. "Running into an ex," she says, "that is always awkward." It wouldn't be for me; I'm still friends with every girl I ever had. Some people don't think men and women can truly be friends; I disagree and so does Samantha. "Totally," she points out, "I have guy friends that I get along with more than my girlfriends." If she and I became friends, close ones I'd hope, and I made her upset somehow then sought her forgiveness, a gift of chocolate would suffice. "It's the way to a girl's heart."
It was pleasure learning about a girl who's 'heaven on earth' includes a famous celebrity. Her sign being the Ram, is a fire sign which could explain the daring nature of her photos. Aries are also known to be 'overly impulsive' so I'm now promising to keep eye on our newest angel, who would love to see end come to animal cruelty and is unshakably loyal to herself. "It's the best person to be loyal to," Samantha says. However she still wants to make her family proud; it means the world when her parents tell her so. And yes she can't live without her cell phone. "I seriously think I would die," she tells me and I think she's exaggerating but still I accept her words. I'm just happy to have gotten to know her.