Angels -
Interviews
Written by Khalid "Bless" Bey | Editor in Chief | As Seen in NY Times Bestseller: Rat Bastards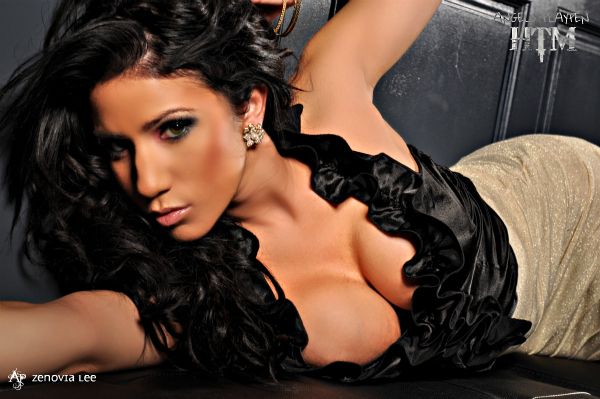 It was something written in her face. I was drawn to her time and time again. Sometimes there is just a connection, intangible yet heartfelt. My sensitive nature allows me to feel more than most but I'm still a man, all I knew was that I liked her and so I'd told her just that. Told her it was something in her face. It had character where so many of these angels are just… pretty. She had this Sarah Jessica Parker thing going with beauty seeped in her pronounced features. We were at another International Fire Goddess photo shoot at Celebrities Sports Bar in North Jersey, and though some of my favorite models we in attendance, this fresh face intrigued me. I wanted to know more about her and here we are in Angels Playpen, where she has just been newly indicted as an angel. Now is my opportunity to find out why I liked her so much. Meet Zenovia Lee. Hoping she lives up to this angel indictment, I immerse myself in her words, searching for the evidence.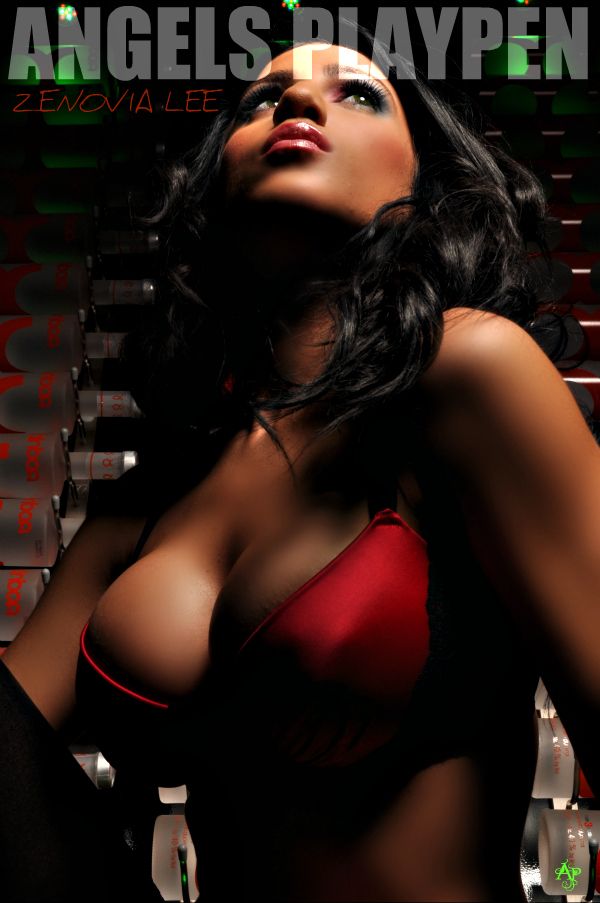 She is Puerto Rican, which is a very good start for me. I love my Boricuas. She lives in Perth Amboy, NJ, noting that having her family so close is the best thing about living there. "Growing up I was a rebel," says the girl who is in touch with only a few of her childhood friends, "but I was good also." She reminds me of myself as a kid despite being a boy. "I think going to an all girl school," she continues, "brought out the [rebellious] side to get back at my mom for sending me there [laughs]." Nevertheless she loves her family and culture. "We are very family oriented," she explains. "We embrace our food and music with every holiday and party we have. We always love to have a good time." She loved having a good time, so she used to sneak out with her best friend to have fun because her neighborhood was quiet and a little boring; quite the rebel indeed.
Each morning with the rising sun, genuine laughter ensues due to her son. "My son wakes up and is jumping and laughing in the morning," Zenovia she says almost proudly. "I tell you I have no idea how he wakes up with so much energy." I think it has something to do with him being a kid, but hey, I could be wrong and often I am. This may be one of the rare moments to see her smile, they apparently don't happen habitually. But when she does it's a beautiful sight, right next to her intense eyes. She looks remarkable for a lady with two kids. Exact definition of MILF. Behind those eyes and smile, held secret by her curvy frame is a Hidden Treasure: she is also a boxer. I find myself amazed at this bit of info; there are never enough surprises from this one.
Before modeling she managed dental offices. "My boss and colleagues would say I'm a go getter and that I maybe demanding," she says. "Demanding being I want the best and I will do what it takes to get the best." A winning attitude to match her infrequent smile, it's her kids that motivate her to succeed. I want them to have everything I never had and I want them to be secure in life." Zenovia admits she is new to modeling, but her experience has already yielded some lessons. "With my fulltime job, my kids and modeling it gets hard," she says of finding balance. "Someone always wants you somewhere and living my life it's not possible. So you win some and you lose some." Same reasons she outlined are the same reasons I live a life of solitude; no one can keep up with what I do. Until now perhaps…
Because she and I share a similar lifestyle, working on the fringes of the same industry, I utterly understand the need for a break, a much needed reprieve from the hustle and bustle of the industry. "I would go to the Dominican Republic," says the Puerto Rican stunner and I would happily oblige. What is life but to bless each other especially the angels? She tells me she loves dining in New York and shopping at Victoria's Secret so by force of habit I picture her in Pink at brunch in one of my favorite neighborhoods of NY; Murray Hills. But don't dig too deep into this; it's just how my mind works. Nevertheless I would love to do it simply for the pleasure it would bring me to see her smile… again.
A rebellious youth led to a decision to model. Surprised again, she tells of gaining confidence through modeling, something I imagined a strong minded Latina like her would have had all along. Zenovia admits modeling also helped her get comfortable with her body. "Embracing it the right way can be sexy," she learned. "Modeling brought the sexy out of me." As a model, literally your look is everything so maintaining a healthy, sexy body is of utmost import. "I love to work out," she says, "but it's been hard juggling everything in my life just to get to the gym. Then again having two toddlers is a workout." Zenovia wants what she wants and never is this clearer than at a photo shoot. "I will not let any photographer or anyone tell me what type of pic I will take," she says sternly, "I stand my grounds on what I will and will not do".  With such clear vision, she looks to work with make-up lines and has a desire to work with photographer 'Shobiz'.
Though she has few friends from her childhood that could attest to these changes, her current friends are very supportive, even going so far as offering advice from time to time, suggesting changes, giving direction. I'm sure somewhere in their support, Zenovia has received many a compliment. She once took her daughter to a Christmas photo shoot where she received the best compliment thus far. After getting dressed in the day's required outfit, her daughter walks in, sees the sight before her and lights up. With glowing eyes she looks to her mother and simply says…"Wow". Well said little lady. I would have said the same thing.
The time spent learning about the girl who can't live without her kids has been rewarding. The angel indictment still stands and the charges are sticking. She is an angel indeed, a tough one. Making her mad is not a good idea, and trying to buy her forgiveness is a no-no. I'm notorious for bringing a gift when trying to make-up. "You can't buy me," she says putting me in my place. She just wants to know she's respected as a woman. "I would love to see everyone happy," starts her wish for the world, "and see that every man respects women and make them feel like they are worth more." Her sentiments are felt and her note is perfect to end this interview. Hopefully here in Angels Playpen she can see what's she's worth, beyond her character laden beauty and spread her wings. Case closed.
Model Provided by: International Fire Goddess Models
Photos by: Alx Guzman & Jose Iguanaverde Zurita