Angels -
Interviews
Written by Khalid "Bless" Bey | Editor in Chief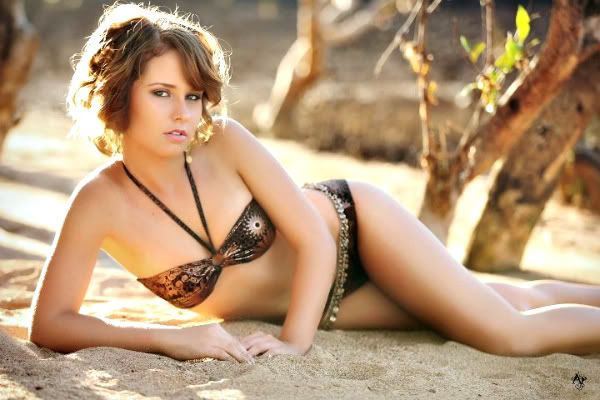 Angels Playpen. Models these days all have companies they either secretly or openly wish to work with; however for Australian model Katherine Lameree, she prefers to go where she is wanted. "So far I've worked independently and would love to come across a company in Australia or even an international company who would represent me and be proud to. I don't like being another number." Here in Angels Playpen, Katherine is most welcome, proud we are to have her join our legacy of beauty and culture. "Two photos got me into modeling," she tells me of the birth of her modeling career. "One of Jessica Burciaga when I was in grade nine through Myspace and an ad for Maybelline."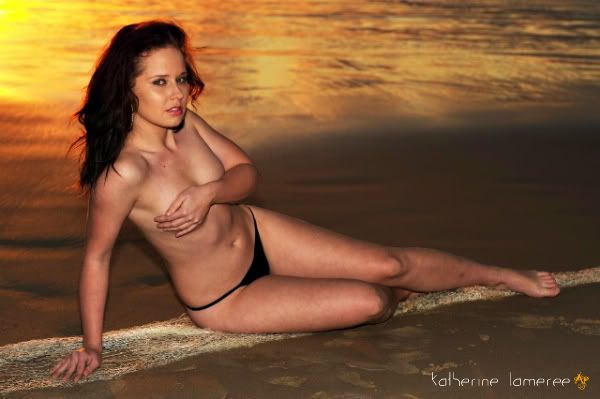 Embarrassed at not knowing who Jessica Burciaga is I decide to Google.  A few minutes and several sexy pictures later I return to Katherine impressed; Jessica is gorgeous. "Jessica Burciaga has been my main idol ever since I saw that picture," she says. "She is amazing, and I love how far she has come. She seems so natural and different to the average glamour model." Since she is influenced by this particular model I thought of what she viewed as beauty. "A genuine smile,' she answers, "confidence in the natural body they are in and a kind warm-hearted personality." As a model, I figure she must know her strengths. "I don't feel I have as many 'diva' qualities as per other models," she says. "And also I am quite an intelligent person. It comes across to me that many glamour models are very diva-like and almost fake. Sadly to say I believe it comes out in their photos."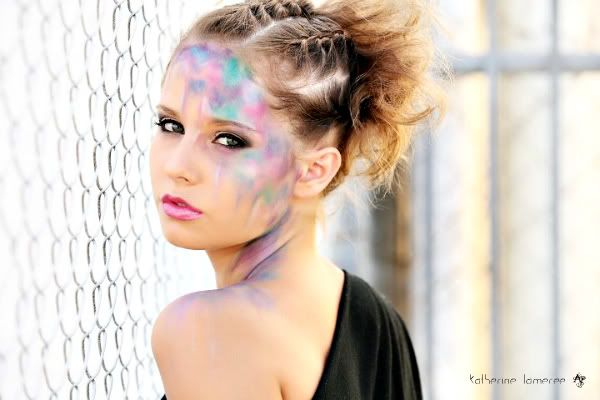 Katherine seems to have her pretty head screwed on tight. Knowing what you want is one thing, achieving it is another. Staying motivated is important. She admits to being motivated by the haters. "Nothing motivates me more than the people who doubt me." She is here now, in Angels Playpen, where her beauty and brains are cherished. Changes have come about due to her career choice. "I think that becoming a model changes the people you attract. You get a lot of people who want you as a friend because you are model and they want the benefits from it. You learn quickly not to trust anyone as easily as you would usually." Conscious of the type of characters she attracts she is equally aware of her admirers and what they like about her. "I would say the most I have heard," she answers thoughtfully, "is my maturity for my age and my ability to be strong in tough situations. I know I have this ability to pull through any challenge life puts me through."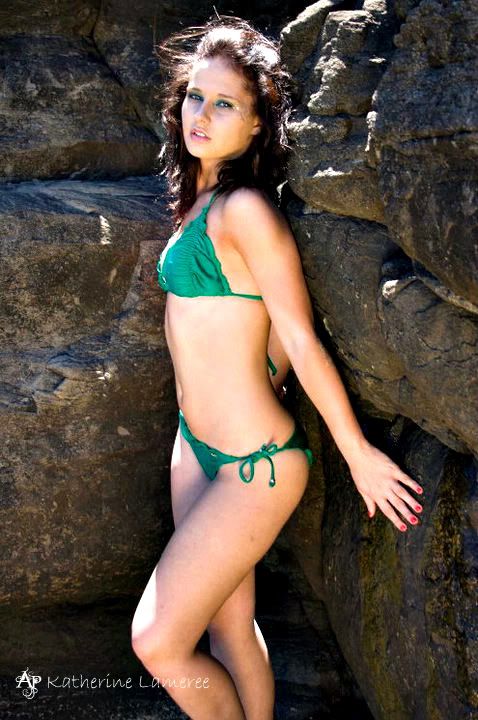 Strong spirit, she exhibits a feistiness that I find attractive though some may find, coupled with her sexy demeanor, a bit intimidating. Katherine isn't so convinced. "I'm not sure," she said with a laugh. "Some have said so, but I don't feel that I'm intimidating. I never knock back a genuine person." So all you fake guys can expect that feistiness I told you about. She hates guys who aren't gentleman. "The farts, burps and selfishness… boys leave it at home," Katherine admonishes the cavemen. "You have to put your lady first on a romantic date. Selfish, I know." Selfish is one thing but a lady being treated like a lady should be expected. Problem is depending on what I eat, if we're out for lunch or dinner, I could become uncontrollably flatulent. Since I know she hates it I feel a small gift is deserved every time. "Only one thing," she announces her wish, "A Mint Chocolate Aero Bar…," she mentions deliciously. "Oh yum." Don't know what that is so I will show up with a York's Peppermint Patty hoping for the best.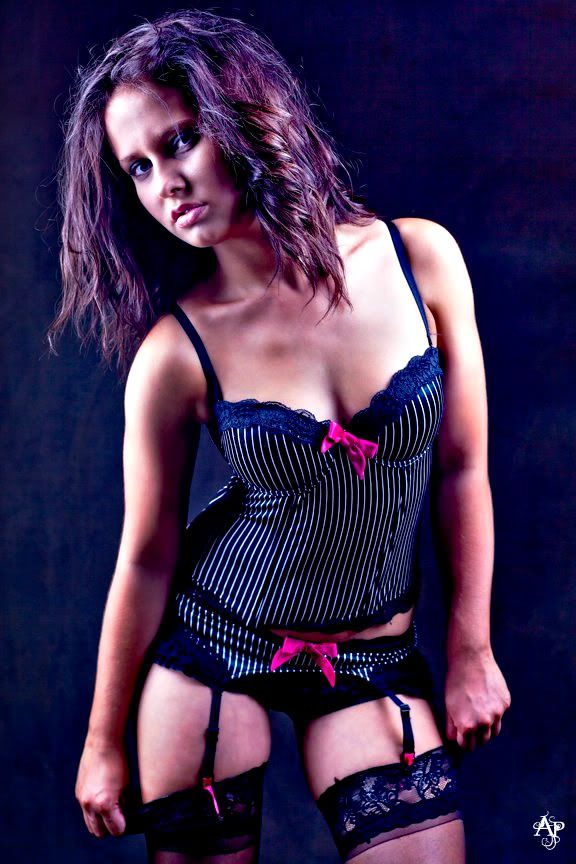 I soon wanted know her idea of our motto of 'Exploring Heaven on Earth.' "Heaven on earth would be living your life the way you want, without any serious complications and having the ones you love with you always. Having money is an irrelevant factor as these days; the world is just one big money chase." What would she like to see happen in this world? "I would like a big wake up call to all people who are committing crimes," she tells me. "I think the world needs to crack down on people who think they can get away with doing whatever they feel without consequences. We need to be harsher because I feel that what we do now isn't effective enough."
She has a love-hate relationship with her "hair."  She admits "I hate styling it, washing it… doing anything to it." She eats what she wants and only occasionally works out. "I like to go to the gym but I'm not a gym junkie and fanatic dieter." Confessing to not traveling very much, she'd love to go Spain someday. She is from Australia, based out of Brisbane and the Sunshine Coast where she loves to party at Mystique. "It's nothing fancy but the people who got here are so much fun and are there to dance, not pick up!" The best food she says is Thai Seasons at Mooloolaba. "I swear I could live off it." The greatest thing about living in Brisbane is the natural features. "When it's sunny it's so beautiful and almost paradise." Everything is convenient in Brisbane and cultural diversity is common. Her family migrated to Australia from the Netherlands in the 1900's and her father's side is rich in history. "I could go on for hours about who's who in my family," Katherine admits proudly. In a heartbeat she confesses to her mother being the most important person in her life, she can't live without her. "She is my rock, my best friend amd probably the only person in the world I can trust %100," she says. "I love her to pieces."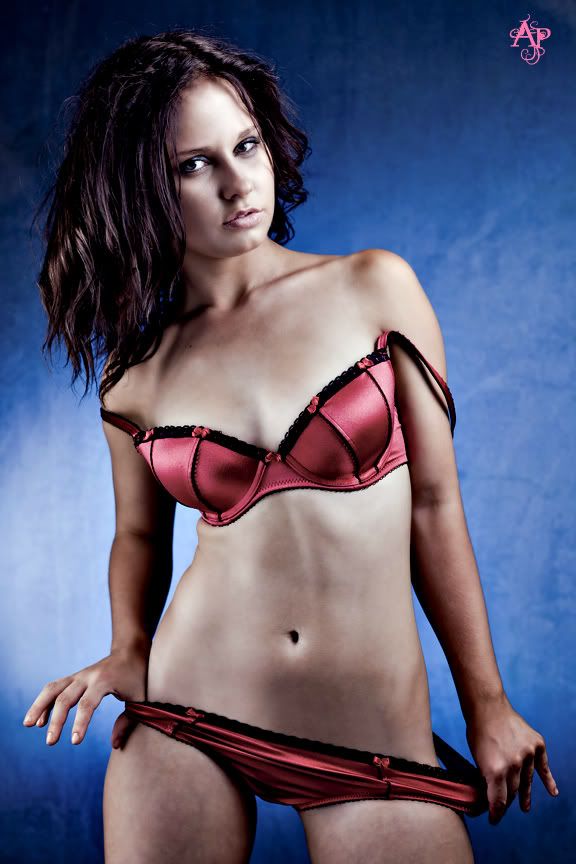 Between life and career, balance is sought. "At the moment," Katherine declares, "my life is quite balanced but who knows; more is still to come." She is infinitely correct on that note; more is indeed yet to come. She feels her 'Hidden Treasure' is her intelligence and desire to learn. "Sounds boring," she says, "but sometimes I amaze myself at my ability to learn things and be able to apply them. My ability with numbers is insane." Beauty and brains; check. Even her sense of seduction is brainy. "A good play with words," she begins tutorial, "if you know how to talk to me right, that's the way in for me. You could be the sexiest thing on earth but I'm not going to be one bit interested if you sound like you are uneducated or sleazy."
"I am a Virgo," enlightens the Australian angel, "and I feel the only thing that fits me perfectly is my tendency to over analyze everything and my independency. Otherwise I fit a Leo through and through." I call her angel as I do all these beautiful girls but is she deserving of the title? "An angel is someone who is good willed and kind hearted," describes Katherine, "who is forgiving and loving and will embrace anyone without judgement." Two years ago while on a deserted beach with a boyfriend for a long weekend, a memory she would never forget took place. They camped, swam, experiencing uninterrupted pleasure in each other's company. "It was romantic and felt like one step away from paradise," she says the moment as unforgettable as a birthday. The best compliment she ever received came from an ex-boyfriend. "he commented on how strong willed I am at heart. I don't care about the physical feature comments [but] when someone comments on your personality it shows they are truly taking notice of you." Well dear Katherine Lameree, Angels Playpen has taken notice of your fine spirit as well as that cute face and curvy frame. Welcome home angel.
We have 380 guests online
Rat

Bastards w/ Khalid "Bless" Bey