Angels -
Playpen
Written by Khalid "Bless Theangels" Bey | Editor in Chief | As Seen in the NY Times Bestseller: Rat Bastards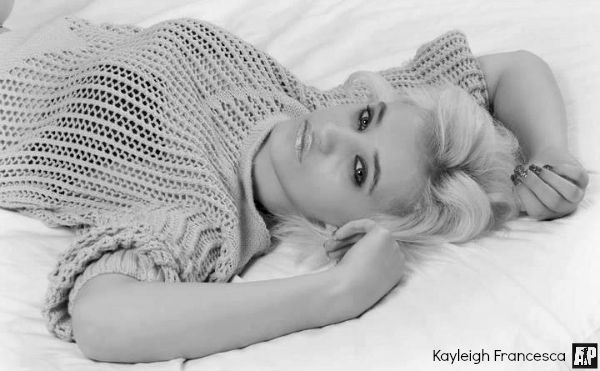 What is 'heaven on earth' to you? Earthly and heavenly secular pleasure to rival the most ethereal delight can be found in the most unlikely places, increasing enjoyment a thousand fold. But then again it's the things we are familiar with that bring us the most joy, expected and appreciated we are at momentary peace when these often sentimental things are encountered. "Just being surrounded by people I love," Kaleigh says about her own idea of 'heaven on earth.' "Can't get no better than that for me." She's correct. Being surrounded by the people I love as well as the people who love me, is heaven, but let's add a little good food, spirits and music.
Kaleigh, once a shy girl growing up in Hull, East Yorkshire, a small town in the UK, is now a fearless model displaying her heavenly wares for an ever-growing fan base. Still there is more to this angel; her position in healthcare enables Kaleigh to be a true angel. "I am trained and care for people with learning difficulties and palliative care," she says with measured excitement. "[I] would ultimately love to become a midwife, career wise." For the most part she is just like any other twenty-one year old, she works hard so she plays hard which is almost a code of honor in Angels Playpen.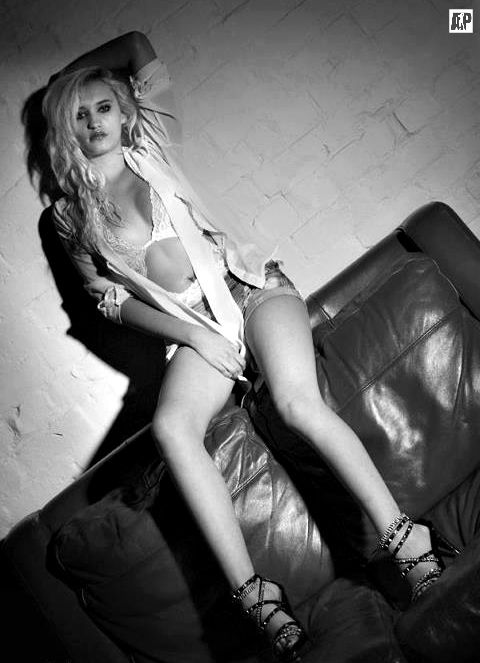 Working in healthcare makes her proud as it should; however becoming a model changed her. "I have learned a lot that's for sure," Kaleigh tells me, but other than that, nothing… apart from finding a lot of good people that support me 100%." She has always held an interest for modeling and is willing to sacrifice to achieve her goals. "I put my all in and won't give up something I want," she declares. Motivated by the urgings of her 'nana' and her belief in Kaleigh, modeling became a reality. She of course cannot forget the many others in her life that have supported her dreams.
Kaleigh admits she cannot live without her family, neither can I but I am forced to be apart from them for far too long and far too often. Her hometown of Hull is small and "a bit of a dead end" as she likes to say. "Ideally I'd like to venture down south," projects our angel. Paris is the romance capital that has held a special place in her heart, "always wanted to visit there", and Disney Land, she says with a laugh still is a destination she would love to visit. There are few places and towns she enjoys for their nightlife. "In Hull it's got to be the Sugarmill but I enjoy Leeds, York and Scarbs for a night out," she says excitedly.
When she is out and about, I can't imagine her not receiving a succession of compliments. "There's a lot which I will never forget," Kaleigh says of the many compliments she receives and trying to select the best one but fails. Because she receives so many worthy compliments, a clear winner becomes difficult to isolate. This could only mean that the men she comes across are not too intimidated to offer their unsolicited critique; she agrees. Once you get to know her personally, stripping her of the modeling title, everyone comes to love her for her honesty.
"I think there are plenty of unforgettable moments when it comes to love," Kaleigh explains, "but realizing someone's the one for you must be up there." We are of course talking about unimpeachable instances of pure love that become a permanent part of us. Some loves come with a downside; the dreaded love-hate relationship is formed. For Kaleigh it's with her dog. With a fit of laughter she admits, "He's my baby but can annoy the hell out of me!"
Confidence. That thing about us that screams authenticity and certainty, Kaleigh says is the main element to successfully seducing another human being. "Cannot stress this enough," she affirms. "I think everyone is beautiful inside and out, I think beauty comes in all shapes and sizes and confidence is the sexiest thing about a man or woman!" Then there is the nature of dating and what could ruin any date. "Ummm," she says, "there's a few to be honest but for me someone who constantly mentions their ex." She clearly has drawn a line at dwelling on past loves in the face of a current date. "Big turn off."
Kaleigh is a model who was influenced by her 'nan', a bit of information I find adorable. As a matter of fact her source of motivation were her nanna's very words, "and how much she believed in me," she says. "And not forgetting everyone else who supports me." Work hard, play harder, her motto and the Angels Playen mantra, means that she doesn't have to give up on anything she wants to do and can afford to give her all knowing just rewards are sure to follow.
In this world, where countless misfortunes disrupt the lives of many, Kaleigh wants one thing… "A cure for cancer, straight up!" Her wants are noble; she has been honest, loyal, and confident all through this interview, the very definition of angel. Well according to her anyway. But she also says an angel should be sexy, something she certainly is, making her a well-rounded, one-stop-shop-being supplying all those who encounter her with a full, pleasant experience. Here in Angels Playpen, Kaleigh's spirit is most appreciated, nurtured and embraced. And with this I humbly thank her for being an angel. Should this angel and I become as close as we'd dare to, in the case of a disagreement where I was the instigator I would seek to remedy the situation with a gift. "Just an apology which is honest will do," Kaleigh remarks. I stand at a crossroads being that I would want to give a gift along with an earnest apology but I get her point; a sincere apology should be plenty sufficient.
Photography: Snapshots 77 | Tom Barron