Angels -
Playpen
Written by Khalid "Bless Theangels" Bey | Editor in Chief | As Seen in the NY Times Bestseller: Rat Bastards
"I am in my friend's place downtown Toronto," Joan Chang describes her surroundings as she answers my questions, "and I see the delicious salty ground beef that my friend made for her bf and a gorgeous view from her twenty-fifth floor balcony." I find myself wishing I were there plotting on that tempting salty ground beef. She isn't from Toronto, she is actually from Malaysia, but "migrated" to Richmond Hill, Canada. "My family origins are Chinese Malaysian, my ancestors are from China" she informs me. "I am Malaysian. My family came from Malaysia."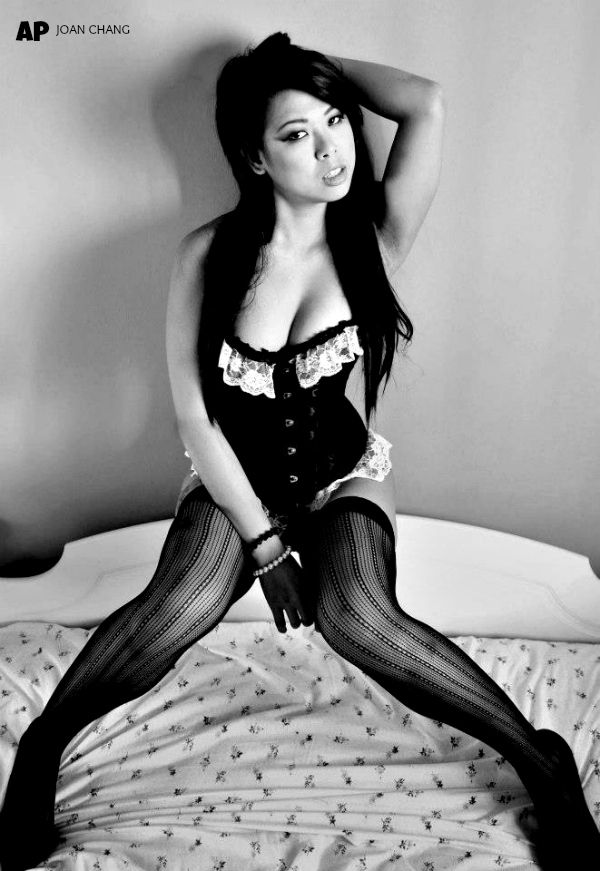 A Malaysian transplant living in Richmond Hill, Joan has come to love the local cuisine. "I love food," she says, "we have a many variety of tropical and traditional Malay, Chinese, Indian and other culture's food." She has also come to truly appreciate the weather. "I love the weather here even though it is always humid or hot," admits the Malaysian beauty. "That is why I look so tan for Chinese."
"I was a tomboy, athletic, [a] rule breaker, playful and [a] naughty kid when I was in school," recalls a reflective Joan. "I was always the last one in class to finish my exams." However, Joan did excel athletically by being "one of the first one in track and field representing [the] school running team." She can vividly remember high school being too controlled; students weren't allowed to dye their hair. "I always liked to break the rules by having my hair a little brown because think I think I don't look good in black hair." Considering her attention to self in high school, becoming a model could only augment that. "I have become more aware of the way I dress, being able to master the art of makeup, fashion, self-confidence and composure. I just love to pose more and capture the perfect image."
Capturing the perfect image is about so much more than hooking up with a good photographer. There needs to be a chemistry at work. Modeling isn't simply being beautiful. Joan loves getting to know people with whom she shares the same passion for modeling. She has also taken a special liking to the editing portion of photography, really working with the photographer in creating the best possible result. Her love of posing combined with being photographed is all that propelled her to model in the first place. Now that she's here, she hasn't quite figured out where she'll go with it. "I know I would love to own my own business in the future but modeling is my passion for now," she says, "but who knows how far I can go right?"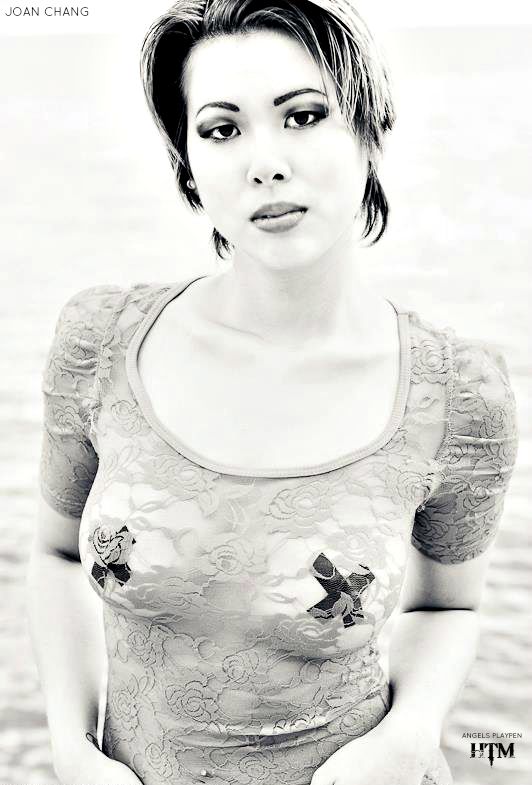 Joan may not know exactly where she wants to take her modeling, but she does know she's love to work with Victoria's Secret or "any lingerie clothing line" for that matter. "I love every moment of it," she admits, "whether it was a shoot, runway, music video or standing around looking pretty." She also knows a little of what it would take to be successful. "I think networking, getting to know the right people," she says, "how am I carrying myself and confidence is the main key."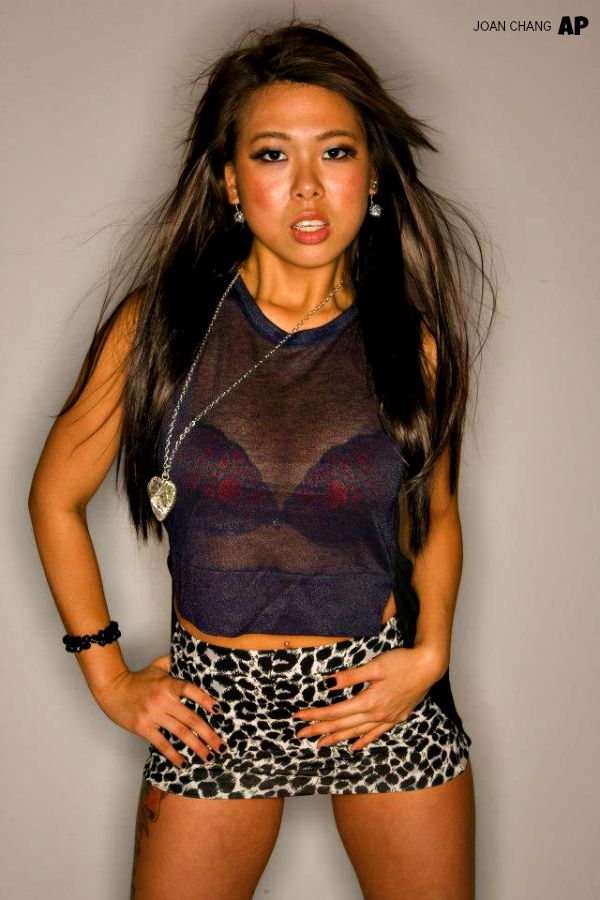 Relaxing after a hard day's work usually involves a hot tub and her girlfriends or yoga session. "I love doing business, playing volleyball, doing music videos, yoga, working out and singing," Joan says of her interests outside of modeling. Food takes up a lot of her time too; it's her guilty pleasure. Sitting, divulging personal accounts of her life with those closes to her easily becomes a marathon conversation. "I love to share with my friend about my passion, my love life, my job; my life in general. I could be a good listener but I will always be talking."
A day off could mean shopping at some of her favorite stores like Eaton Centre, Lululemon and La Sen Za. "I like to wear more casual [clothes], boots, legging and hoody jackets," Loan says of her fashion sense. "I don't have a specific style, as long as I look in then I am fine." She confesses that she isn't a fan of fashion accessories but if she had to choose a favorite it would have to be her purse. Or partying in Toronto, her favorite city for clubbing, is where you can find her.
Joan is naturally jolly, with negativity being the everyday nuisance it can be, she manages to not succumb to its incessant assault. "I am always energetic, outgoing, wacky, and fun to be around. I guess I love to entertain people around me but I do have my downtime; I am a human being as well," she mentions with a smile. Though she is a beauty and a virtual pool of positive energy, there still remains a few things she'd like to improve about herself. "My very, very bad eating habits, stubbornness (I don't care attitude) and childish behavior."
Beauty and health go hand-in-hand in Angels Playpen. Loan healthiest is working out. "I am really bad with my eating habits so I work out to maintain my healthy weight," she says, "but most importantly is balance in life." Beauty is seen as an uplifting quality a person possesses and can be an advantage in the everyday world. "Society thinks that appearance is a very important asset," Joan agrees. "To be honest, being beautiful on the outside does give me a lot of advantages especially [since] I am a model but beauty on the inside is the true beauty that people love to see." She goes on to define beauty as, "assertive, confident, know what you really want in life and living it is beautiful."
Joan says she likes men who are confident in whom they are, have nice eyes and great abs. She also thinks it's ok for a man to cry. "Everyone cries at some point," she points out. "If my man never cried in front of me then I know there's a problem."
Our interview winding down, we end it talking about her main passion in life at the moment. "I love to model," she says, "I guess it would be modeling and helping people." She fears above all else, "not being myself and [not] knowing who I am anymore." I feel her on fearing losing a sense of self at any time, I dread it myself. And the one thing that makes Joan… Joan is, "Doing what I love to do and chasing my dream." Go ahead Dream Chaser.