angels playpen
Angels -
Interviews
Written by Khalid "Bless" Bey | Editor in Chief | As Seen in NY Times Bestseller: Rat Bastards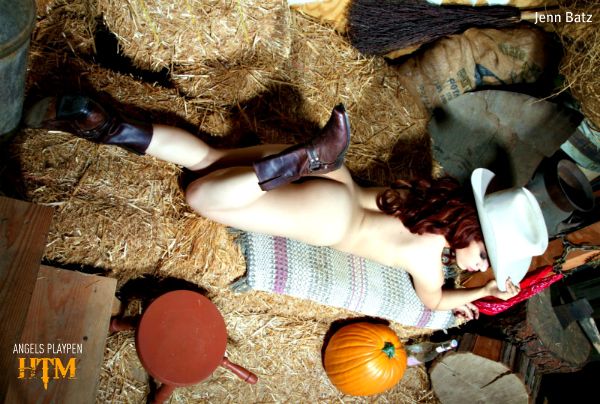 Life is to be lived. This means enduring both the good and bad, the beauty and the morose. For so many of us we forget to live and end up with a multitude of regrets. We get caught up in ideologies, trapped by misplaced loyalties or even find yourself living an unintentional lifestyle. All these account for different phases in our lives, taking up valuable time that we should spend… living. We you live life fully, experiencing as much as possible the only regrets you should have are if you cause another pain. "I don't regret anything that's happened in my life," the sexy Jenn Batz, our current angel injects, "of course I do regret whoever I treated bad but everything in life happens for a reason." Yes it does Jenn. And I believe there is a reason you're in Angels Playpen. Let's find out.
Read more...
Angels -
Interviews
Written by Khalid "Bless" Bey | Editor in Chief | As Seen in NY Times Bestseller: Rat Bastards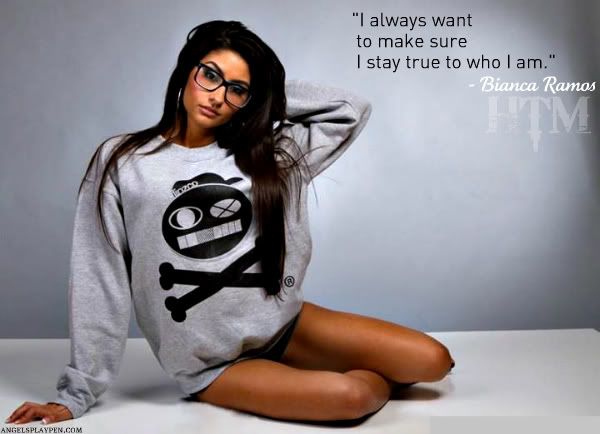 I am always on the road it seems. Always someplace foreign to me, some places more alien than others. When I run into someone whose conversation is honest and sincere, I treasure it. The world is full of phonies. Bianca Ramos is real. When she answers my questions I get a sense that beyond her words, truth is all to be found. Confirmation is received that what she tells you is in fact… fact. On so many an occasion, I have been duped by the stories of others, by the tales they emit, by their wish to seem other than they are. Some insecure part of them causes them to embellish or flat-out tell lies. I forgive them however I feel the fool. For a short time, because of my genuine interest in the lives of those around me, I'd believed them. Today I fear no such thing. The sincerity of Bianca's words will see to that.
Read more...
Angels -
Interviews
Written by Khalid "Bless" Bey | Editor in Chief | As Seen in NY Times Bestseller: Rat Bastards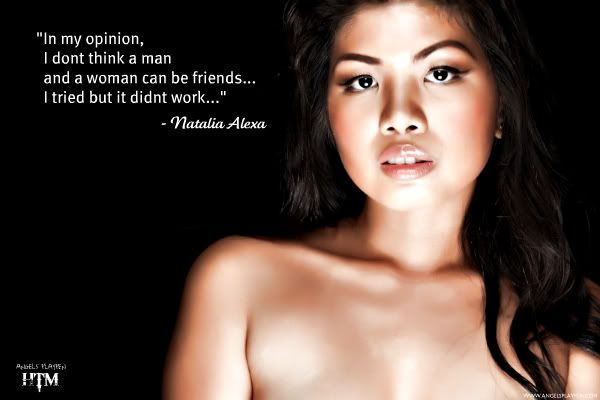 "Hello," she says. I am attentive. "My name is Natalia Alexa," she continues as my focus intensifies minutely. "I'm originally from the province of Pampanga but I work in Makati, Manila; the center of the Philippines." She tells of the Philippines being a historically conservative country though times have changes significantly. "Now they are more open about things like gays and lesbians," she says, "and posing sexy in a magazine and all." Raised by her grandparents, her household was very conservative. "I wasn't allowed to talk to boys." School, church and home were the three things that made up her world. "I didn't even know in the future I would become a bikini model." She did. And she's here.
Read more...
Angels -
Interviews
Written by Khalid "Bless" Bey | Editor in Chief | As Seen in NY Times Bestseller: Rat Bastards
It was a Starbucks I hadn't visited in some time. Her name I believe is Mary but I distinctly recall singing 'Maria Maria in her honor.' I remembered each day would start with 'Good Morning America', her coworker's name. I would chat with her when I should be working and she as well. Today after having not seen her in awhile, she somehow looked… refreshed. And so I told her she looked great. She replied it's good to get a compliment every now and then. Giving the compliment felt just as good I imagine as it was for her receiving it. As I now sit in front of my laptop, steaming cup of Zen green tea to my right, our brief exchange holds me. Compliments carry a certain indelible weight for all parties involved. It feels good to give and equally felt to receive.  I throw them out as ice-breakers and often am compelled to compliment at the mere sight of beauty. Like now for instance…. Meet Rachelle Ryerson.
Read more...
Intelligent Design -
House and Living
Written by Bless Bey
Inspired by the street lights witnessed during travel to a number of European cities and New York, The Mass Light is made of natural stone for its warm hues. The stone chosen is brown marble, giving the lamp an "exceptional sense of quality and durability." The shape is formidable yet eloquent allowing the marble to truly be appreciated. Designed by Royal Danish Academy of Fine Arts graduates Kasper Ronn and Jonas Bjerre-Poulson of Norm Design Studio of Denmark.
Read more...
Angels -
Interviews
Written by Khalid "Bless" Bey | Editor in Chief | As Seen in NY Times Bestseller: Rat Bastards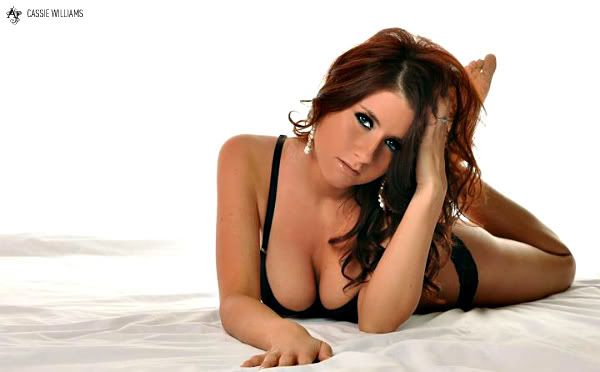 It doesn't really matter where you're from, life happens to us all. There is no escape. Our angel today grew up with fresh air in a small community where the neighbors are more or less well acquainted, it's possible to walk to work, and live comfortably. A relatively safe existence.  "Winfield has stayed true to form," says the Winfield, MO angel. "The people still wave when they pass you even if they don't know you, still stop to help each other for whatever reason. It's the country and in the middle of nowhere but safe and normal." Though Cassie Williams was born and raised where every opportunity to feel loved existed, this angel came to know a few demons.
Read more...
Destinations -
Boutiques, Retail Stores, Shopping
Written by Bless Bey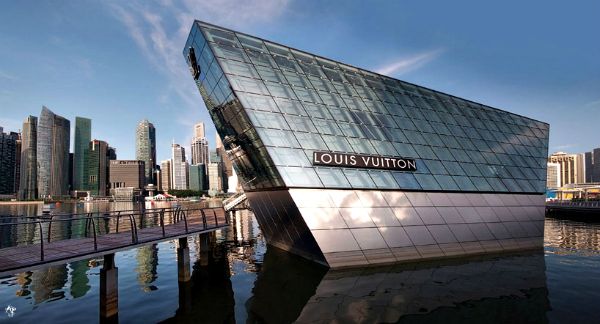 Boston Architect Moshe Safdie, who was born in the city of Haifa, Israel, and famed New York designer Peter Marino collaborated on this grand structure located along the water outside Marina Bay Sands in Singapore. Home to the new Louis Vuitton showroom, the building emerges from the depths of the bay like a  mythical creature. Titled the "Louis Vuitton Island Maison" the interior features artwork of Ruben Tolledo and Richard Deacon. The luxury island can be reached three ways one which is a jetty with a bridge.  So if you're in Singapore looking for memorable shopping, I recommend the 'Louis Vuitton Island Maison.'
Read more...
Angels -
Interviews
Written by Khalid "Bless" Bey | Editor in Chief | As Seen in NY Times Bestseller: Rat Bastards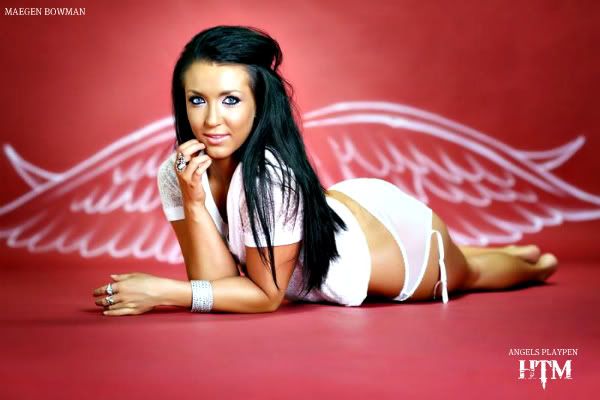 So many of us waste precious time concentrating on our faults. Here in Angels Playpen we say no way. Zero in on your blessings, focus and get familiar. "My name is Maegen Marie Bowman. The way I look at it, if I was blessed with a name as common as Maegen, at least I was given a unique spelling because that is exactly what I am, unique." The ability to find the unique within the common is also a blessing. I was looking forward to learning in what other ways she was blessed. "I was blessed," she continues counting her blessings, this in regards to her heritage, "with wonderful parents who couldn't be more different from one another. Mixed together to create me we have a blend of Irish, Dutch, German and Italian." Another blessing came in the form of great genes. "I do workout from time to time, but for the most part I was truly BLESSED with small parents. Thank goodness because I am not at all the calorie counting kind of chick."
Read more...
Angels -
Interviews
Written by Khalid "Bless" Bey | Editor in Chief | As Seen in NY Times Bestseller: Rat Bastards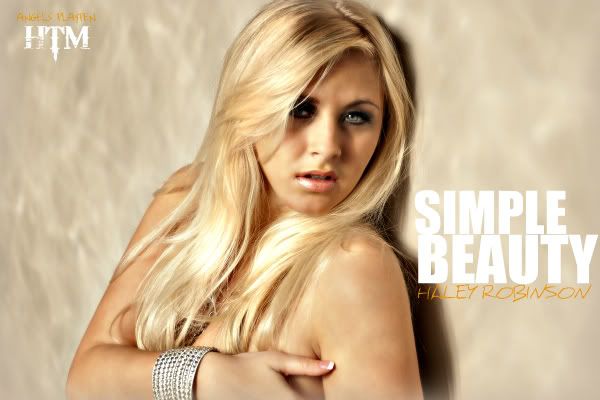 It's a quiet afternoon; calm presides. An empty tea cup sits as a suggestion of a second serving; freedom and simple beauty take up the forefront of my mind. Into The Wild, a surprisingly good film has me feeling a little like Alexander Supertramp at the moment, except I choose the moniker Bless Theangels. Right now, at this very instant, all I wish is the freedom to be whom I so ever should choose and enjoy a little 'simple beauty'. I'm blessed to be able enjoy a little 'simple beauty' within the parameters of this interview. Our interviewee and newest angel is the beautiful Haley Robinson.
Read more...
Entertainment -
Publishing
Written by Bless Bey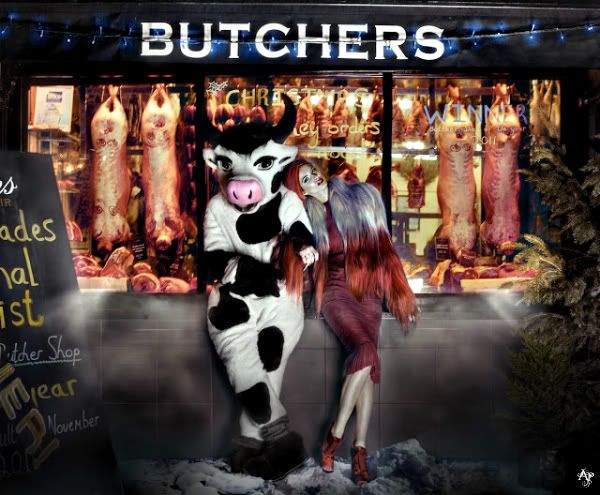 Valencia, Spain born photographer Erick Lestrange shot this beautiful editorial titled "Mary Had a Little Cow" for Lebanese fashion magazine Plastik*; issue 14. The shoot was styled by Ryan Houssari. Take a look.
Read more...
<< Start < Prev

11

12 13 14 15 16 17 18 19 20 Next > End >>


Page 11 of 20